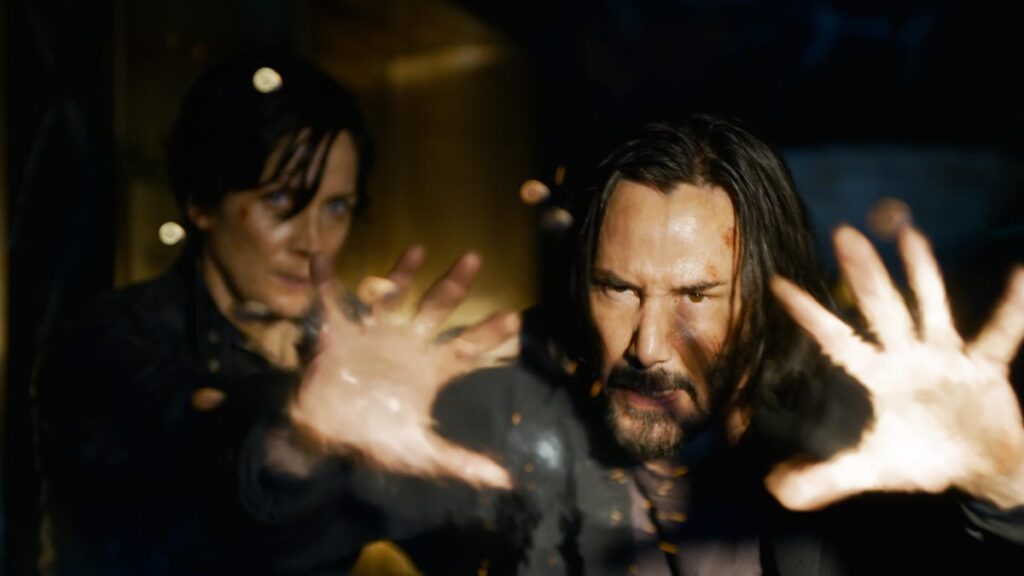 Why 'The Matrix Resurrections' Was A Box Office Disappointment
Samba TV reported yesterday that The Matrix Resurrections was viewed by around 2.8 million HBO Max subscriber households over its Wed-Sun opening weekend. The like-to-like comparisons put Matrix 4 on par with The Suicide Squad (2.8 million households alongside a miserable $26 million Fri-Sun debut), higher than Space Jam: A New Legacy (2.1 million/$31 million) and Wonder Woman 1984 (2.2 million/$16.7 million last Christmas) but below the likes of Godzilla Vs. Kong (3.6 million alongside a $50 million Wed-Mon debut) and Mortal Kombat (3.8 million/$23 million). As we've seen with King Richard, In the Heights, Malignant (all good-to-great movies) and frankly every Warner Bros. 2021 release (save for Mortal Kombat), the films that initially excel on streaming are the same that excel in theaters. All of this is to underline that HBO Max did minimal damage to The Matrix Resurrections immediate box office fortunes.
The miserable $12 million Fri-Sun/$22.5 million Wed-Sun domestic debut (with a $65 million-and-counting global cume) was more about The Matrix Resurrections than about Covid variables and HBO Max availability. Keanu Reeves' pricey (at least $150 million) sci-fi action sequel sold viewer tickets over Christmas weekend than his forgotten (and slightly underrated) $170 million samurai actioner 47 Ronin ($20 million Wed-Sun) in 2013. So, what if I told you that Matrix Resurrections was never going to be a hit even without Covid and HBO Max variables? First, credit Warner Bros. for spending oodles of money letting Lana Wachowski run wild in the world of her creation while crafting a distinctively deconstructive riff on legacy sequels, IP recycling and toxic nostalgia. It's a sequel that's more epilogue than relaunch (Resurrections = Toy Story 4). However, WB was absolutely going to make a Matrix movie with or without her.
They have long flirted with a reboot/prequel starring Michael B. Jordan. Resurrections outright states that getting the original gang back together was merely a bonus rather than an essential element, and that Ms. Wachowski returning along with Reeves and Carrie-Anne Moss was partially a matter of not wanting anyone else to mess with her franchise. Going back to The Matrix was inevitable no matter who was at the wheel, so we can fairly look at why that was a doomed proposition. Star Wars: The Force Awakens ($937 million domestic and $2.068 billion worldwide) argued that legacy sequels were more viable than remakes and reboots, and to an extent that's still true. However, in terms of legacy sequels that came just before and just after, it again highlights that Star Wars Episode VII was an exception to the rule, both regarding budget and audience demand.
The successful legacy sequels that have followed (or preceded) The Force Awakens were comparatively cheap. Warner Bros. and MGM's Creed, which played both as a legacy sequel to Sylvester Stallone's Rocky films and to those who wanted a mid-budget studio melodrama starring Michael B. Jordan, earned $109 million domestic and $173 million worldwide on a $35 million budget. Universal's Halloween brought back Jamie Lee Curtis's Laurie Strode and retconned itself into the one true sequel to John Carpenter and Debra Hill's 1978 original. It cost just $10 million, meaning it was incredibly profitable at $159 million domestic (from a $77 million debut) and $256 million worldwide. WB and Sony's Blade Runner 2049 and Paramount/Fox's Terminator: Dark Fate earned both grossed around $260 million worldwide, but on respective $155 million and $185 million budgets. Ditto Fox's Independence Day Resurgence ($390 million on a $165 million budget).
Universal's Jurassic World ($652 million/$1.671 billion on a $150 million budget) was an exception to the rule. The film was sold as both a Jurassic Park legacy sequel and a true event movie (a big and colorful spectacle with Chris Pratt in kid-friendly mode and people being eaten by giant dinosaurs) for those with no interest in the IP. Like Sony's Jumanji: Welcome to the Jungle (which cost just $90 million, making its $404 million/$962 million gross a genuine windfall), the fourth Jurassic flick was sold as and was embraced as IMAX-worthy whether you cared about the brand. Likewise, Sony's Ghostbusters: Afterlife is a modest hit at $120 million domestic/$177 million worldwide because it only cost $75 million. Conversely, Covid variables notwithstanding, Warner Bros. spending $150 million on a LeBron James-starring Space Jam: A New Legacy was always a recipe for rate-of-return disaster.
The Matrix Resurrections was sold as "Another Matrix movie!" The spectacular first trailer only really works if one is already aware of the Matrix series and predisposed to want another one. Likewise, the spoiler-free marketing was meant to inspire confusion, even about things (like Yahya Abdul-Mateen II's new Morpheus) that were explained early in the 148-minute film. Spoiler free marketing is ideal if you know you can get them in the door (The Dark Knight, Frozen, The Force Awakens, etc.), but there is a difference between selling a narrative while leaving out key details (Free Guy) or deceiving viewers (Spider-Man: Far from Home's multiverse tease/lie) and offering up a context-free montage (like Blade Runner 2049) that merely advertises that a given franchise has returned. That's especially true when Matrix Revolutions ended with its primary conflict resolved and the two protagonists having died onscreen.
Like Blade Runner 2049, Doctor Sleep (a surprisingly good sequel to The Shining that earned strong reviews but just $72 million on a $45 million budget) and Steven Spielberg's West Side Story (which, artistic value notwithstanding, was sold entirely on the notion of audiences wanting another version of West Side Story) that pitch only works if you are damn sure that audiences want another one. While The Matrix was a trendsetting smash ($469 million on a $60 million budget) 22.5 years ago and The Matrix Reloaded was a monster hit ($742 million/$150 million) in summer 2003, audiences were divided on the sequel and Matrix Revolutions suffered from inferior reviews and buzz while grossing just $427 million in late 2003. A lot of folks not like Matrix 3. Moreover, quite a few moviegoers disliked Matrix 2 enough to not even give Matrix 3 a chance in theaters.
Conversely, Disney and Lucasfilm were quite sure that audiences would flock to a 32-years-later sequel to Return of the Jedi, complete with Harrison Ford as a co-star amid a cast of younger (and more inclusive) heroes and villains alongside cameos from Carrie Fisher and Mark Hamill. Giving J.J. Abrams and friends $250-$300 million and selling The Force Awakens almost entirely on the notion of "Hey look, it's a new Star Wars movie!" was a pretty safe bet. Both in terms of its construction and how it was received, Star Wars IX is starting to look like an exception even in terms of other legacy sequels. Just because everyone showed up for a PG-13 Star Wars 7 does not mean they would show up for an R-rated Matrix 4, especially with two out of four main cast members (Laurence Fishburne and Hugo Weaving) not reprising.
When it comes to legacy sequels, make sure the important cast members come back, make sure the budget is kept in check and make sure the film is sold as something worth seeing whether you like the brand or not. Alas, The Matrix Resurrections may never have been a breakout hit even sans Covid and HBO Max. Just because audiences adored the first two Terminator films, the first two Alien films, the first Robocop, the first Predator and the first Matrix does not mean that audiences want big-budget reboots or legacy sequels of any of those brands. Just because The Matrix was a smash in 1999 does not mean that The Matrix Resurrections is anything other than a a franchise being revived not because audiences demanded it but because studio executives desired it. In other words, what happened happened and couldn't have happened any other way.