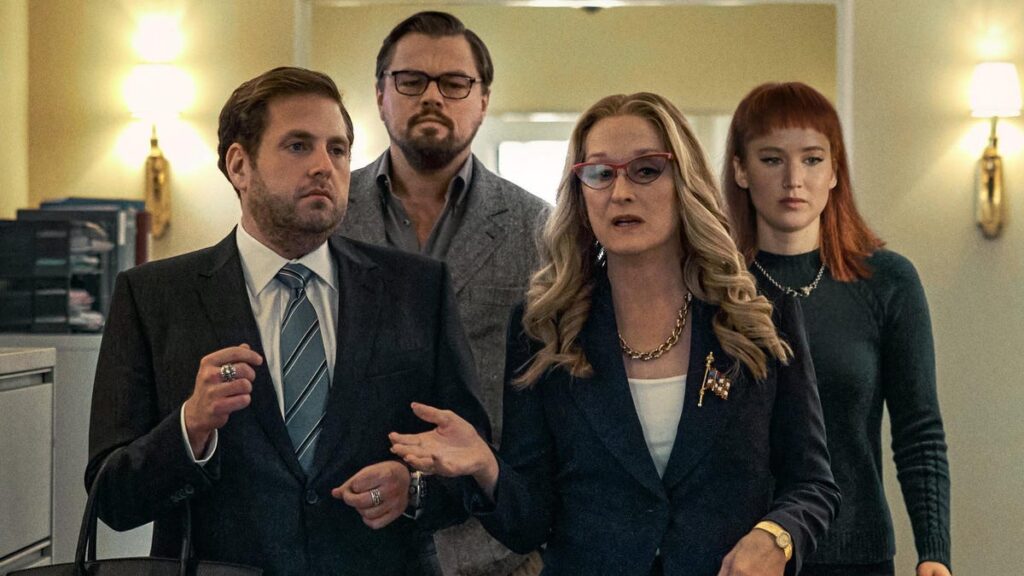 Why 'Don't Look Up' Is Less Impressive Than Prior Netflix Successes
Adam McKay's black comedy/political satire Don't Look Up had a strong debut with around 111.03 million hours logged among Netflix subscribers over December 24-December 26. That's behind only Red Notice's 149 million-hour opening weekend and translates into around 6.618 billion minutes or around 46.9 million viewings of the 142-minute Leonardo DiCaprio/Jennifer Lawrence film (about tied with 45 million for Sandra Bullock's Bird Box' s first week over Christmas 2018). The R-rated farce, about humanity reacting with apathy and/or incompetence toward a planet-killing meteor racing to Earth, also features along appearances from Meryl Streep, Ariana Grande, Timothée Chalamet and more. Unlike most big Netflix original films, I'd argue it would have been a hit in theaters too.
Most of Netflix's big movies have been approximations of the kind of old-school studio programmers for which audiences have mostly deserted theatrically (partially because of streaming competition). But Don't Look Up would have been a theatrical hit non-IP (or new-to-you adaptations) like Dwayne Johnson's Red Notice, Sandra Bullock's Birdbox, Mark Wahlberg's Spenser Confidential or Will Smith's Bright would have struggled if they were expected to draw an active theatrical audience in a size relative to their respective budgets. The "go to the movies just to see a movie featuring people I like with a good high concept" audience migrated, almost overnight in late 2015/early 2016, to streaming or at-home/non-theatrical avenues.
Concurrently, the main draw for theatrical attendance became marquee characters over movie stars or even IP. Katniss Everdeen > Hunger Games without Jennifer Lawrence's fiery protagonist. Taron Egerton as Elton John > Taron Egerton as Robin Hood. Angelina Jolie as Maleficent > Angelina Jolie in Eternals. Tom Holland as Spider-Man >>>>> Tom Holland in anything else. Even Dwayne Johnson, one of the closest things we've got to a "the star is the franchise" draw, usually requires a decent IP (like Rampage > Baywatch) to soar highest. It's why Will Smith in Bad Boys for Life, Suicide Squad and Aladdin (where he plays the Genie like he's making a sequel to Hitch) are huge hits while nobody shows up for Collateral Beauty, The Gemini Man and King Richard flop.
The Netflix advantage is two-fold. First, they are able to take movie stars, filmmakers and even whole genres (like the romantic comedy or the western) which are no longer theatrically surefire and approximate the genuine article with stars who made their stardom via theatrical success. They didn't turn Sandra Bullock into a star, but that stardom can push a grimdark crime drama like The Unforgivable to 187 million hours (#9 overall among Netflix English-language movies) in the first month. Audiences may not show up to most non-Deadpool Ryan Reynolds movies (Free Guy was a miracle), but they'll watch 6 Underground or Red Notice from their couch or on their phone.
Second, since they don't have to treat each individual film like a singular "rate of return" investment, they can "win" just by having a film or show on their service. For example, those who won't still (Covid variables notwithstanding) drive to a theater to see a Melissa McCarthy star vehicle will hit "play" from their couch for The Starling or Thunder Force. And the mere fact that the formally "butts in seats" comic movie star is now making Netflix movies makes the streamer look like a bigger deal. Without getting into moral judgments, Netflix absolutely destroyed the commercial potential for star-driven theatrical comedies and then invited those comics (see also: Will Ferrell's Eurovision) to make Netflix movies but big bucks but no backend.
Kevin Hart was still a draw as recently as The Upside in early 2019, so the success of Fatherhood and True Story is more complicated. What makes Don't Look Up different is that I'm pretty certain that, especially in non-Covid circumstances, it would have been a theatrical hit. Adam McKay's Vice, starring Christian Bale as Dick Cheney, earned $76 million worldwide. That wasn't great for the $60 million flick, but just six years ago McKay's The Big Short (a star-studded comedy about the home mortgage crash) earned $133 million on a $28 million budget. Just a month later, Leonardo DiCaprio proved that he is the last old-school movie star in town by powering a 2.5-hour, grimdark $150 million western The Revenant to $184 million domestic and $535 million worldwide right alongside The Force Awakens.
And just two summers ago, DiCaprio pushed Quintin Tarantino's Once Upon A Time in Hollywood (a 2.5-hour, action-lite dramedy about late-1960's Hollywood costarring Brad Pitt and Margot Robbie) to $141 million domestic and $375 million worldwide (without China) on a $90 million budget. Don't Look Up allegedly cost around $110 million, with $30 million going to DiCaprio and $25 million going to Lawrence (no conventional theatrical release means no backend bonuses). Don't Look Up looked on paper like a winning theatrical package.
You had DiCaprio in a star-studded comedy from a marquee director with an easy elevator pitch, halfway decent reviews (online discourse aside, 55% rotten and 6.2/10 average critic score on Rotten Tomatoes is mixed) and the promise of cinematic escapism or a good time. This wasn't a film "saved" from a likely commercial box office death. This was (again, no moral judgments) Netflix plucking what, not unlike the Knives Out sequels, might have been an old-school theatrical hit. In that sense, Don't Look Up is less impressive than, say, The Unforgivable or Martin Scorsese's acclaimed but 3.5-hour and action-lite The Irishman.
It's nice that Don't Look Up, which is better than Vice but inferior to The Big Short, is being consumed by copious Netflix subscribers and thus may reach audiences not already onboard with its "comet = climate change" metaphors. It again shows that Netflix doesn't have to crawl through the same "IP for the sake of IP" muck as its theatrical and streaming rivals. They can turn original or new-to-you shows like Squid Game, Bridgerton, Stranger Things and movies like Extraction, The Kissing Booth and Army of the Dead into massive Netflix-sized successes.
With that track record, Netflix does not have to try to turn cult franchises (Cowboy Bebop), Tik Tok stars (He's All That) or were-never-huge horror franchises (Texas Chainsaw Massacre) into Netflix sensations. Their power exists in a subscriber base so large that massive amounts of viewers will watch whatever the new show or movie happens to be, even if it's the very thing (or especially if it's the very thing) that once represented Hollywood's bread-and-butter of star-driven, high-concept studio programmers. But with great power, well, you know.