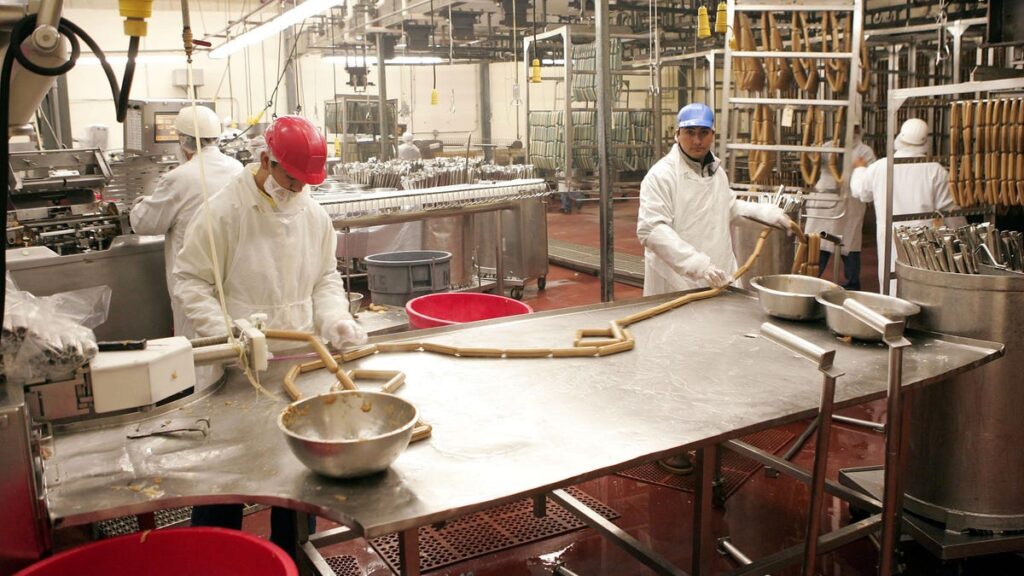 White House Pledges $1 Billion Investment In Small Food Processors To Combat 'Meatflation'
Topline
The White House announced Monday it will dedicate $1 billion to increase competition among meat processors, intending to curb soaring industry prices – a primary contributor to a four-decade inflation high – though the U.S. Chamber of Commerce warned the initiative could "push prices even higher."
Key Facts
The Biden Administration will allocate $1 billion from March's $1.9 trillion American Rescue Plan to assist independent meat processing companies, contending that the corporations dominating the top-heavy meat and poultry industries "hurt consumers, producers, and our economy" by raising prices to increase profit.
The plan includes $375 million in grants for independent processing plant projects, $275 million in loan assistance, $100 million in workforce development and $100 million to reduce overtime fees for government food safety inspections.
The White House also announced a new joint initiative between the Department of Justice and the Department of Agriculture to accelerate reporting of antitrust complaints.
Key Background
Inflation is at its highest level since 1982, as consumer prices rose 6.9% in the 12 months ending in November, according to the Bureau of Labor Statistics. Meat and poultry prices were the largest drivers of this record inflation, as the index for meats, poultry, fish, and eggs jumped 12.8% in that timeframe. Labor shortages and supply chain bottlenecks largely caused these price increases. In the American beef, chicken and pork industries, four large processors, including JBS USA Holdings and Tyson Foods, control 54% or more of the market. President Joe Biden has emphasized antitrust issues across industries during the first year of his presidency, signing an executive order in July aiming to promote competition across the economy.
Crucial Quote
Biden said during a Monday meeting with independent farmers and ranchers: "In too many industries, a handful of giant companies dominate the market. And too often, they use their power to squeeze out smaller competitors and stifle new entrepreneurs, making our economy less dynamic, giving themselves free rein to raise prices, reduce options for consumers or exploit workers. The meat industry is a textbook example on the price side."
Chief Critic
Neil Bradley, executive vice president and chief policy officer of the U.S. Chamber of Commerce, denounced the White House's policies as "misguided" in a statement, saying the Biden Administration is using the high prices as justification for its "preexisting agenda" regarding antitrust policies. "That isn't economics, it is politics and sadly, such government intervention would likely further constrain supply and push prices even higher," Bradley said.
Further Reading
White House to invest $1 billion to boost competition in meat-processing industry and lower consumer prices (CNN)
'Meatflation' Worsens As Prices Rise At Fastest Rate In 30 Years In October (Forbes)
Inflation Spiked Another 6.8% In November—Hitting 40-Year High As White House Tries To Temper Price Concerns (Forbes)