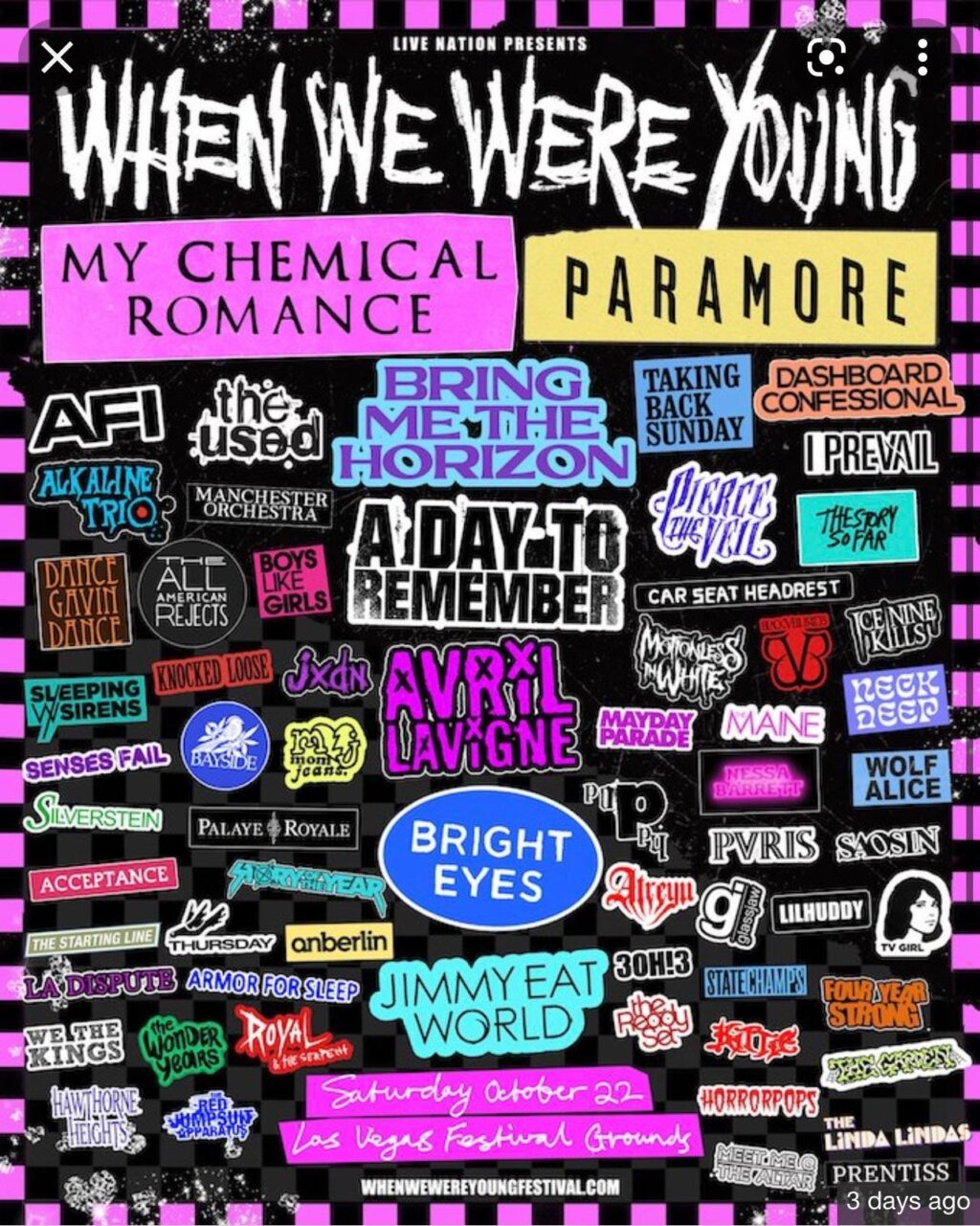 When We Were Young Festival's Ticket Sale Teaches A Valuable Lesson. Random Information From The Internet Is Not Always Reliable
In this crazy world where epidemiologists compete with Tik Tok posts when trying to put out credible medical advice, it's about time we look at a simple example of where blind faith in every post can lead you astray.
Above is the show poster for When We Were Young. It promises 62 bands all of which will play over the course of a single day on the stages to be built at the Las Vegas Festival Grounds. Social media lit up with posts espousing this festival was a scam, the new Fyre festival, and curiously that because it is a Live Nation event, that somehow the tragedy of Astroworld would impact this event.
There were posts stating that it would be impossible for that many bands to play on one day so therefore the promised lineup was a form of gaslighting. There were posts suggesting that the lineup of emo bands would inspire dangerous crowd surges. And there were complaints that the ticket prices were exorbitant for an event which only lasted one day.
The debate raged across social media, sparking discussion and concern across the country from people who were interested in coming to see the promised bands but leery because of the uncertainty being built by random people who joined the debate and amplified the questions of whether the lineup was false, or the festival was unsafe. Various press outlets picked up and recirculated the posts.
HighsnobietyIs When We Were Young 2022 the Next Fyre Festival?
Let's review the actual facts:
Las Vegas Festival Grounds sits on 37 acres at the southwestern corner of Sahara Boulevard and the Las Vegas Strip, just North of the Circus Circus hotel. This is the location where Rock in Rio played a two day event with headliners like Taylor Swift and Metallica. It is also where Amazon held its Impact festival with headliners like the Foo Fighters and Kacey Musgraves. The Las Vegas Festival Grounds is an easily accessed, level rectangle where tens of thousands can move easily within the event grounds, and at least four separate stages were built for the prior festivals which took place there.
The pricing ranged from $244.99 for G.A. to $519.99 for VIP, plus fees. That is not all that different from what the Park MGM gets when Bruno Mars plays his two hour show there. When Adele put her tickets on sale for Weekends with Adele the demand was unstoppable at any price. When We Were Young has a schedule which runs from 11 am to midnight, providing 13 hours of entertainment.
The debate about how many bands can play one event was also uninformed. Each stage can be set up on a turntable, with band coming up next loaded onto the back half of the stage behind the screen, then rotated to the front with a down time of less than 15 minutes. There are many other ways, all long tested and proven as in the annual Christmas shows, or the iHeart events in which multiple bands all play sets which are only five or eight songs long. 13 hours of festival time across multiple stages is not only doable, but also not particularly hard so long as there are enough roadies onsite to move the equipment and plug in the gear.
In the post Astroworld environment, security remains a reasonable concern at any large-scale open field event. If anything, I would believe a Live Nation backed event would be more secure because of the lessons taken from the tragedy in Houston. That event had a particularly aggressive crowd. The professionals who build security plans are attuned to disruptive behaviors and will almost certainly be faster to eject those whose actions jeopardize the safety of the others in attendance. Las Vegas Metro Police is well equipped to stem those who commence or incite poor behavior.
For those who were dissuaded from buying a ticket because of the doubt inserted into the validity or safety of the conversation by those people with limited knowledge and a social media presence, I am so sorry that you missed out on a chance to go. When We Were Young looks like it will be fun.
I do know that there were people not convinced by the naysayers and others who simply never saw the postings. Those people got tickets. Demand was so strong the promoters added a second day, the entire event is repeating playing first on Saturday, then Sunday. Michael Rapino, CEO of Live Nation posted the following:
"Presale signups for When We Were Young could have sold the fest out 10+ times…we've added 2nd day to help more fans enjoy. Special thanks to all the artists involved for joining us back to back"
Those fans who didn't buy a ticket because they were discouraged or scared off by the noise about the possible problems missed out. A second day was added and still the entire event sold out quickly. The lesson to be taken from this event is to separate randomness from experience. Advice from those who are not expert is effectively worthless. You don't hire a plumber to design a boat because they are both somehow adjacent to water. It's a bad plan to believe Google searches return better information than lawyers and epidemiologists. And, in this particular odd case of the When We Were Young festival, perhaps we should take away that chatter is not always actionable, particularly when the facts are easily available.