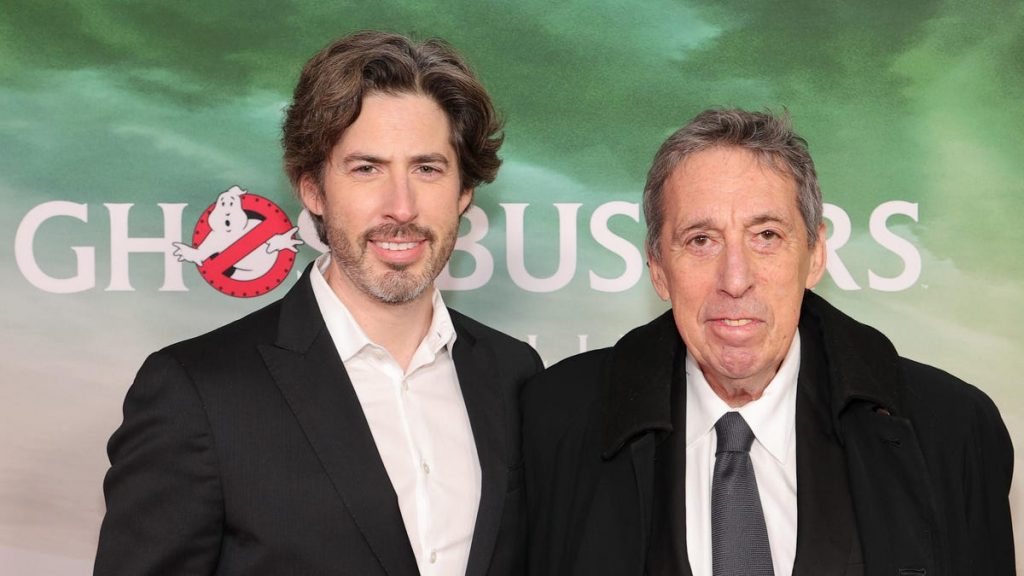 When Bustin' Becomes A Family Business: Jason And Ivan Reitman Discuss 'Ghostbusters: Afterlife'
"People would often ask me if I was ever going to make my own Ghostbusters movie," explained Ghostbusters: Afterlife director Jason Reitman. "For a while, I thought, 'Oh, they really want to see my Ghostbusters movie,' but that wasn't true. That was just my ego talking."
The filmmaker, sitting down for an interview alongside his father, Ivan, the producer-director of the first two Ghostbusters movies, was left with no illusions about the importance of helming the direct sequel to his father's work. Jason hasn't taken that responsibility lightly, which also included co-writing this new entry in the franchise.
Ghostbusters: Afterlife is set thirty years after Ghostbusters II. A single mother and her two kids inherit her late Ghostbuster father's small town home, but his legacy contains unexpected secrets, and things get supernatural fast. The ensemble cast includes Mckenna Grace, Paul Rudd, Carrie Coon, and Finn Wolfhard, some familiar faces from the franchise, and a few surprises.
I caught up with Jason and Ivan to discuss the movie, how key cast found out what the film really was, the promise Jason made to his father, and the creative extremes they went to to get this Ghostbusters movie right.
Simon Thompson: You've shown Ghostbusters: Afterlife to enough people now to know that the majority love it. How validating does that feel?
Jason Reitman: I made this film primarily for my father and my daughter. After that, I made this movie for the family of Harold Ramis and the originators of Ghostbusters. After that, it's for the people who carry Ghostbusters in their hearts. The most important review was from my father. When my father loved it, that was good. To get that feedback from people who love this movie as much as I do is incredibly validating.
Thompson: Ivan, did you make Jason pitch it to you? How many times did you send him away with notes because you didn't feel it was where it needed to be?
Ivan: I certainly had notes because, honestly, I can't help myself (laughs), but the story really moved me when he first told it to me. I thought it was not only a great idea but an extraordinarily smart and prescient way of continuing a story that Dan Aykroyd began with us 40 years ago. It seemed just the right way to make it fresh and not tell the same story again.
Thompson: You have both referred to this as a movie for families and about family. Ghostbusters is such a big part of your family. Over the years, has it ever felt like as it was an extra child?
Ivan: Well, it was a very positive thing that happened in my life and, I think, in our whole family's lives. It changed the equation for me somewhat and moved me from being a successful producer-director to a different kind of class that I could move into. Like kids, Ghostbusters has been a life-changing thing, and I've never thought of it as a burden. Have you, Jason?
Jason: I always just thought it was part of the family business. I've been in and around it my entire life. I was on set before I even really knew what filmmaking was. It just felt like magic. I remember watching the resulting film and not connecting it to the set I had been on originally. When you're a kid, you don't realize that movies are things that are made, even when you're around the making of them. As I grew up, it was just part of everyday life. There isn't a day that goes by when I don't see someone in the Ghostbusters t-shirt. People would often ask me is I was ever going to make my own Ghostbusters movie. For a while, I thought, 'Oh, they really want to see my Ghostbusters movie,' but that wasn't true. That was just my ego talking. What they wanted was A Ghostbusters movie. They wanted to see the Proton Pack fire up again. They want to see the Ecto-1 fly around the corner one more time, they want to see the guys, and then it became my real privilege to be the person to tell that story.
Ivan: I think the key to that is a level of sincerity. The original 1984 movie is a broad comedy with really talented comedians as the stars. We still handled it with a seriousness of intent in terms of the scares and the ecological story at its heart. I think people dug into the pureness of it. It's not a parody of a horror movie; it's a very specific thing. Jason has taken that and evolved it even further into this funny, wonderfully emotional, and scary story that focuses on the family of one of the original Ghostbusters.
Thompson: Jason, with any of the ideas that are incorporated into this movie, are any of them ideas that were left on the shelf from Ghostbusters and Ghostbusters II that you liked and knew you wanted to give life to?
Jason: When Gil Kenan and I sat down to write Ghostbusters: Afterlife, we made a list of everything we've ever wanted to see in a Ghostbusters movie. In that way, it was almost like fan fiction and included things like asking how exactly you fire up a Proton Pack. Is there a switch, and where is it? What does it look like? What would have happened to Ecto-1 over the years? How do you catch a ghost when it's moving? These are all things that we wanted to answer. What would mini Marshmallow Men be like? How would they act? They are these demented little five-year-olds that want to destroy everything. A lot of the writing was us just pitching this stuff to each other and having a good time.
Ivan: One of my favorite moments from when we screened this at New York Comic-Con was when Phoebe turns on the Proton Pack for the very first time, and we watch, in very minute detail, how the machine works and what it sounds like. It was this moment of discovery. We were with an audience of 3,000 Ghostbusters fans, and they started applauding and whooping because they, much like Jason and Gil, appreciated that from their youth. It's deep in the DNA of their love for Ghostbusters. It's something that Jason and I had spoken about over the making of the film. I always loved the whoosh of the sound as we discovered it in 1984, and I saw Jason taking such care with recreating all of that. That was the first screening that I was able to see that resonance with a large audience. I was sitting next to Jason, and I elbowed him gently because he promised me that would happen. It did, and it was wonderful.
Thompson: Did you have a cast wish list to make this happen, and did you write it with specific actors in mind?
Jason: Certainly, Carrie Coon and Paul Rudd were two people that we wrote for. They are people we've wanted to work with for a long time, and they felt perfect for this universe. These young actors, whether they're well known, all auditioned. They obviously had big shoes to fill because they were going to be holding Proton Packs. When they read, they didn't know what they were auditioning for. We put out a breakdown that just said it was a movie of mine; it was about a family moving to a small town, inheriting an old house, and there's a single mom and her kids trying to figure things out. Frankly, that sounded a lot like one of my normal films. They all came in, they read, and only later, once they had gone through the first round and it came down to the last few young people, did we tell them this is for a Ghostbusters movie, and we brought a Proton Pack to the callbacks.
Thompson: How did they react when they saw that for the first time? I probably would have wet my pants and passed out.
Jason: (Laughs) They freaked out. Mckenna Grace has been a Ghostbusters fan since she came out of the womb. There were photos of her in flight suits when she was an infant. This role is her lifelong dream. She put the pack on, and she just started crying.
Ivan: I was there, and it was incredible to see. She freaked out because it meant that much to her.
Thompson: Secrecy is a massive part of the impact of Ghostbusters: Afterlife and making sure that spoilers don't get out. You didn't just have to keep this secret while you're making it, but you have to keep it secret for another whole year. How did you make sure that everything that needed to stay under wraps stayed that way, especially when a lot of times you're filming on location and people have cellphones?
Jason: Here's the fun part. Everyone who made this film was a Ghostbusters fan who enjoyed that responsibility. We all thought of the movie as a present. It's like Christmas morning; we wanted the audience to have this present waiting for them. They could open it up and be wowed by what is inside. Everyone involved in this film felt like they were in on this secret together, and there was a shared responsibility of carrying it. Yes, there is a burden of just never talking about certain things, but it's fun when you feel like this tight-knit family who's making something together.
Thompson: You filmed Ghostbusters: Afterlife in a real, active town? How welcoming were they? You're not just bringing a Hollywood movie to a small town; you're bringing a Ghostbusters movie to a small town.
Jason: We shot this movie in Alberta, Canada, home of more cinematography Oscars than any other place on earth, and it was interesting because you know we're in a place where they had shot movies like Days of Heaven and Brokeback Mountain, and now we're doing Ghostbusters. Some of these places are one-street towns where they are movie fans, and they certainly know Ghostbusters. They were thrilled by the side of Ecto-1 coming down the main street, and often, if we had extra leftover slime, we'd put it in a big bucket and tell all the kids to come down and grab a bowl of it. It was a lot of fun, and local Ghostbusters fans would show up in homemade flight suits and Proton Packs and watch us work. There's an affection for this franchise. It lives in people's hearts, and even when I would talk to people standing on the street and remind them to keep things secret, not to take photos, you can see that they enjoyed being a part of that secret as well.
Thompson: There are a lot of Easter eggs in Ghostbusters: Afterlife that are going to excite fans. Did you try and incorporate any of the available original props in there? Are they just too valuable to potentially put in the hands of people on a movie set again?
Jason: We scanned the original plans for all of them. Sony's done an incredible job archiving the original film, and we were able to pull Harold Ramis' original Proton Pack plan out. We got one of the original ghost traps; we obviously have the original Ecto-1, flight suits, and patches. We looked at every detail possible to make this as accurate as possible, down to the white of the ghost on the patch of the flight suit. We found the only remaining yards of the original fabric and cut the ghost from that. Every department on this film was obsessed with the original and wanted to make this of the original recipe. If that meant going and finding the original sound files for the PKE meter or the Proton Blaster, we did it. If that meant finding the original microphone plot used in recording the original score, we did it. We did everything to make it feel as though you were always watching an actual Ghostbusters movie.
Ivan: Even down to the original player of the Ondes Martenot, an early 20th century quasi-electric piano that created that very ghostly, lovely sound that Elmer Bernstein used as a signature of spirituality musically. Those are the first sounds that we hear when we watch the movie.
Jason: Yeah, she recorded it during the pandemic, over Zoom, from Abbey Road Studios in London, England.
Thompson: When you started talking about this, did you envisage Ghostbusters: Afterlife as a trilogy? Have you started work on a sequel? Or are you still very much waiting to see how this goes down and take it from there?
Jason: We wanted to set the table for the Ghostbusters mythology so that it could go in a lot of directions. Every culture has its own ghost stories. I think we both love to see our favorite filmmakers take on Ghostbusters movies. We wanted to make a movie that created that opportunity.
Thompson: The world of film and television is very different from when the original Ghostbusters came out. Ivan, Does it excite you that we could perhaps have Japanese or British Ghostbusters or live-action TV series that could bridge the movies?
Ivan: I think Ghostbusters: Afterlife is a very effective palate cleanser in terms of what we started with in 1984, and it allows for an international group of different Ghostbusters who could come out of Barcelona or Tokyo or London or wherever. I think there are great stories to be told. What's nice about this story is that it proves that they don't have to follow all the familiar tropes of the original storytelling. With the first movie, I said to people, 'This is a going into business story, and it turns out to be a successful business.'
Thompson: How different is the opening weekend of Ghostbusters: Afterlife going to be for you compared to the box office debuts of your previous movies?
Jason: Well, it's entirely different for me because my movies usually come out in limited release in two to five theaters, and you'll hope that they one day I'll expand on 100 so the idea that we're going to be on thousands of screens on day one is wild.
Ivan: The pandemic has changed everyone's lives in extraordinary and challenging ways. Many filmmakers, us included, have been very nervous about the continuation of the theater experience. The fact that we're going to play on IMAX theaters, as well as other large screens, is extraordinarily exciting to us. The theater experience will continue. I believe it will, but you still worry about it. We don't want to lose that shared experience of being in a dark room with hundreds of fellow travelers responding to each other as much as what is on the screen. It's scary because we don't know what the situation with this virus, which can show up like a terror, will be like on any given day that could change the opportunity for people to enjoy a story that we're so proud of.
Thompson: Finally, for me, on a lighter note, I wanted to touch on Paul Rudd because that man does not age. He's supernaturally handsome and was born in New Jersey. With Afterlife being a Ghostbusters movie and the other movies being set in nearby New York, is there something strange in the neighborhood we should know about?
Jason: (Laughs) As a child, Paul moved to Lenexa, Kansas City, so if we're going to trace his supernatural roots, maybe it's going to be a little bit more over that way. It's interesting because if you made a list of modern actors who you could naturally fit in the original cast if he'd been around in 1984, you'd have cast Paul Rudd in Ghostbusters. He'd have been right at the top of that list. Paul is just one of the funniest human beings alive, and he also happens to be handsome, charming, whip-smart, and, yes, ageless.
Ghostbusters: Afterlife lands in theaters on Friday, November 19, 2021.