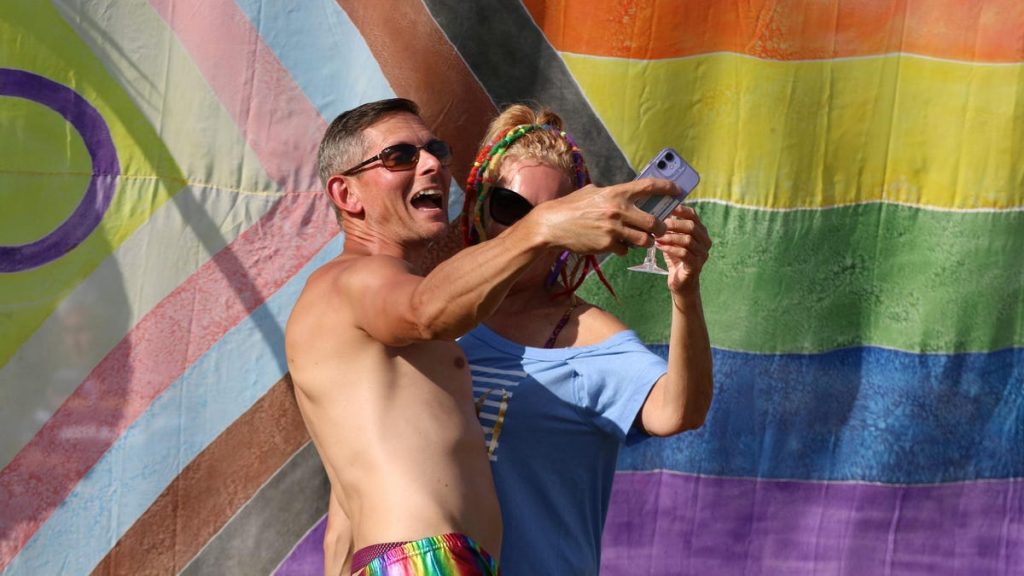 What This Rural Pride Can Teach LGBTQ Events All Over The UK
Three gin and tonics in, Little Mix blasting and glitter everywhere – it's easy to forget why we have pride.
So it was a sobering spectacle to attend my local towns first pride this weekend.
Without a corporate or superstar pop queen in sight, I found a refreshing take on pride the UK's biggest events could learn a great deal from. A pride built by and for the local community.
Growing up queer in a rural town is tough. With few, if any, LGBTQ people to look to. It's lonely.
So rocking up to the Cornish seaside town of Bude's first-ever Pride, I was blown away by what I saw.
There were young people, boldly displaying their beyond the binary identities, everywhere.
As I volunteered at the raffle table, we sold out of trans, bisexual, pansexual and genderqueer pins in a couple of hours.
I lost count of the number of times I had to apologise to the teenagers looking to pin the spectrum of their identities on their chest.
I grew up visiting this popular holiday destination, locked in the closet. Then, I couldn't imagine a gay person living here, let alone having a pride event in the town.
So to be inundated by young queer people, ready to be part of a new generation, liberating beyond the binary, was remarkable.
So how did this small-town pride create an atmosphere where this was possible? Indeed, to become one of the most applauded events by the locals in this Cornish seaside town's recent history?
Bude Pride modelled the change they want to see
"There is often a delay in the social and cultural progress made in cities in comparison," Bude Pride director Alex Gibbon tells me.
"This is due to a lack of positive representation and authenticity needed when learning and engaging with the LGBTQ+ people residing in these rural areas."
And it's fair to say some unconscious biases seeped through as I chatted to revellers this weekend. But unlike the putrid hate you all too often see circle online, it came with a pleasant curiosity and a willingness to change.
The event this weekend found a way to invite people who were unsure into the conversation instead of locking them out.
"It gave visibility as well as the opportunity for the community to come together and properly get to know one another," Gibbon adds. "An opportunity to get to laugh and celebrate together as one community, rather than maintaining an 'us and them' mentality that can be the undertone that lies within more rural towns and villages."
Yes, Bude Pride had market stalls, a beer tent and live music acts. But it set an entirely different message with some subtle invitations.
By engaging with the local schools and setting up an 'EduCorner' with Pop and Olly materials, families could come along and learn about identities.
While displaying the progress flag, with the Intersex flag included, it said to this Cornish seaside town: 'This is how you can include us. Come on over.'
By modelling the change they wanted to see, this local pride was able to set a tone of open communication.
"I hope we showed that celebrating difference can reach even the farthest corners of our county," says Gibbon.
What can the bigger prides learn from this small event?
Pride was born out of the Stonewall riots in New York, where queer and primarily black trans women started the modern fight for LGBTQ Equality.
It soon translated over to the U.K. and Europe, where we picked up the mantle too. In the U.K. its mostly gay men and women that have benefitted from the rights the Pride movement has helped secure. From a legalised age of consent to equal marriage.
But it's also been a movement that has forgotten its roots, on more than one occasion.
After all, it was born out of people with marginalised genders, sexual and romantic orientations coming together.
So after a year that saw Covid force over 500 of them to cancel – it was refreshing to see them back last weekend.
Getting home and scrolling through my timeline, I could see the weekend had been packed with joy, happy tears and even a few hugs from the event.
It was also plastered with reminders that our fight is far from over.
Stonewall, the U.K.'s largest LGBTQ charity, has been hounded in the press this week, leading to Ofcom pulling out of their Diversity Workplace scheme.
I saw the reports in The Guardian of the spate of attacks across the U.K. sparking fear among the LGBTQ community.
Reports echoed in London after a tragic murder, being investigated as a hate crime, saw the Met Police suggest that gay men "prioritise their personal safety" while out. I presume, as opposed to us flaunting our identity?
And then, the stories from Manchester's Reclaim Pride march, with the appearance of the divisive LGB Alliance, branded the 'anti-trans alliance' by the TUC.
All stories connected by a growing undercurrent of transphobia in the U.K. One which is spilling out and against the identities that pioneered our movement.
All which is being used to create a narrative seeking to divide us and allow groups to question all of the LGBTQ community once more.
Amid all of this though, Bude showed us a way forward for Prides big and small.
Becuase in a world where algorithms and headlines pit us against each other, its a story of balance and nuance that will prevail.
Their event, run entirely by volunteers, stood in stark contrast to one of the biggest pride's happening at the same time, with Manchester's 'Pride not Profit' growing scandal.
They showed us how our movement can invite our local community in to learn and be a part of our lives.
Where we can hold them accountable for their mistakes, but celebrate their curiosity.
It was a refreshing reminder that Pride events need to be grounded by their local stakeholders, ones who are invested in the community, so we can change our world together.
MORE FROM FORBESWhy Many LGBT People Have Started Using A New Pride FlagBy Jamie Wareham