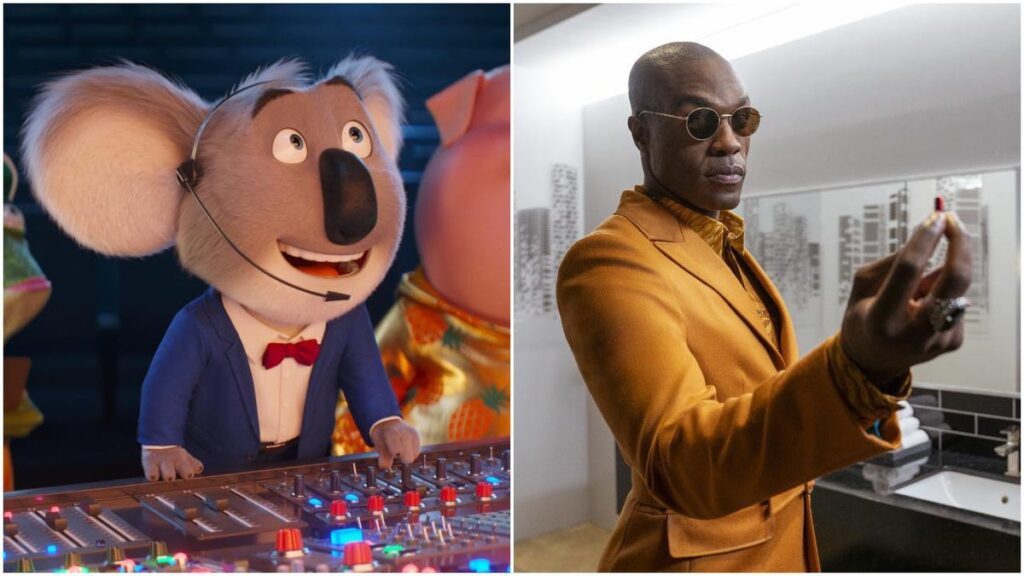 Wednesday Box Office: 'Sing 2' Tops 'Matrix 4' While 'King's Man' Bombs
Spider-Man: No Way Home obviously topped the domestic box office yet again on Wednesday with $28.5 million (-9% from Tuesday) for a new six-day domestic cume of $356 million and a likely global gross of around $815 million. But that's for the next post once the overseas grosses roll in. In the meantime, Wednesday saw opening day grosses for three "big" Christmas weekend releases, with deeply mixed results.
Universal and Illumination's Sing 2 topped the newbies yesterday with $8.145 million ($9.7 million counting $1.6 million in Thanksgiving weekend previews), down 26% from Sing's $11 million Wednesday debut five years ago. The original star-studded jukebox musical melodrama earned $35.2 million over the Fri-Sun portion of its $55.5 million Wed-Sun debut on this same weekend in 2016. Like Sing 2, it was dealing with the second weekend of a box office juggernaut, albeit Spider-Man: No Way Home was an even bigger threat than Rogue One: A Star Wars Story (a $155 million debut and a $205 million six-day cume). Considering the first Sing was popular without being beloved, and the struggles animated sequels faced even before Covid (folks being curious the first time, a four-quadrant original spawning a for-kids-only sequel), and frankly this is about what we might have expected from Sing 2 absent pandemic circumstances.
The first film, starring Matthew McConaughey, Scarlett Johansson, Reese Witherspoon, Taron Egerton and many more, legged out to $271 million domestic, besting (sans inflation) My Big Fat Greek Wedding's record ($243 million in 2002) for the biggest-grossing movie never to hit #1 at the box office. It also earned $634 million worldwide on a $75 million budget. Sing 2 cost $85 million, so it (like The Secret Life of Pets 2) can afford to earn a lot less and still be very profitable. If the film legs out like (for example) Little Fockers ($45 million from a $7.1 million Wednesday in 2010), it'll end the Wed-Sun frame with $52 million. That may be optimistic for a sequel. Even legs like Sing gets it to a still-strong $40 million Wed-Sun debut. However, the film polled an A+ from Cinemascore.
Warner Bros.' The Matrix Resurrections got off to a frankly mediocre start with $6.4 million yesterday. Barring a Christmas miracle, we're looking at a $20 million Fri-Sun/$32 million Wed-Sun debut for the ambitious and expensive sci-fi sequel. The R-rated sci-fi actioner earned decent reviews (68% fresh and 6.3/10 from Rotten Tomatoes) but a B- from Cinemascore. That suggests the fourth film, a kind of perverse legacy sequel that mocks Hollywood's need for IP recycling and sees Lana Wachowski taking back her franchise from 20 years of misappropriation, will be no more better received than The Matrix Revolutions in 2003. No, I don't know if everyone stayed home and watched it on HBO Max instead, but there was always a chance that a fourth Matrix would be far more popular among film nerds than with the general public.
Keanu Reeves is a more respected star than even 2003, but his success with the John Wick franchise didn't prevent Replicas from earning just $9.3 million worldwide in early 2019. You're dealing with a 23-year old blockbuster ($469 million worldwide on a $60 million budget in 1999) whose sequels, while successful ($742 million and $427 million worldwide on a combined $300 million budget in 2003) and quite good dammit, were not well-received by the public. While it works in the movie, doing a Matrix reunion sequel without Laurence Fishburne put a commercially questionable film at a disadvantage, not unlike an Independence Day sequel without Will Smith. The cruel irony is that, on a Covid curve, a final gross on par with the $103 million domestic/$390 million worldwide performance of Independence Day: Resurgence might be a relative win.
Meanwhile, barring an overseas miracle, there will be no haggling over Matthew Vaughn's The King's Man. The much-delayed (mostly due to Covid) prequel to The Secret Service ($428 million in 2015) and The Golden Circle ($400 million in 2017) outright tanked yesterday with just $2.3 million. We're looking at a $6 million Fri-Sun/$10 million Wed-Sun debut for yet another big 20th Century release seemingly hung out to dry by Disney during a crowded holiday season. To be fair, I've long questioned the commercial wisdom of a Kingsman prequel. The appeal of those first two films was specific to the films themselves, Taron Egerton and Colin Firth facing off against cartoonish villains in ultra-violent/ultra-crude (and star-packed) odes to the Roger Moore 007 films, as opposed to any interest in the Kingsman in the abstract.
Having seen the Ralph Fiennes-led film, it's A) a lot better than The Golden Circle and B) clear that Matthew Vaughn merely wanted to make a big budget World War I-era action spy drama and used the existing IP as a commercial alibi. Kudos to him on that score, but there's a risk in diluting the core present-tense franchise in the bargain. That this one landed with such a thud further shows that Disney should have held Steven Spielberg's West Side Story for Christmas weekend, opened The King's Man in early December and maybe platformed Guillermo del Toro's Nightmare Alley until early January. Or perhaps, to quote Matrix Reloaded, what happened happened and couldn't have happened any other way. With Spider-Man 3, Sing 2 and Matrix 4 sucking up the oxygen, there's not much left for anything else.