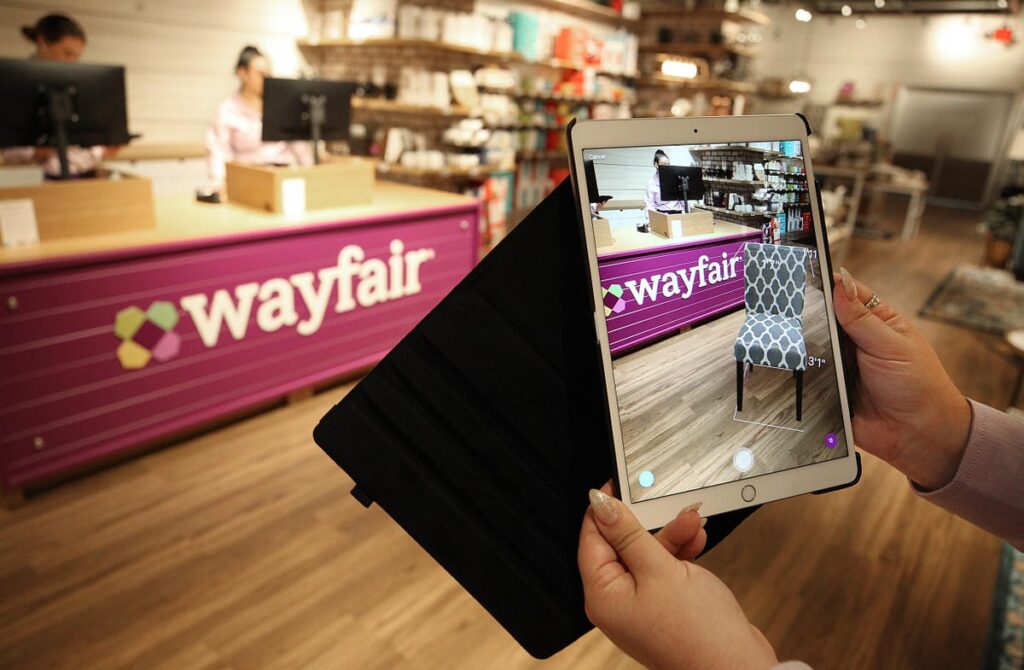 Wayfair Will Start To Open Stores In 2022…Finally
It took longer than anyone expected and the initial effort is modest at best, but Wayfair W – the giant home furnishings online retailer – is finally getting into the physical store channel.
Today the company announced it would open three stores under two of its specialty sub-brands next year with more to come over the following two years. And conversations with Wayfair suppliers who have been briefed on pending plans suggest the store push will accelerate even more so, extending to the mothership Wayfair brand as well.
For Wayfair, which has become the first or second largest online seller of home furnishings products with more than $14 billion in annual revenue, the move into physical stores is both long overdue and critical for its ongoing success. Key home furnishings competitors like the Williams Sonoma WSM group of brands, Bed Bath & Beyond BBBY and mainstream discount and department store operations all have well established omnichannel operations integrating online and in-store. Even Amazon is aggressively going into the physical store space with a multitude of formats in assorted shapes and sizes.
Wayfair has been significantly late to the in-store game. It tested a single location under the Wayfair banner near its Boston headquarters two years ago but closed it last year after saying it was just a limited test. It has also operated a close-out store adjacent to a Midwestern distribution center but has delayed anything more significant until now. There were also a few temporary pop-ups over the past few years as well.
Two stores under its AllModern brand and one for its Joss & Main name will open in Massachusetts sometime next year, with exact sizes not disclosed. "These locations will be the first in a series of openings as Wayfair plans to launch additional stores representing all five of its brands in optimal formats, sizes and geographies over the next two years," the company said in its announcement on Tuesday. Its other two brands, besides Wayfair itself, are Birch Lane and Perigold.
While details on the store formats are sparse right now – but promised closer to the openings next year – it appears they will be closer to showroom style locations rather than stocking stores where shoppers can take their purchases with them.
"Shoppers will be able to explore independently or be guided by knowledgeable teams leveraging innovative tools and expertise and offering creative solutions for their homes," the company said. "Featuring furniture as well as tabletop, bedding & bath, seasonal items and more, shoppers will be able to immediately purchase products in store and have orders placed for fast delivery to their homes."
Trade sources said they expected these first stores to be relatively small, perhaps 10,000 square feet, but Wayfair says future stores under its umbrella brand as well as Perigold will be "larger store formats." Vendors who sell Wayfair said they were told by Wayfair executives at a recent meeting for suppliers that these future stores could be as large as 100,000-square feet and that they would not open until at least 2023.
Wayfair did not respond to several inquiries for additional comments on future plans. But on its recent earnings call with analysts CEO Niraj Shah said the physical locations would represent "a new kind of omnichannel shopping experience (that) "blurs the lines between online and offline." Suggesting this is all still a work in progress he referred to the store rollout as a "physical retail experimentation.
"We have some ideas for different concepts that we think could be the right concepts that we would then want to scale," he said indicating Wayfair wants to "see how they perform in the real world."
Clearly Shah understands Wayfair needs stores to be ultimately successful. "You start thinking, 'Man, if you get that store, right, and it's just another channel you've added into the mix, in addition to the stories you tell on TV and what you're doing on social media and what you can do with catalogs, what you do online, you can start to see … that's quite a nice leverage point."
Still, the cost of opening would could be dozens or even hundreds of physical stores will be significant for a company that has only broken into the black over the past pandemic year. But as other retailers, not just in home but in every merchandise category, have learned, you need to be able to sell the customer wherever they choose to shop.
The fundamental things apply.