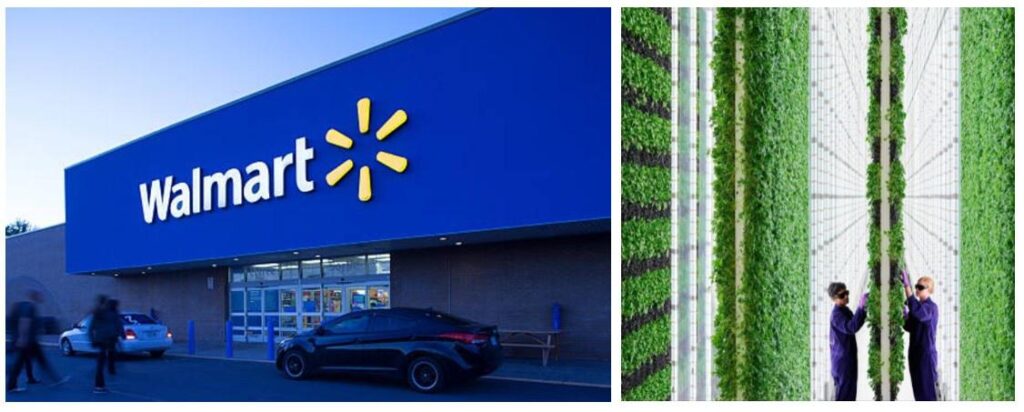 Walmart's Bringing The Farm Closer To The Store
A recent report by CBRE referenced the supply of gross leasable retail space falling by 59% in Q4 of 2021, compared the previous year. This represents a four-year-low availability rate of 6.4%. However, the article also noted that power centers appear to be the favorite choice of expanding tenants, who are "often formers mall inhabitants." So even as store openings are exceeding closings for the first time in years, the malls do not appear to be overwhelming winners. Vacant anchors and shuttered out buildings appear to still be "in the outs."
I have been writing about the need to "reimagine" the malls for over two decades. Back in 2020 I reported on repurposing mall assets, as well as the drivers behind "Grand Mall Overhauls." Both articles alluded to converting vacant shell space into vertical farms to generate produce for stores mere yards away.
So, I was not completely surprised when I learned this week that Walmart had made a significant financial investment in Plenty, an indoor vertical farming company. Their initial intent is to have both Plenty's branded veggies and their own private label products in 280 California stores by later this year.
Controlling Walmart's Carbon Footprint
Walmart clearly wants to bring the farm closer to the store. This dovetails with their pledge to meet a plethora of sustainability targets and become a net-zero emissions business by 2040. The beauty of this remarkable type of farming is that it checks every sustainability box imaginable. Besides cutting down on costly shipping of produce, reducing spoilage, and controlling a food source, its efficiency is mind-boggling.
Vertical gardening is an unparcelled, controlled ecosystem. They cultivate crops on vertical structures indoors, using less space and much less water – like 95% less – than traditional farms. Plenty farms are designed to increase yields by 350-times over traditional farming. They are able to grow the same number of crops that it would normally require hundreds of acres to grow, down to the size of a big box store.
In fact, Plenty managed to condense seven hundred acres of farmland into a 95,000 square foot warehouse in Los Angeles County, where the Walmart produce will be grown. Additionally, in these controlled environments, there are no seasons, severe weather, or even pests. The crops are cultivated in hyper-clean environments, where robots do much of the picking.
A recently published study in the journal Bioscience estimates that overall food production needs to be increased by 25-70% between now and 2050. However, at present, over 80% of arable land suitable for agriculture are already being used. A Morgan Stanley report on the future of food indicates that vertical farming is expected to grow 25% annually over the next decade, but it may also be limited to "high-value" crops, or produce that commands high prices, such as leafy greens and strawberries.
The Tesla of Farming
This type of technology is not limited to huge warehouses, in fact Square Roots farm, the brainchild of founders Tobias Peggs, and Kimbal Musk, younger brother of Tesla founder Elon Musk, utilizes a similar hydroponic growing technology in shipping containers. This week Square Roots, in conjunction with one of the largest food distributors in North America, Gordon Food Service, opened its fourth Square Roots farm in Kenosha, Wisconsin.
Their ten double-decked shipping containers have a combined footprint of merely 10,000 square feet. And yet the farm has the capacity to produce 2.4 million packages of herbs and leafy greens annually. Their hydroponic growing systems recirculate water, thus requiring 95% less of it than conventional field farms.
Bringing it Home
As even the most viable, class A, A-, and B+ shopping centers are undergoing substantial redevelopment. They are becoming multiuse properties, bringing a broad variety of retail, service, entertainment, recreation, and even housing to sites once solely devoted to retail. Meanwhile, we have all witnessed scarcities over the past two years leading to staggering price hikes in everything we consume. Hence there exists a combination of underutilized asset capacity, contrasted with an inability to sustainably meet demands in basic needs. But, I believe there is a solution in plain sight.
Within a stone's throw of my neighborhood Ridgedale Center regional mall, lies a Whole Foods, a Target, a Trader Joe's, and one of the area's premium grocers, Lunds & Byerlys. While the center's vacant Sears anchor is being redeveloped into a new Dick's Sporting Goods Store, an adjacent vacant Sear's Auto center building sits empty.
Replacing or retrofitting the auto center building into a Square Roots farm, would provide enough fresh greens to supply every grocery store and restaurant in the western Minneapolis suburbs, and then some. The auto center building has a bigger footprint than the 10,000 square foot Kenosha, WI Square Roots farm, so its a great fit, along with being a positive sustainability statement. In the process it would eliminate most of the transportation costs (and pollution) associated with bringing produce to market, while cutting spoilage, and extend the produce's shelf life. And it is all accomplished without using any pesticides or GMO's. Something worth chewing on.