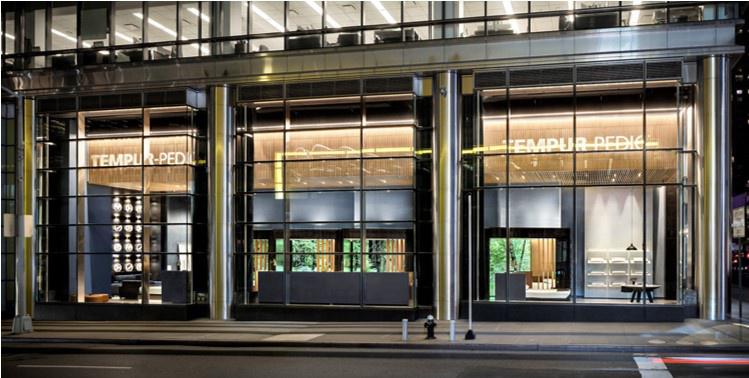 Walmart, Tempur-Pedic, and AT&T Experience Recognized For Store Design Excellence
As someone who has spent five decades as a retail store designer – my "real job," I can attest to it being more science than art. And at a time when unified commerce is changing the very nature of what the store must be, the design of "branded environments" have never played a more important role in the path-to-purchase.
In my own retail design practice, we understood that our livelihood depended upon on creating a strong return on your client's investments. That role of linking "design and the bottom line," was far more objective than subjective.
Leading brands have long understood that great design is a brand differentiator, and one that warrants higher product margins and promotes brand passion. The importance that both Apple AAPL and Nike NKE have placed on their exceptional, even iconic store designs speaks to the importance of controlling the brand at every touchpoint, and particularly at a key point of customer engagement. It generates a halo effect that is real and enduring. That same level of design excellence and attention to a myriad of details has been demonstrated in the Retail Design Institute's 50th International Design Competition for "Store of the Year."
Retail Design Institute 50th International Design Competition
The Retail Design Institute, founded in 1961, is recognized as one of the elite global professional organizations focused on the business of retail design. Its members include architects, graphic designers, lighting designers, interior designers, store planners, visual merchandisers, resource designers, brand strategists, educators, trade partners, media, and students of design.
In October, the Retail Design Institute named twenty-five finalists in its 50th annual design competition. They make up RDI's "Class of 2020", for retail projects open between January 1 through December 31, 2020. This year's competition attracted submissions from sixty-two retail teams around the globe, culminating in judges selected twenty-five finalists.
As a long standing, past member of RDI and a judge of one of the past Store of the Year competitions, I can tell you that it is an intense gig, and the winners deserve accolades. Out of the twenty-five projects recognized this past year, I have elected to share my thoughts on four projects which encompass a cross-section of store types and sizes.
And the Winner Is!
Designers CallisonRTKL created a stunning and experiential New York City store for mattress manufacturer Tempur-Pedic. Paul Condor, RTKL's Principal laid out their challenge (rhetorically) asking "how do you create an experience that is both relaxing and natural at one of the busiest corners in Manhattan?"
Their approach was to create a series of experiential bedroom-like "pods." By combining hi-res, constantly changing video images of the outdoors, in small bedroom-like vignettes, they manage to create a sense of comfort and serenity by merging virtual technology with the built environment.
These settings welcome the visitor, as if they are stepping into a warm cabin scene, creating a sense of serenity. As the customer enters, the scene goes from a beautiful beach to an evening sunset, and finally projecting overhead clouds. RTKL team member Laura Lewi referred to the concept as "blurring the lines between hospitality and retail."
The store layout guides the shopper through the process of discovery. It balances the intellectual and emotional components of the sale and recognizes the fact that many customers prefer "guided self-discovery" that may ultimately lead to "assisted discovery." They also curated the showroom to feature not only Tempur-Pedic brand products but also furnishings from neighborhood retailers.
Digitally Integrated Walmart WMT
In September 2020, when Walmart's Chief Customer Officer Janey Whiteside, was interviewed about Walmart's newly "reimagined" retail store design, she noted that her team was "working hard to make it easy for customers to be able to toggle between their physical experiences that are in the store and their digital journeys." This is part of the new retail narrative of "unified commerce" which became a focus of the 2022 National Retail Federation's "Big Show" just concluded this past week.
The Walmart design was planned before the pandemic and one of the goals was to save shoppers time. Given that fact that the digital enabled shopper is holding the tools in her hand, to make the customer experience more efficient Walmart, along with FITCH (now Landor & Fitch), teamed to design a concept store which integrates with the Walmart apps "item finder" for its 186,000-sq.-ft. Springdale AR "prototype" store.
A strong, clean navigation system makes the entire shopping experience more intuitive. It incorporates directories, end-cap navigation points, and consistently placed, clear aisle numbering system. The addition of directional arrows and more frequent signage, points customers to their destinations.
The system, which mirrors that of an airport navigation system, complements the more open, minimalist merchandising approach, that cuts clutter and keeps the customers out of "product overwhelm", while still maintaining the distinctive Walmart look and color palette. Regarding the stores roll-out, an email from Walmart stated: "We'll continue to test, learn, and make changes based on what our customers tell us. As we do that, we'll quickly adjust and deliver an even better, more engaging experience in 2022 and beyond."
From Big Box to Little High
Even in retailing great things can come in small packages. Such is the case with perhaps the smallest of this year's entrants, Waterloo Ontario's Sweet Seven Cannabis Co. The simple, elegant, almost ethereal store aesthetic is welcoming, while the stores immediately intuitive organization gets visitors comfortable with their surroundings, even if they are new to the category.
Toronto's dkstudio Architects devised a very compelling layout utilizing a series of seven concave product pods that promote casual and unrushed discovery. The understated and elegant curved, transparent panels create an elegant backdrop for the "floating" product shelves. They feature well-spaced product and simple signage.
As is the case with any well-developed branded environment, no item appears as an afterthought. The store's product display, lighting, signage, and color palette all work in sync, creating a very unified brand statement.
AT&T T Experience Store
I have written quite a bit about social commerce moving retail into the realm of media. The upshot of this is that stores, conversely must become media extensions. Such is the case with the AT&T Experience store, in Dallas TX. The store is part of the multi-block AT&T Discovery District, a new destination which combines tech, culture, and entertainment in the heart of downtown Dallas. The $100 million project designed by Gensler opened in June 2021.
The AT&T Creative Innovation Team, assisted by Gensler has merged AT&T products with Warner Media, and have developed a highly experiential 5,000 square foot store that is devoted 75% to experience, and 25% to retail product. This type of flagship store is intended to have strong brand halo effect. As such, there will be products at the store that are exclusive and cannot be found at other AT&T stores. Product screens show content adjacent to displayed devices, via custom interactive digital media.
Because one of the key components for a "brand laboratory" like this is changeability, both walls and tables, embedded with power sources, were all designed to flex and move to accommodate a reset. This keeps the experience fresh, and draws visitors back.
Since the store opened it has been reset more than ten times. Some of the evolving experiences have included "Dream in Black," "Big Bang Theory," and "Experience Friends." The latter being a full stage set of "Central Perk" from the iconic TV show that we lived with for a decade, and some of us relive almost nightly.