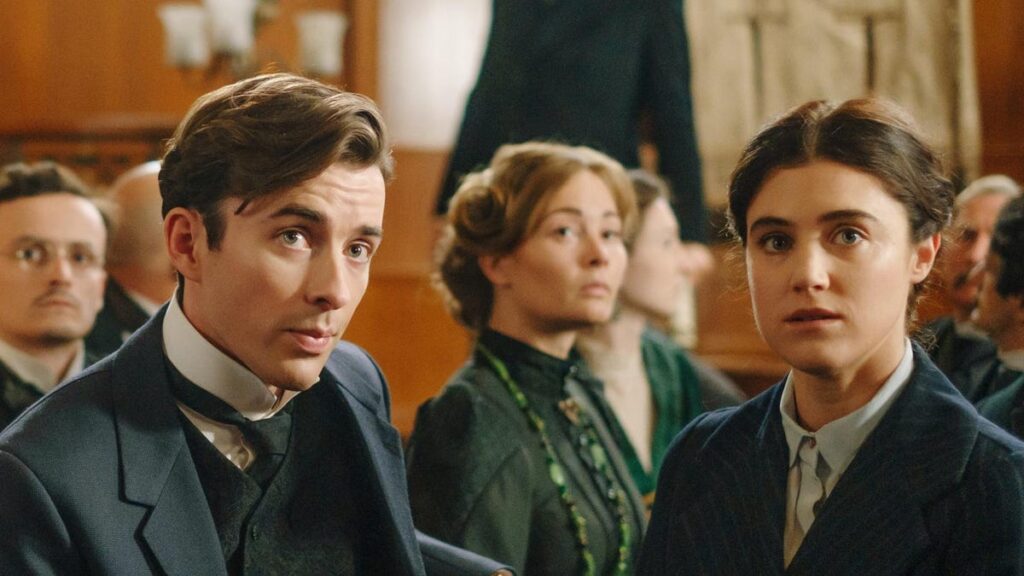 'Vienna Blood' Season 2 Is A Brilliant Period Drama Series On PBS
Season 2 of Vienna Blood premieres on PBS on January 9. The second season features three new two-part episodes starring the endearing duo of Matthew Beard as Dr. Max Liebermann and Juergen Maurer as Detective Inspector Oskar Rheinhardt. Vienna Blood is a brilliant murder mystery series anchored in history.
Based on the best-selling crime mystery novels written by Frank Tallis, Vienna Blood is set in the early 1900s in the Austrian capital of Vienna. Detective Inspector Oskar Rheinhardt joins forces with a young doctor, Max Liebermann, to solve murder mysteries. A disciple of the psychoanalyst Sigmund Freud, Liebermann helps Rheinhardt in profiling murder suspects. In this new season, Liebermann runs his own practice as a psychoanalyst, and Rheinhardt turns to him to help solve three different murder mysteries in Vienna, concerning a depressed Hungarian countess, a foreign plot and a monastery.
If you love murder mysteries and period dramas then this is the series for you. Season 2 is as enjoyable to watch as season 1 was. The only downside is that there is only three episodes per season. Much like season 1, the success of Vienna Blood relies heavily on the chemistry between Matthew Beard and Juergen Maurer, and the reconstruction of Vienna's historical past.
After shadowing Detective Inspector Rheinhardt in season 1 to learn more about the criminal mind, in this second season, Max Lieberman is this time sought by the detective to help him solve some gruesome murders. In the very first episode of Season 2, Max is in fact involved in the case as he was the doctor of the murder victim. Max finds his reputation is on the line, and must solve the crime with Oskar to salvage it, and to find the culprit. Vienna Blood in this new season plays a lot more on the growing friendship between the two men. The scenes between Juergen Maurer as Oskar and Matthew Beard as Max are great, playing off one another in quite a delightful way.
This season, the duo are assisted a lot more by forensic expert, Amelia Lydgate (played by Lucy Griffiths) and a new female police archivist Lisa Linder (played by Miriam Hie). Amelia is also Max's love interest, and the reason why Max broke his engagement with Clara (played by Luise Von Finckh) at the end of last season. I personally particularly love the scenes involving Max with his parents and sister, portrayed as such a loving and supportive family.
The third main character of this series remains the city of Vienna. Much of the filming of the series was filmed on location in Vienna, so the series takes its viewers into a kind of historical tour of the city. The series shows how Vienna was really a hotspot in the early 1900s in terms of history and culture. It is where psychoanalysis, with Sigmund Freud, was born. Much of the intellectual and artistic currents in Vienna at that time have influenced and shaped the modern Western world. This second season hints at a lot of pivotal historical moments, such as the multi-ethnicity of the city, the Austro-Hungarian empire that was about to crumble, and the virulent rising wave of anti-Semitism in Vienna. This historical context is what makes Vienna Blood such a fascinating period series.
Season 2 of Vienna Blood is already available to view on BBC iPlayer in the U.K. The series premieres in the U.S. on PBS on six consecutive Sundays, January 9-February 13. Vienna Blood is produced by Endor Productions and MR Film in co-production with Red Arrow Studios International, ZDF Germany and ORF (Austria), with the assistance of Fernsehfonds Austria, Film Fonds Vienna and Kultur Niederöesterreich. The stories were adapted by screenwriter Steve Thompson and season 2 was directed by Robert Dornhelm.