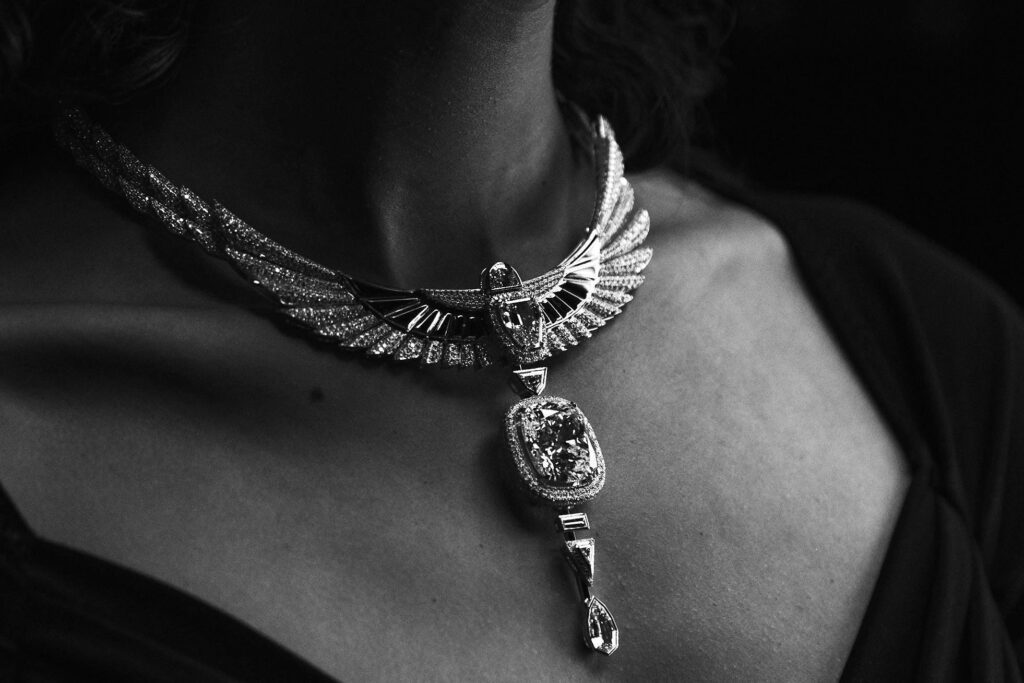 Untraditional: How Jewelry Brands Messika, Unsaid & Menē Disrupted Paris Haute Couture Week
This season Paris Haute Couture Week sparkled with unaccustomed brilliance. New brands breaking into the rarified world of high jewelry are targeting a new generation of consumer keen to invest in gold and diamond pieces that speak their language and resonate with their aesthetic.
Messika's high fashion high jewelry
Valérie Messika launched her eponymous jewelry house in 2005. Which, by Place Vendôme standards, means yesterday. But it's worked in her favor because even though she hails from a family of diamond dealers, she wasn't shackled by centuries of heritage and convention.
"I wanted to make diamond jewelry for everyday that was cool and edgy," she said. "I was 25 and I wanted something for myself that felt fresh." Queue Messika's strong fashion positioning and contemporary design lexicon.
Following on from Gigi Hadid in 2017, Messika collaborated with Kate Moss in 2020 on a 70 piece fine jewelry collection, continuing the partnership last year with a runway show during September's Paris Fashion Week. Earlier this year, the two joined forces again — in the metaverse — on digital diamond wearables for Moss' avatar in Lucy Yeomans' gaming app Drest. Current face of the brand? Kendall Jenner.
However, Beyond the Light, Messika's new Ancient Egypt inspired high jewelry collection unveiled during Paris Couture Week underscores the brand's credentials as a serious player in the real world. For Akh-Ba-Ka, its hero set, Messkia acquired an entire family of 15 stones — largest of which is 33 carats — from an 110 carat rough diamond discovered in Botswana's Lucara mine. "I wanted a strong diamond as an inheritance for the house," she said by way of explanation. Which speaks volumes for her ambitions.
The Akh-Ba-Ka also features a transformable component whereby the structure cradling the 33-carat D and FI classified stone can be detached from the necklace to become a brooch. The technically challenging trope as pioneered by Van Cleef in 1938 with the Passe-Partout has since been deployed by other traditional high jewelry houses such as Cartier and Chaumet. The collection's Golden Shield set features a transformable choker alongside a piece of lip jewelry — another of those contemporary touches that characterize the house.
Valérie Messika has been obsessed with Ancient Egypt since she was a child. For one thing, she says, because, women were considered equal to men: "Cleopatra was an amazing strong woman." The inspiration chimes with the brand's own story in female empowerment. According to Messika, "women purchase our pieces for themselves — they don't wait to be gifted by a man."
Unsaid's controversial carats
The family of Unsaid co-founder Ankit Mehta has been in the diamond industry for some four generations — holding company Walking Tree Ventures also owns natural diamond jewelry outfit Her Story. However, when it came to industry hot potato, lab grown diamonds, he took a pragmatic approach.
He was motivated by the creative possibilities afforded by lab grown diamonds — in terms of disruptive new cuts impossible to execute with natural diamonds. Starting point for Unsaid was a new offering targeted at Millennials seeking new classics in sync with their generation. "We are building a new age modern brand connected to the audience of today, their lifestyle and emotions," he said at a showcase in Paris during Haute Couture Week.
Cuts have been inspired by stories from real people, curated by creative director and trained psychologist Shraddha Mehta over the course of two years. The new Bubble Cut collection, for example, symbolizes joy and nostalgia. Also unveiled was the Reminiscence Ring, a one-of-one Bubble collection piece and the largest ever made from lab-grown diamonds. Totaling 35.90 carats the ring will be auctioned for charity later this year.
"Is it the same as a natural diamond? No," says Ankit Mehta. "It's one thing to have a diamond that has grown with nature in a process that takes a billion years and another to build something out of sheer technology and innovation. But both have a story and a legitimacy and we're very comfortable with giving people the option."
Currently direct to consumer, Unsaid will open a four-month pop-up in Paris with Printemps in September followed by stores in Paris, London and New York from 2023.
Gold by the gram at Menē
Menē is an online 24-carat gold jewelry and objets d'arts outfit where all pieces are priced by the gram. Prices vary according to the market with changes visible in real time on the product dashboard. A 20 – 30% margin is added to account for design and manufacture with the breakdown shown clearly on each item.
The five year-old publicly-listed company is the brainchild of Roy Sebag — man behind Gold Money, the likewise publicly-listed full reserve bank for investing in gold — and Diana W. Picasso, Pablo Picasso's art historian grand-daughter.
Since Mēne launched in 2017, the value of gold has risen by 60% and over the same period, the annual company turnover increased from one million to 30 million.
"When the price of gold went up we thought we would sell less but in fact we sold more," says Artistic Director Sunjoo Moon, explaining that people are viewing it as a good investment for exactly that reason.
During Paris Haute Couture Week they unveiled a solid gold chess set with pieces also sold separately as collectibles. The New York based company sources its gold from mines in the United States and Canada. It is currently setting up a distribution center in Paris to open up the European market.
For the record, Menē also accepts cryptocurrency. It has a certain logic.