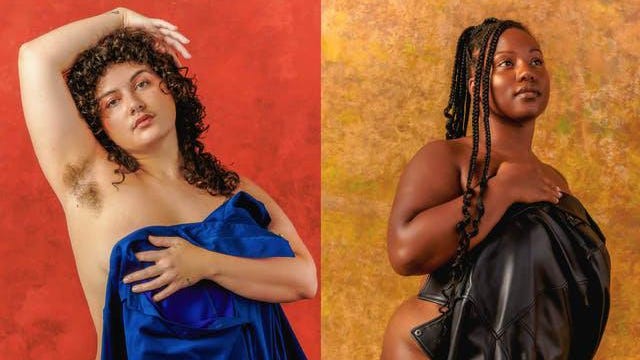 Universal Standard's New Campaign Asks What Fashion Should Look Like
Inclusive-sizing brand Universal Standard has a new campaign. "Undoing Centuries of Sizeism" asks important questions about the history and future of fashion
The campaign, shot by photographer Rochelle Brock, portrays plus-size models exhibiting a comfort and subtle ease that our current fatphobic landscape has rendered difficult to access – or imagine – if you're in a larger body. The visuals are striking, and convey a sense of both longing (for a different past) and possibility (of a better future).
Alongside the release, the company published an editorial by Brock that asked important philosophical questions about representation, fashion and bodies:
"What if fashion had always been this way? What if our very beings weren't taboo, and had been on display all along? What if we were raised on images of femmes like us? What if instead of them expecting mass adherence from us, we expected reverence from them? What if this industry was made for all of us?" wrote Brock.
Brock encourages the viewer to "inhale" the impact of the campaign's images, and invites us to imagine, "What fashion could have, should have, can still, will, look like."
Universal Standard was founded in 2015 by friends Polina Veksler and Alexandra Waldman, who set out to promote size equality by offering every style in every size from 00 through 40. Veksler and Waldman imagined a shopping experience where people of all sizes could shop in the same way.