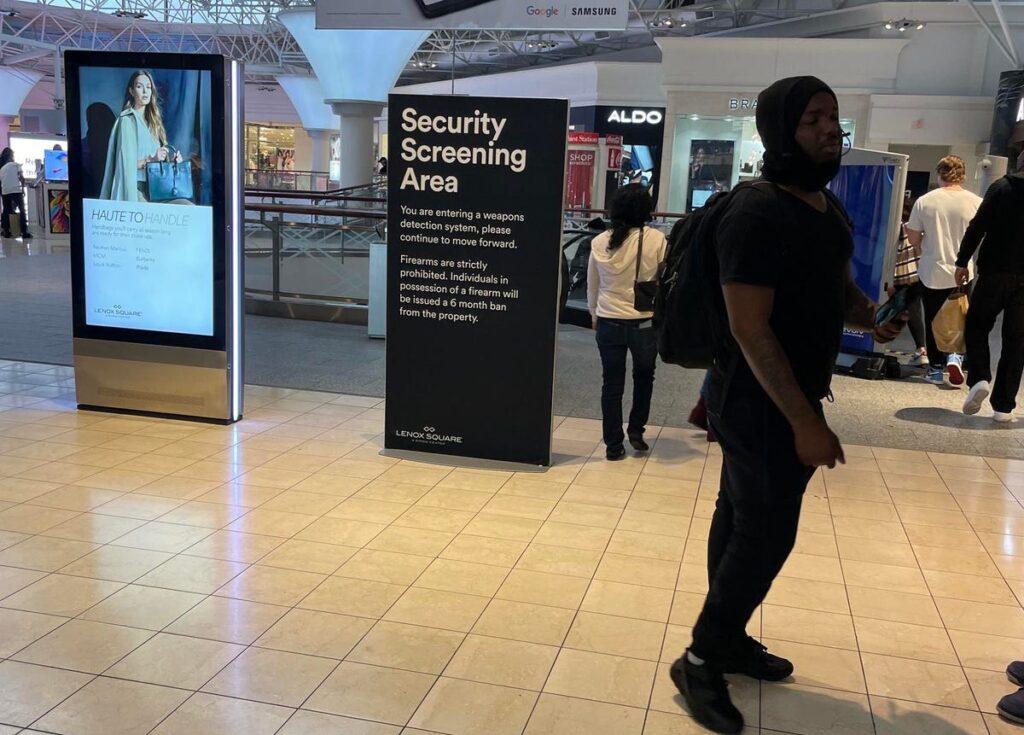 T'was The Week Before Christmas And Not Enough Was Stirring At The Mall
In the end it was more Pale Mall than Pall Mall.
A week before Christmas a visit to the one of the largest, most prominent shopping malls in the country revealed a lot about the state of retailing in this country in 2021
And perhaps even more importantly, it offered insights into what to expect as we enter a new year still defined by Covid, changing purchasing patterns and the realities of the business of retail.
Lenox Square, Atlanta's premier shopping center located in the heart of the upscale Buckhead neighborhood, was teeming with shoppers as the last weekend of the 2021 Christmas shopping season came to its inevitable conclusion. But teeming, as in a busy regular shopping day, not just-a-few-panic-stricken days before Dec. 25.
The original Pall Mall in London was once known as an upscale shopping street but the Pale Mall label that seems to define physical retail spaces like Lenox today is almost a shadow of the great heyday of American shopping malls. People may be out at physical stores again, trying for some human connection after being locked down with their e-commerce choices for the past 22 months but it's still not the same as it ever was:
• On this particular day the number of people carrying shopping bags only exceeded the number of people wearing masks by a thin margin. Shopping at a big mall is still a social function, even a week before Christmas, but you expected to see more people carrying their purchases. You could only hope to have seen more people wearing masks.
• The holiday decorations were at a minimum. Upscale malls like Lenox never went over the top even in the best of times but we could find no Santa station other than in a few individual stores and the sterile marble and metal décor of Lenox is showing its age when people are looking to reconnect with Mother Nature.
• And the Macy's M , which inherited the local legendary Pink Pig attraction from the since-amalgamated Rich's and operated it for the holidays on a parking deck, seemed to have used the pandemic as the final excuse to retire the ride. Kids, little and big, surely were not pleased.
• Mall vacancies were not excessive but one expects a Class A center like Lenox to be virtually full. It was not and signs reading "Stay Tuned" no longer carry much credibility these days. One gets the feeling these are signs for Christmas Future.
• Even if people are out shopping not every store is open to greet them. The Ralph Lauren shop at Lenox, which itself is fairly new, was all decked out inside but its doors were locked. Taped to the front door was a small unobtrusive note reading in part, "Our number one priority is the health and well-being of our employees, our customers, and the communities we serve. That is why we have temporarily closed our store." We haven't seen that one before…much less a week before Christmas.
• And it wasn't the only store closed: The big Starbucks in the middle of the mall, which often has the longest line in the place, was shuttered. It's unclear how much of this is related to health and wellness and how much to trouble hiring baristas, but if there's any time you need a caffeine hit it's this week.
• Speaking of labor shortages, the most prominent sign in front of the giant two-story Nike NKE outpost was a "Now Hiring" placard, complete with a scannable QR code icon.
• Other traditional busy locations were barely hopping. One can always count on Auntie Anne's pretzels as well as cookie and ice cream purveyors to have lines down the aisles. On this day they did not. Even the Apple AAPL store, a new, two-story emporium, though busy had no line waiting to get in.
• In fact, the only lines witnessed were at two upscale luxury stores, Louis Vuitton and Prada. Again, there's some social distancing practices going on but it also says the luxe market continues to hold up quite nicely, thank you.
• Perhaps the most telling sight of what shopping has become, particularly in a city like Atlanta which is struggling with higher crime rates, was the huge presence of police and security throughout the mall. Checkpoints at major entrances had airport-style metal detectors, private guards patrolled the halls with police dogs and security cameras appeared to be strategically located throughout, complete with prominent signs announcing "you are entering a weapons detection system" Security Screening Area. Open carry of handguns is legal in Georgia, but not in the mall where you could "be issued a 6-month ban from the property" if you are in possession of a firearm. Oh the horror.
The Lenox Square mall no doubt remains one of the healthier shopping centers in the country and with its high-profile anchors – Bloomingdale's and Neiman Marcus in addition to Macy's – it will continue to be an Atlanta destination, much to the relief of its corporate owner Simon Property Group SPG . (By the way, efforts by Simon and other mall operators like Westfield to brand these malls seem like a vanity project gone amuck. Does the average shopper really care who owns the place?)
But as a reflection of the state of retail circa December 2021, this timely mall visit contained shopping bags full of observations. And they didn't even come gift wrapped.