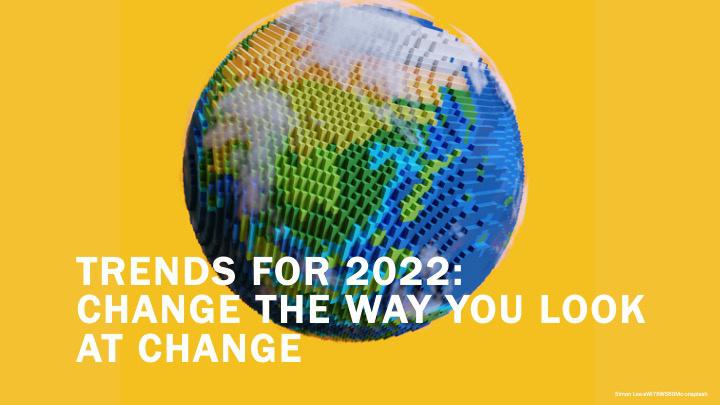 Trends For 2022: Change The Way You Look At Change
Change is inevitable and it is a signal of what's ahead. Using change as a business tool is what I preach. Seven years ago, I posted Flux: New Rules For Innovation And Growth, outlining how my approach to understanding the culture and the consumer must account for constant evolution and systemic forces. Exploring the idea further, in 2017 I published See Change: Training Your Business to Catch Cultural Waves Part One and Two. Those posts argued that simply paying attention to shifts and developments can yield insight into the future.
The last two years are evidence enough that the world is experiencing life/business/economic/community-altering transitions and that there is no going back to the way things were. The shifts will be playing out to varying degrees for the next decade. But the time to take stock is now. Here are 6 areas of cultural change to keep your eye on.
1. More Power To You
Influence, advantage, leverage, dominance, might and sway. Who has it? Who used to have it? It's all in flux right now and migrating in unexpected directions, driven by pandemic chaos, technological innovations, societal priorities, and clever entrepreneurs.
The Great Resignation and Striketober became a thing as workers took control of their lives and pushed for what The Atlantic is calling "free agency." Civil unrest took on global momentum with evidence of systemic injustice playing out on a video taken by a teenager. A socially aware and committed generation is mobilizing consumers to hold companies and brands accountable for issues they never planned for–voting rights, abortion rights, DEI, climate change, and more. DTC brands are bypassing time-honored marketplace rules, cutting out the middleman. Influencers outperform celebrities as endorsers. De-Fi startups are making the traditional banking system sit up straight. This is a shift in power that's still under way.
What This Means For Business
Resist or evolve? After the last two years, that's the question for almost every business on the planet. Listen to employees and what they REALLY want from a job. (It's not a ping pong table) Dig deeper to create authentic and sustainable DEI strategies, flexible work schedules and fair wage standards. Listen to customers and what they really want from a brand. Are you about to get cut out of the equation? Get a foresight planning session in place to understand the innovation, cultural, workplace, and marketplace power shifts continuing to evolve before they pass you by.
2. Downshiftable
While some recent movements have been building over the last few years, the whiplash and isolation of the shutdown and seemingly never-ending pandemic has throttled back people's activities and reprioritized jobs, relationships, health, free-time, and spending.
Gen Z is driving pre-loved fashion, or the thrifting industry, and according to Boston Consulting Group, the global market for pre-owned apparel is worth up to $40 billion a year. Even retail giants are getting into the reuse, refurbish mindset. IKEA recently launched a buy back and resell service and eBay and Amazon have refurbished programs that promise inspected and like-new condition of the used items they offer.
Cooking at home grew by necessity over the past couple years. But 92% of families aim to continue or increase at-home dining. The rise in pandemic drinking gave way to Sober October and Dry January and the growth of non-alcoholic spirits, cocktails, and beer. According to IWSR Drinks Market Analysis, the non-alcoholic spirits industry is expected to grow 35 percent by 2023. The decline in meat consumption was replaced with an increase in plant-based foods and beverages. Plant-based foods in the U.S. are a $7 billion market, growing 27 percent over the last year.
One activity that's seen major growth is bicycling. Not only are cities installing more bike lanes and strengthening mobility strategies, but athletes, teams and families are using bikes to get outside. The National Bicycle Dealers Association reports that in 2020, retail sales skyrocketed by more than 40% and, by the year 2025, revenue is projected to be $8 billion.
What This Means For Business
It's not that people are done consuming. It's just that many have a new awareness and are doing a continued assessment of what really matters. This introspection might be a silver lining outcome of the pandemic. The emphasis on conscious consumption, renewed personal and family relationships, a focus on holistic health, and a balanced workplace will only make communities healthier and more sustainable. Highlight how your brand supports lifestyle choices like these.
3. Excursions into the Unreal
Feel like you're already living in the metaverse or some other alternate reality? You're not alone. The last few years have been a headshaker, as we try to make sense of what's real and what's not. We've already seen an all-out assault on truth in politics, news, and media.
Deep fakes have been a concern for a few years but are now more seriously identified as a political or national security or a personal privacy issue like this astonishingly realistic @deeptomcruise video. ​
Fast Company reported on "Hour One, a Tel Aviv-based startup that builds human-seeming avatars, digital puppets, metahumans and calls these fake people "reals," because they are based on actual humans. Dozens of these talking heads are now doing tutorials, customer service, client presentations, interoffice communications, and silly videos on Cameo."
If you understand NFTs you're a brand that has ventured into the unreal. Nike is creating NFTs and virtual sneakers for the metaverse. They're not exactly fake, but they're…a digital version of a thing?
Influencers, already a lucrative marketing strategy due to their authenticity, became fabricated, invented, and then monetized. Restricted from meeting in person, virtual worlds like Animal Crossing hosted weddings, funerals, birthday parties, graduations, and team meetings. They were still real, right? Conspiracies and misinformation emerge and spread so fast that critical thinking has given way to preferred media bubbles. This rumor about a school violence challenge on Tiktok shut down schools and rattled parents.
And of course, fake news, a term coined by the last administration continues to test our trust in the media. In a fighting-fire-with-fire approach a Birds Aren't Real campaign has emerged as a parody social movement to counter misinformation and conspiracy with obvious absurdity.
What This Means For Business
During a time of major disruptions and change (like the last few years!), citizens and consumers crave control and certainty. This trend coincides with the growth of customers looking to businesses to take a stand on important issues. Business and brands can provide this stability and purpose, but only after a serious audit. Conduct an honest review of your messaging, product claims and policies and put your employee well-being on the same level as shareholders. And if necessary, get real about mistakes, missteps and "I misspoke" and own up to all stakeholders.
On the fun side, decide if you want to be part of the Unreal the more virtual your company becomes the more you delve into the metaverse to connect with consumers, the more important it is to have a clear idea of what your company values are and what you mean to your consumers.
4. The Apocalyptical Machine
If the many and varied stresses of the pandemic weren't enough, the list of life-altering, world-ending developments continue to mount, adding more and more real-world worries to the list.
Worsening climate change is triggering extreme flooding, hurricanes, drought, and wildfires, destroying lives and communities and extinguishing dozens of species of wildlife. A study, published in The Lancet Planetary Health, reported that three-quarters of young respondents said they believe "the future is frightening," and 56% felt "humanity is doomed."
The once humdrum school board meeting is now a political battle ground, and a danger zone for board members. Hackers have shut down a pipeline, meatpacking plants, and hundreds of businesses, stores, even health care providers with ransomware attacks that have doubled between 2019 and 2020. China recently tested a hypersonic missile that changes the mutually assured destruction game. For many, the January 6th insurrection was an unthinkably nightmarish event that pushed democracy too close to breaking. And more evidence of growing fear and anger from "a 2021 national survey by pollster John Zogby found a plurality of Americans (46%) believed a future civil war was likely."
ABC News reported on December 8, 2021, that 12 major cities hit all-time homicide records. If you weren't already spending more time indoors, that might keep you there.
What This Means For Business
People are freaked out! We're bombarded with social media hype and news stories that are depressing and scary. At times like this, cooler and strategic heads prevail. Take a hard look at your sustainability practices, ESG standards, and commitment to democracy. Where can you dig deeper, be braver, and take a stand to reassure consumers you're there for them.
5. Capitalism's Final Boss
Fascinated with space exploration and scifi, I've mentioned space and the cosmos almost every year in these reports, as interest grows within the culture. Whether you think billionaires have made space rockets the new ego-charged superyachts or that their efforts are advancing the science of space, the events and innovations are not going to stop.
First, the space industry goes beyond billionaire boondoggles. The "Bank of America expects the growing space economy will more than triple in size in the next decade, to become a $1.4 trillion market." Axios has a great series on the business of space, pointing out that it is not just the territory of the US and Russia anymore. Many countries are getting into the space industry—China, India, Canada, Turkey, Brazil. The military considers space a territory to protect, and satellites help us do many things on earth—communicate, track the climate, and advance planetary science. Sure, space tourism is emerging, but regulations will follow as attention to the business of space grows.
Second, space is not just for billionaires. Real people can get involved with binoculars, telescopes, star gazing apps, astrophotography, and astronomy clubs. Dark Sky Festivals are celebrating the cosmos with programs, activities and efforts to preserve Dark Sky Sanctuaries around the world, all supported by the International Dark Sky Association. Events like this one in my home state earlier this month are building awareness of the need to protect the night sky.
What This Means To Business
As the pandemic kept more people at home, it also renewed our interest in the world around us and above us. While most brands don't have a connection to space, the consumer interest in it does suggest an even broader appreciation and awareness of environmentalism, sustainability, and our place in the universe. Almost every brand can continue to improve their contributions to sustainability.
More specifically the growth of the space industry means a lot of jobs, more STEM interest, investments, innovations, a military focus, and advancements in our understanding of what's out there.
6. Let The Healing Begin
After nearly two years of the pandemic, we are building a new and more holistic understanding of health and wellness. The need to protect our physical health came first but we soon came to appreciate all aspects of mind, body, and spirit wellness.
Mental health is finally getting the attention it deserves due to the stress of pandemic and the willingness of celebrities to share their stories. And it is finally part of workplace standards. Even HBR is calling on employers to go beyond mental health days and meditation apps to "take on the real work of cultural change" when it comes to mental health.
Self-care became a go-to solution for the stress and trauma of the pandemic. The Atlantic is suggesting that we need to go beyond meditation and weighted blankets, "we must reclaim connection and meaning that comes not just from caring for ourselves but also from caring for one another. Me time is great, truly, but human flourishing is typically out there with everyone else. But another approach is to show up for others."
If you're having a hard time articulating how you feel in this crazy time, you're not alone. Recently, Krista Tippet interviewed Pauline Boss who coined the term "ambiguous loss," the challenge of navigating loss without closure. Sound familiar? Over the pandemic the losses have piled up—big and little. It can be helpful to understand the nature of this phenomenon to heal and restore health.
What This Means For Business
We are nothing without our health and we have had the opportunity to consider its many forms and effects on our lives over the last two years.
Businesses should start with their workplace. Do employees feel valued and see a future in your company? How can your products or services help people make meaningful connections with others to contribute to healing?
MORE FROM FORBESFlux: New Rules For Innovation And GrowthBy Mary Meehan MORE FROM FORBESSee Change: Train Your Business To Tame 2018's Hottest Trends And Catch the Next Cultural WavesBy Mary Meehan MORE FROM FORBESSee Change: Train Your Business To Tame 2018's Hottest Trends And Catch Cultural Waves. Part OneBy Mary Meehan