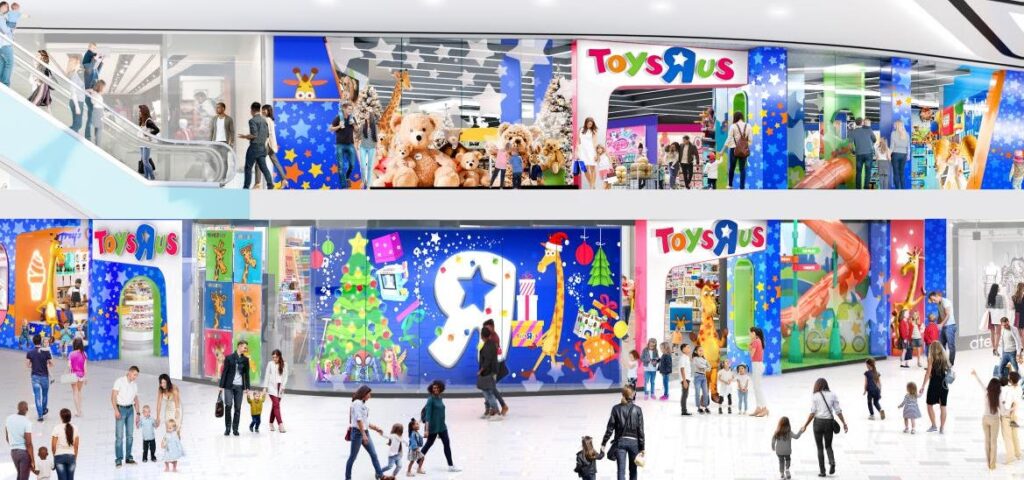 Toys R Us Launches Its U.S. Revival With American Dream Store
The investors hoping to resurrect the Toys R Us brand as a major retail player are preparing to open their first physical store in the United States, in the American Dream megamall in New Jersey, in mid-December.
The two-story, 20,000 square-foot location will have a cafe, ice cream parlor, and kid-friendly experiences like a slide linking the second floor to the first.
The deal means American Dream's developer, Triple Five, is making good on a promise it made to prospective tenants seven years ago, that their project in the New Jersey Meadowlands would include a one-of-a-kind Toys R Us flagship.
That promise was made back when Toys R Us was under different ownership, and had not yet filed for bankruptcy, or closed all of its U.S. stores, but was already looking for ways to cut costs by closing its Manhattan flagship in Times Square. Toys R Us, which at the time also owned FAO Schwarz, decided in 2o14 that it would relocate its two prime Manhattan tourist attractions – the Toys R Us flagship and the FAO Schwarz Fifth Avenue store – to American Dream.
That plan was scuttled by the 2017 bankruptcy and subsequent liquidation of Toys R Us.
The current Toys R Us revival is being orchestrated by WHP Global, a New York-based investment firm that acquired a controlling stake in TRU Kids Inc., the parent company that retained the rights to the Toys R Us and Babies R Us brands, and that had licensing partnerships with some 900 Toys R Us stores outside of the United States.
WHP Global took control of Toys R Us in early 2021, with its Chairman and CEO Yehuda Shmidman saying he wanted to restore the brand to the magic it once possessed. "It's the brand that we all associate with happy times and great times," Shmidman said when the acquisition was announced.
Shmidman today said the American Dream news is a sign that "our U.S.A. expansion plans are in high gear, propelling us into the next chapter of growth for our global brand."
"American Dream is a one-of-a-kind unrivaled retail center featuring massive entertainment experiences that make it an ideal destination for families," Shmidman said, adding that the new location was a "no-brainer" for Toys R Us.
The store will be located near the mall's Nicelodeon Universe amusement park and DreamWorks water park.
Early this year WHP Global relaunched the Toys R Us digital store, in partnership with Macy's M , and has begun opening Toys R Us shop-in-shop stores in Macy's locations. It plans to open over 400 of those shops inside Macy's stores in 2022.
This is at least the fourth time the Toys R Us brand – including under previous owners and leadership – has tried to create a new type of retail experience. It experimented with a mega-store in Elizabeth, N.J. designed to combine events like birthday parties, and services like photo studios and hair salons for kids, with toy shopping.
The flagship Manhattan store, with opened in 2001, was another experiential experiment, with an indoor ferris wheel, cafe, animatronic T-Rex, and non-stop toy demonstrations,
The TRU Kids executives tried, post-bankruptcy, to revive the brand with plans for 10 experiential stores in U.S. malls, with a partnership with retail-as-a-service company B8ta to rent space to toy bands. The first two of those stores opened during the 2019 holiday season, and were closed soon after due to the pandemic. They reopened, but closed permanently at the end of 2020.
But what Shmidman – who appears to have an "I'm a Toys R Us kid" passion for the brand – seems to understand is that the original Toys R Us superstores created by Charles Lazarus were the first example of experiential retail. Running around a store crammed with thousands of toys was an experience kids begged for, even when the parents warned them no purchases would be made.
For American Dream, the Toys R Us store could be an experience that draws as many families as the amusement park or theme park. And for parents it is a way to give the kids an experience that costs a lot less than a ticket to the amusement park or water park, even if they give in and buy a toy.