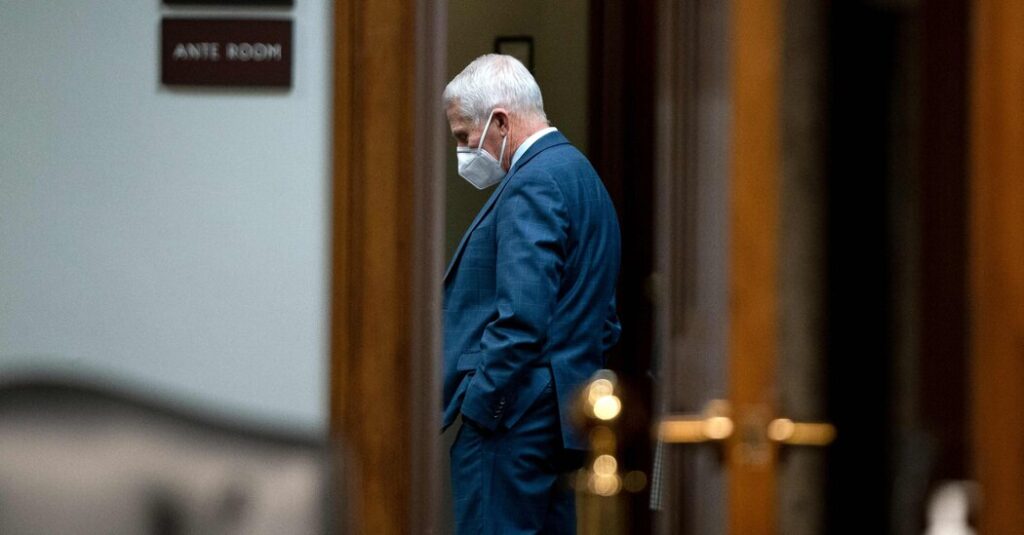 Top Doctors and Scientists Condemn 'Smear Campaign' Against Fauci
More than 200 leading American doctors and scientists — including four Nobel Prize winners and a former Republican leader — have signed an open letter in support of Dr. Anthony S. Fauci, calling Republican attacks on him "inaccurate, unscientific, ill-founded in the facts and, increasingly, motivated by partisan politics."
Dr. Fauci, who has led the National Institute for Allergy and Infectious Diseases since 1984 and is now President Biden's top medical adviser for Covid-19, has repeatedly clashed with congressional Republicans, and particularly with two who are fellow physicians: Senator Rand Paul, Republican of Kentucky, and Senator Roger Marshall, Republican of Kansas.
The tensions took an extraordinary turn on Tuesday, when Dr. Fauci — who has been the subject of death threats — publicly accused the senators of fomenting threats of violence against him and his family. He said his children had received obscene phone calls, and he noted the recent arrest of an armed man in Iowa who said he was driving to Washington to kill public figures including Mr. Biden and Dr. Fauci.
"Physicians trying to work for the country are outraged by Tony's treatment — the innuendo, smear campaign," said Dr. Ezekiel Emanuel, a bioethicist at the University of Pennsylvania who organized the letter, referring to Dr. Fauci by his nickname. "It is reminiscent of Joe McCarthy attacking people without any basis and ruining them, in this case inciting others to violence."
Dr. Emanuel said the clash at Tuesday's hearing prompted the statement of support, and that neither Dr. Fauci or the Biden administration knew about the effort.
Among the signatories:
Dr. Bill Frist, a former Senate Republican leader from Tennessee.

Dr. Harvey Alter, an immunologist who helped discover the Hepatitis C virus, and winner of a Nobel Prize.

Dr. David Baltimore, a biologist who discovered how tumor viruses integrate themselves into cells, and Nobel winner.

Dr. Harold Varmus, a former director of the National Institutes of Health who helped discover virus genes that cause cancer, and Nobel winner.

Dr. William Kaelin, whose work has unraveled the mystery of how the body adapts to changing levels of oxygen, and Nobel winner.
Dr. Fauci, they wrote, "has served the U.S.A. with wisdom and integrity for nearly 40 years," guiding the nation through a series of infectious disease crises, including H.I.V., Ebola and now Covid-19. "He has our unreserved respect and trust as a scientist and a national leader," the statement said.
Presidents from both parties have long treated Dr. Fauci with deference and respect. He worked closely with President George W. Bush to develop an international program to combat AIDS, and he was close with Mr. Bush's father, the first President Bush. But President Donald J. Trump apparently did not like Dr. Fauci's blunt advice, and repeatedly threatened to fire him.
Other Republicans have since climbed on the anti-Fauci bandwagon. Mr. Paul, an ophthalmologist, has repeatedly accused Dr. Fauci of using N.I.H. money to support studies in Wuhan, China, of how viruses could be made more transmissible. Dr. Fauci has steadfastly denied it. "Senator Paul, you do not know what you are talking about, quite frankly," he said at a hearing in July.
On Tuesday, Dr. Fauci accused Mr. Paul of trying to raise campaign contributions by whipping up sentiment against him, and he appeared to call Mr. Marshall a "moron" under his breath — a comment that was picked up by an open microphone — after Mr. Marshall insinuated, incorrectly, that Dr. Fauci was hiding his financial disclosure forms.
"Throughout the Covid-19 pandemic," the doctors' and scientists' statement said, "Dr. Fauci has provided the American political leadership and the public with sagacious counsel in these most difficult of times. His advice has been as well-informed as data and the rapidly evolving circumstances allowed."