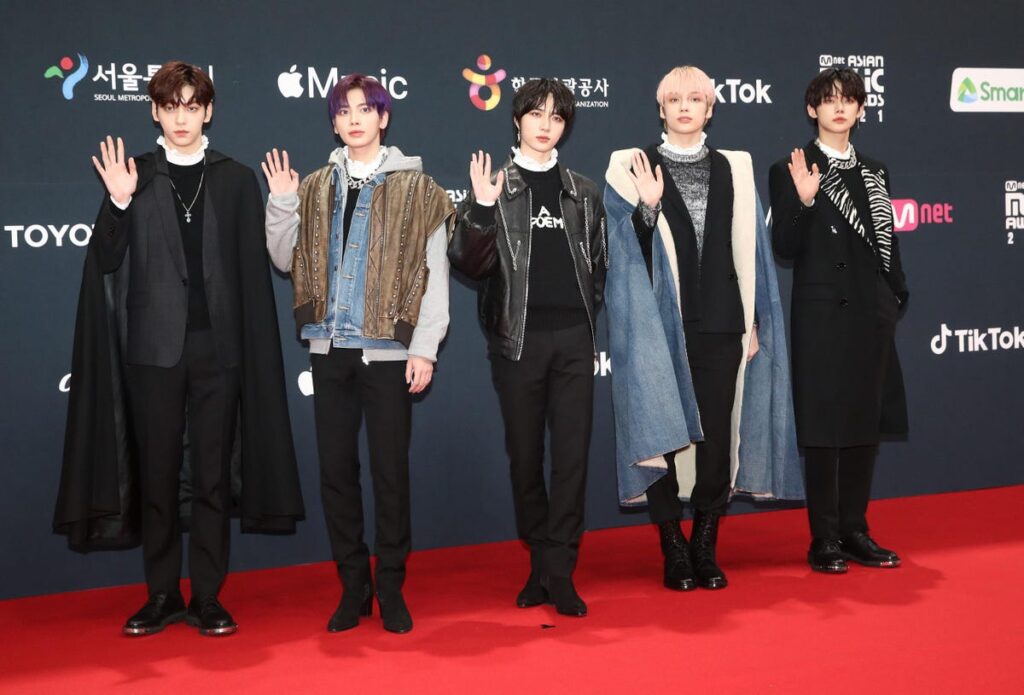 Tomorrow X Together Enjoyed The Biggest 2021 On The Billboard 200 Albums Chart Among K-Pop Acts
2021 was a huge year for K-pop acts of all kinds when it comes to releasing hit albums in the U.S. In total, 17 different collections from South Korean stars placed on the Billboard 200, Billboard's weekly ranking of the most-consumed EPs and full-lengths in America. These titles came from at least 10 different names, but there is one that was more prolific and seemingly successful than any other groups or soloists from the Asian nation.
Tomorrow X Together ended 2021 as perhaps the most successful K-pop act when looking at the Billboard 200, at least in some regards. Before the year began, they had already made it to the tally and proved they were ones to watch, but 2021 saw them reach new heights and stand out as one of the hottest K-pop bands in the world.
Throughout 2021, Tomorrow X Together debuted three different releases on the Billboard 200, more than any other name in the K-pop space. Several acts landed a pair of wins, such as Enhypen, Ateez, Twice and Seventeen, but TXT (for short) beat them all.
Tomorrow X Together first reached the Billboard 200 last year with Still Dreaming, which stands out as perhaps the earliest debut of 2021 among South Korean artists. That set only managed to rise to No. 173, but it started things off right for the band. Less than four months later, the group notched their first top 10 title on the chart with The Chaos Chapter: Freeze, which broke into the highest tier and peaked at No. 5. Just before 2022 rolled around, they returned to the tally with Chaotic Wonderland, a Japanese EP that climbed to No. 177—still an impressive placement for a title performed in that tongue.
Before 2021, Tomorrow X Together had only sent a pair of releases to the Billboard 200, so in one year they managed to more than double their total showing. The South Korean all-male vocal band first hit the list in 2019 with The Dream Chapter: Star, which topped out at No. 140 for a single week. In 2020, they rose even higher, climbing to No. 25 with Minisode1: Blue Hour, which also managed two frames on the tally before it disappeared. With five placements on the Billboard 200, Tomorrow X Together now ranks as one of the most prolific acts to emerge from South Korea when examining total hits on the all-genre albums ranking.
MORE FROM FORBESTomorrow X Together Breaks A Tie With Exo, NCT 127 And Twice With Their New Hit Album In AmericaBy Hugh McIntyre