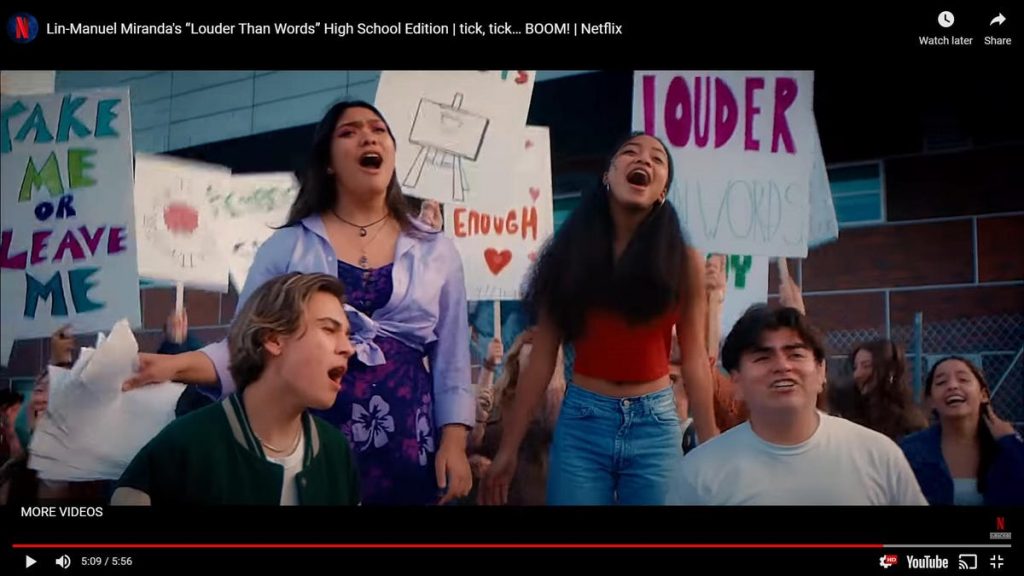 'Tick, Tick… Boom!' Music Video From L.A. Performing Arts High School Focuses On Mental Health
Tick, Tick…Boom! is a passionate film that deals with the mental health struggles of the late Rent director Jonathan Larson as he tried to create musical theater greatness in the 1990s while working at the Moondance Diner in New York and feeling like a failure because he was about to turn 30 without having a breakthrough hit like Stephen Sondheim did at an earlier age.
The beautifully directed and produced film feels more relevant than ever in a world that feels like it's gone mad with warring factions online and the seemingly never-ending pandemic let alone the one that 30 years ago made Jonathan Larson question his worth as a struggling artist trying to create beauty instead of focusing on making money. "Why should we try to be our best when we can just get by and still gain?" he wrote in the song "Louder than Words" sung in the film by Andrew Garfield, Joshua Henry and Vanessa Hudgens.
That tension at the core of the film's message was front and center through five different performing art's high school productions of music video versions of the song "Louder than Words" produced by Netflix and Lin-Manuel Miranda and released as one cumulative music video with an introduction by Miranda.
In it he says, "I got my start in my school's performing arts program. These programs are vital, not only to the entertainment industry, but to our culture. It's important for us to celebrate the next generation of actors, singers and performers. So in the spirit of reaching for the stars and pursuing your dreams, we invited schools across the country to celebrate the debut of Tick, Tick…BOOM! on Netflix. ENJOY!"
The five schools that created videos that were produced into one performance by Netflix were:
Los Angeles County High School for the Arts in Los Angeles, CA
Booker T. Washington High School for the Performing & Visual Arts in Dallas, TX
Baltimore School for the Arts in Baltimore, MD
ChiArts in Chicago, IL
TADA! Youth Theater in New York, NY
For this story I spoke over Zoom with Los Angeles County High School for the Arts (LACHSA) representatives school principal John Lawler, Lois Hunter, Senior Program Specialist and Chair of the Theater Department, Drew McClellan, Department Chair and Senior Program Specialist of the Cinematic and Visual Arts departments, Allison Andreas, Musical Theatre Specialist & student Leilani Patao, one of the stars of the musical production about the challenges of putting together a meaningful performance quickly while making sure that mental health was a focus.
The school had previously performed a montage of 3 different songs from Rent and put together their version of the song in less than two weeks. Their publicly unavailable but striking video culminated with nods to the famous musical about the Aids crisis as students gathered together for a mental health rally holding signs with Rent lyrics "take me or leave me" and "you are enough" in addition to lyrics from "Louder than Words" such as "Why does it take a catastrophe to start a revolution?", and "actions speak louder than words."
In response to growing needs, Principal Lawler said the school recently tripled their staff who provide mental health support, "and they stay busy!" he told me. So when the school got the request to make a video, Department Chair Drew McLellan realized they needed to create something true to the student's voice and while Rent was about the Aids crisis "the pandemic is a whole new crisis" and they wanted to make sure it got the attention it needed to.
"The unspoken feeling is that high school is a really heavy time," student and actress in the project Leilani Patao told me. I'm glad our project could talk to that and show how important it is to take care of yourself."
Tick, Tick…Boom! is now streaming on Netflix.