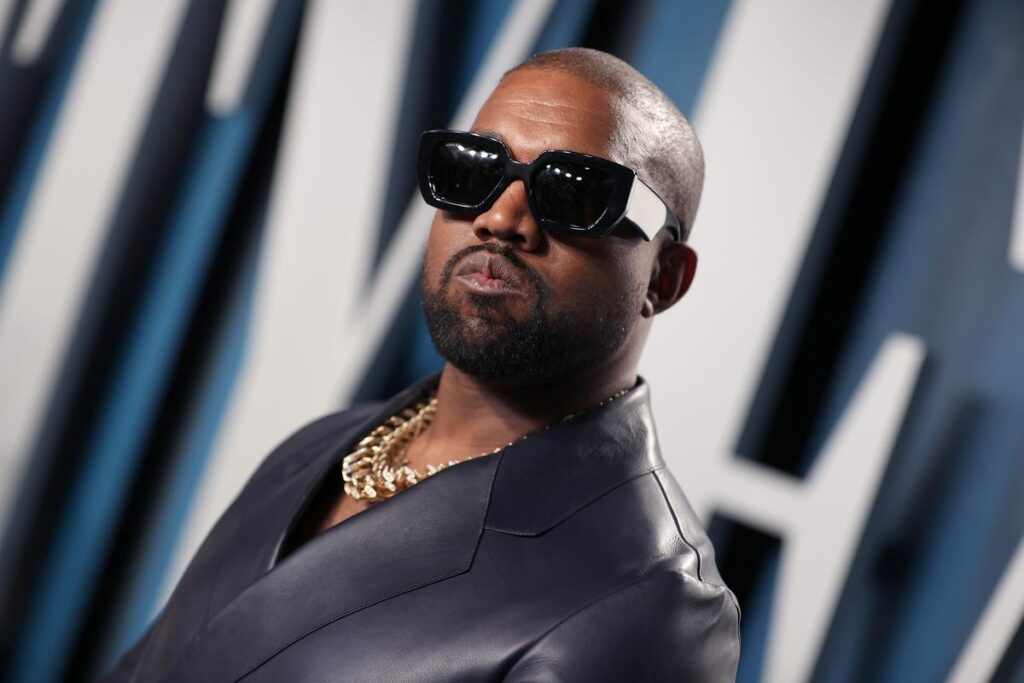 There's A New Face Of Luxury As Balenciaga And Kanye West Collaborate For Yeezy Gap
The metaverse is aflutter with news that the irrepressible Kanye West and his BFF Demna Gvasalia, the super-hot creative director of Balenciaga, are combining their prodigious creative juices to create a collection for Gap, the ubiquitous and beleaguered mass-market retailer.
Entitled Yeezy Gap Engineered by Balenciaga, no products have been announced but whatever it is, the first items will drop this June, assuming Omicron and supply-chain issues don't get in the way.
Unlike so many other luxury house collaborations that are released under the aegis of the luxury brand, Balenciaga is giving the reins to Gap to carry the collection forward.
It's a daring move for a fashion house whose t-shirts sell in the $500+ range and hoodies for $750+. But then Balenciaga under CEO Cédric Charbit has been making over the 102-year old luxury brand for the 21st century.
Together Charbit and Demna, as Russian-born Gvasalia prefers to be called, are challenging the status quo in luxury with edgy fashions appropriate for next-generation consumers.
To that end, Balenciaga was one of the first luxury brands to cross over into the metaverse releasing cyber fashion for Fortnite video gamers then collaborating with the company for a real-world Balenciaga x Fortnite collection.
Early success has led Charbit to go all in on the metaverse, forming an entire business unit dedicated to it.
Demna brings an outsider's perspective to the insider's world of luxury. In 2014 he spearheaded the launch of Vetements, a counterculture brand that stood in direct opposition to the prevailing conventions of the luxury market.
Speaking of Vetements, Demna told SSense, an online retailer that stocked the brand, "We share very strong beliefs about the industry, about things we don't want to be part of. We do not want to be part of an idea of fashion that is about glamour and about something unattainable or super exclusive."
But Demna could manage two conflicting ideas at once and in 2015 he joined Balenciaga. He juggled both brands until 2019 when he stepped away from Vetements.
It was during Demna's Vetement and early days at Balenciaga that he met like-minded Kanye West, who now goes by Ye. They took their creative partnership to the next level in August 2021 when Demna acted as creative director for Ye's Donda album listening event held at Atlanta's Mercedes-Benz Stadium.
And now they are taking their partnership to the next level with the new Gap collaboration.
Ye signed a ten-year creative deal with Gap back in 2020 that has become Yeezy Gap. So far only two items have been released under that label, including a Yeezy Gap Hoodie that Gap reported generated the highest single-day sales for a single item in its history. And more importantly for the brand, some 70% of those customers were new to the Gap.
Looking toward what's coming, both men share a 'power to the people' sensibility that Gap Inc. announced will continue delivering Ye's "vision of utilitarian design for all."
Gap needs all the help it can get. In its latest third quarter ended October 30, Gap brand's $1 billion in global sales were dwarfed by baby-sister Old Navy at $2.1 billion. In the U.S. there is even more distance between the two, $676 million for Gap compared with $1,899 million for Old Navy.
Compared with pre-coved 2019, Old Navy third-quarter sales were up 8%, while Gap's were down 10%. Both brands were hampered by supply-chain issues through the year, with guidance noting the entire corporation including Banana Republic and Athleta brands lost $550 to $650 million in sales due to it and added some $450 million in additional air freight expense as well.
It's still early days but the makings of a Gap turnaround are beginning to show. With the brand continuing to right-size its retail fleet globally, comparable sales in the quarter increased 3% over 2019. And in North America, where it has shuttered nearly 190 stores since third-quarter 2019, comparable sales were up 13% over same quarter 2019.
Gap's got nothing to lose and everything to gain with the launch of Yeezy Gap Engineered by Balenciaga. Ye does too, since his pace of new Yeezy Gap launches may be a little slow for CEO Sonia Syngal's expectations.
As for Balenciaga, it's totally unexpected for a luxury brand to step down from its perch and enter the mass market, which is why this collaboration is so newsworthy.
It could be a brand maker for the next-generation of Balenciaga customers or it could potentially alienate its current ones. However, I believe its current customers will applaud the brand's openness to give everyday men and women a taste of luxury in this new world transformed by the Covid pandemic.
See also:
MORE FROM FORBESKanye West Teams Up With Balenciaga For Latest Yeezy Gap CollectionBy Carlie Porterfield