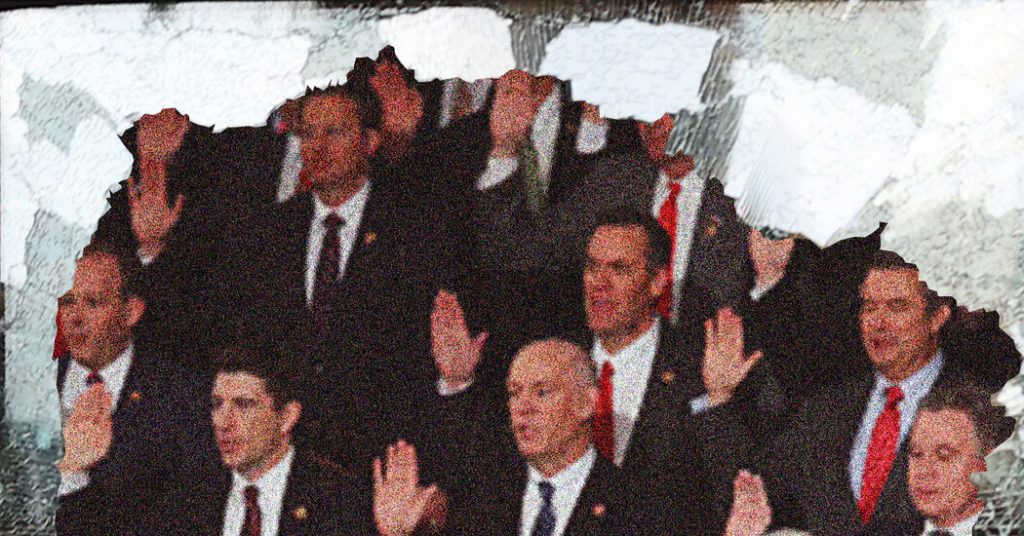 The Trump Coup Is Still Raging
That's why the Great Satan for the Republican Party right now is not Mr. Biden but Representative Liz Cheney of Wyoming, one of a small number of Republicans willing to speak honestly about Jan. 6 and to support the investigation into it — and willing to contradict powerful people like Kevin McCarthy of California, who has falsely (and preposterously) claimed that the F.B.I. has cleared Mr. Trump of any involvement in Jan. 6.
The emerging Republican orthodoxy on Jan. 6 is created by pure political engineering, with most party leaders either minimizing, halfheartedly defending or wholeheartedly celebrating the coup, depending on their audience and ambitions. Pragmatic party leaders like Mitch McConnell, and others like him who were never passionately united with Mr. Trump but need his voters, are hoping that the memory of the riot gets swept away by the ugly news from Afghanistan and the usual hurly-burly. But other Republicans have praised the rioters: Representative Madison Cawthorn of North Carolina insisted that those who have been jailed are "political prisoners" and warned that "bloodshed" might follow another "stolen" election. The middle-ground Republican consensus is that the sacking of the Capitol was at worst the unfortunate escalation of a well-intentioned protest involving legitimate electoral grievances.
Kara Swisher dissects what matters most, exploring the shifting dynamics of people, politics and power with guests Maggie Haberman and Representative Cori Bush of Missouri.
The authors of the coup attempt remain embedded in the Republican Party and in the conservative movement. Some are officeholders, like Representative Marjorie Taylor Greene of Georgia, while others continue profitable associations with institutions ranging from the New Civil Liberties Alliance, a right-leaning public-interest litigation group, to Fox News and other media outfits.
The Trump administration was grotesque in its cruelty and incompetence. But without the coup attempt, it might have been possible to work out a modus vivendi between anti-Trump conservatives and Mr. Trump's right-wing nationalist-populists. Conservatives were not happy with Mr. Trump's histrionics, but many were reasonably satisfied with all those Federalist Society judges and his signature on Paul Ryan's tax bill. Trump supporters, who were interested almost exclusively in theater, enjoyed four years of Twitter-enabled catharsis even as the administration did very little on key issues like trade and immigration.
In the normal course of democratic politics, people who disagree about one issue can work together when they agree about another. We can fight over taxes or trade policy.
But there isn't really any middle ground on overthrowing the government. And that is what Mr. Trump and his allies were up to in 2020, through both violent and nonviolent means — and continue to be up to today.
When it comes to a coup, you're either in or you're out. The Republican Party is leaning pretty strongly toward in. That is going to leave at least some conservatives out — and, in all likelihood, permanently out.
Kevin D. Williamson is the roving correspondent for National Review and the author of "Big White Ghetto: Dead Broke, Stone-Cold Stupid, and High on Rage in the Dank Woolly Wilds of the 'Real America.'"