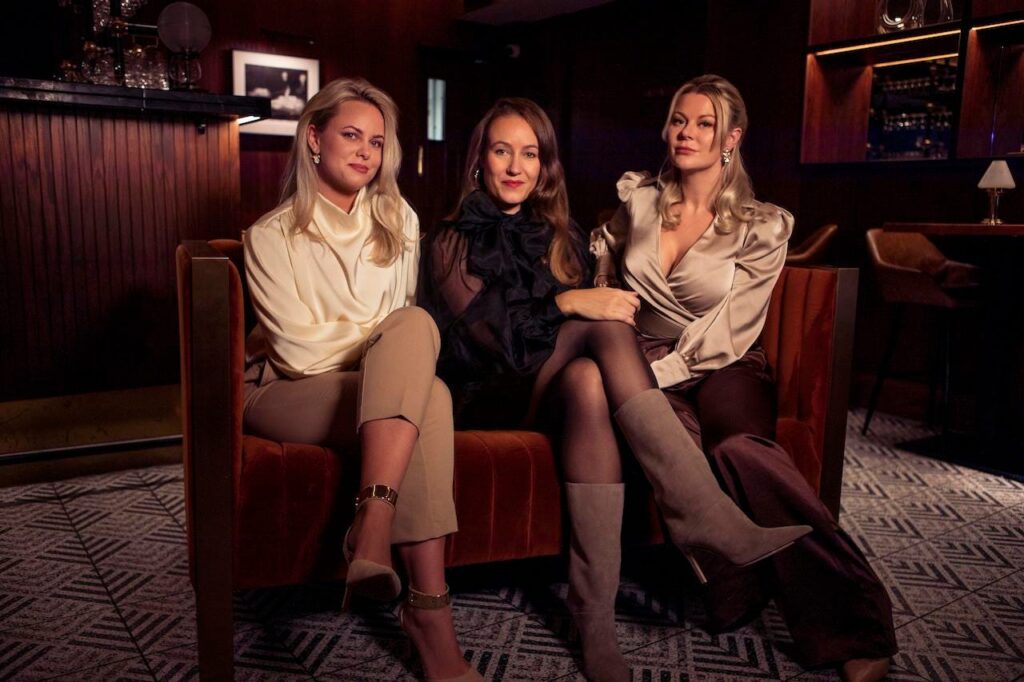 'The Tinder Swindler': How His Hollywood Plans Could Benefit His Victims
Finding love has never been this difficult. In addition to the challenge of meeting someone and having a genuine connection, singletons must now decipher who is legit and who could be out to con them. But still, those hopeful for love continue to swipe.
We love everything about love and this is why more than 50 million Netflix subscribers have watched the jaw-dropping true-crime documentary The Tinder Swindler since its February 2 premiere.
It has catapulted Simon Leviev (born Shimon Hayut) as well as three of his many victims, Cecilie Fjellhøy, Ayleen Charlotte and Pernilla Sjöholm, into the spotlight. As he enjoys living the good life, these women continue to pay off upwards of six-figure debts. Cecilie, in particular, claims she took out $250,000 in loans. The three have since started a GoFundMe page in an effort to raise money to pay these off.
This fraudster posed as a globe-trotting billionaire on Tinder against the backdrop of private jets, fancy hotels and a wardrobe worth more than most people make in a year. He pretended to be the son of Russian-Israeli diamond mogul Lev Leviev, known as the "King of Diamonds," and claimed to be the CEO of Leviev's LLD Diamonds. He was able to con a myriad of women out of an estimated $10 million from 2017 to 2019, though he's been conning people since at least 2011. Since the Netflix doc premiered, the Leviev family has filed a complaint with Israeli police.
As the story continues to unravel, we are left with more questions than answers. Mostly, viewers are asking why these women still face crippling debts as Hayut continues to live a lavish lifestyle.
"Criminals should not be allowed to profit off their criminal conduct but in this modern era of people crossing borders and exploiting the internet for fame, they're going to get away with it a whole lot more than in the past," says Ben Mehdian, civil litigator, injury attorney and founder of Power Trial Lawyer, P.C. "With the rise of streaming services and the demand for their content, outlets such as Netflix, Hulu, HBO and others are competing with each other to turn criminal acts into commodities."
With the powerful Leviev family now at the center of this scandal, Hayut could be looking at new criminal charges filed against him, according to Mehdian. "He should pay for his conduct in Israel by receiving a more serious sentence. I would not be surprised if LLD Diamonds also files a civil action against him but the question is whether any of his victims would be able to collect on a judgment given his previous behavior."
Hayut is a wanted man in several countries, including Sweden, Germany, England, Norway and Denmark. He has spent some time behind bars but he has clearly gotten away with most of his crimes.
He was finally caught while using a fake passport in Greece in 2019 and extradited to Israel where he was charged with theft, fraud and forgery of documents stemming from a 2011 crime spree. He served five months in prison out of a 15-month sentence and was released for good behavior during Covid. And he served two years (2015-2017) in a Finnish prison for defrauding three women there.
When asked if Hayut could potentially face additional criminal charges now that the documentary has gone viral, Mehdian warns that he should be careful about what he says to the media and to his followers. "He's lucky to have received such light sentences but this does not bar him from future prosecution. Anything he says can and will be used against him, especially in any future criminal proceedings as well as civil actions."
In the documentary, then-girlfriend Ayleen was planning her escape from him but she had to pretend she was still in love with him. The two visited a plastic surgeon because Hayut wanted to completely reconstruct his face in an effort to hide. The doctor wouldn't perform the surgeries and pointed out that only a criminal would want to go to such extremes. Now, Hayut is forced to hide in plain sight.
The Netflix doc could serve as a push for law enforcement agencies across Europe to finally get this guy to pay for his crimes. As Mehdian explains, the public hysteria has caused even more demand for information about Hayut. "Social media has made commodities out of these criminal acts. As such, for someone like him, commercializing his acts will likely prove to be very profitable for him. And someone with questionable integrity like him may want to profit."
Might this actually help his victims? Currently, Hayut is living the good life as a free man in Israel and even has plans for Hollywood. He's joined the Cameo app where "fans" can get a personalized video message from him for $300 or a business message for $1,400.
This begs the question about his victims potentially recouping some of their money from his newfound fame and Hollywood endeavors. "It's possible that they seek injunctive relief, but it is unlikely," says Mehdian. "He has already served two sentences. As such, unless there are new acts, he is not technically doing anything wrong. However, on restitution grounds, if he still owes any outstanding restitution to his victims, any money he directly holds could get seized for purposes of making his victims whole. If they also pursue any civil action, he may find himself having to compensate his victims in a civil case as well."
Hayut has many plans for his future. He wants to write a book, host a dating podcast and he's even pitched a TV show all under the guidance of his new talent manager, Gina Rodriguez, of Gitoni Inc.
Mehdian concludes that the spotlight might not be a great place for someone like Hayut. "The more attention The Tinder Swindler gets, the higher the chances of him being prosecuted."