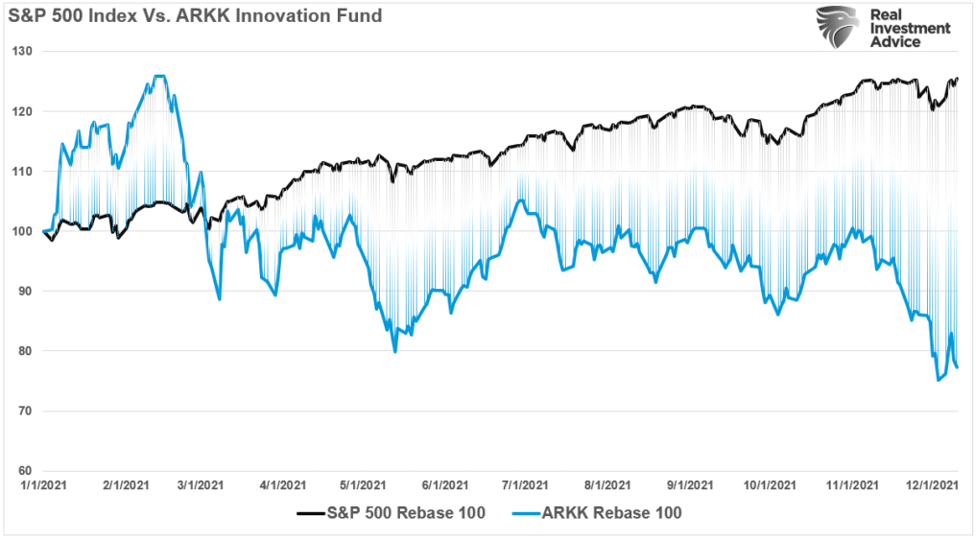 The "Stealth" Bear Market; For Many It Has Arrived
A very poor 2022 start for equities, off to their poorest start since 2011. Fixed income markets are faring no better with the 10-Year Treasury up 26 basis points since New Year's Eve (1.77% vs. 1.515) (Bond prices fall when yields rise). In addition, the yield curve continues to flatten (short-term rates rising faster than long-term rates) signaling that markets see the strong possibility of recession. There are two driving forces;
The equity markets have come to realize that economic growth is slowing and corporate profits may languish in the new year;
The markets' fixation on inflation has caused another Powell (Fed) "pivot," this one to a very "hawkish" Fed tightening stance.
Slowing corporate profits certainly figure in equity values, but the bigger issue here is the Fed's intention to significantly remove liquidity, the Mother's Milk of rising share prices. And, of course, the anticipation of rising interest rates has an immediate negative impact on existing bond prices, as markets immediately discount to the newly anticipated yield curve.
But what the media has generally missed is that, while the indexes themselves have recently fallen from their highs, a goodly portion of the components of those indexes are already in a "bear" market.
"Correction" or "Bear?"
As shown in the table, all the major indexes are significantly off their end of year highs. Nasdaq, with all the technology components, is already in "correction" territory (defined as -10% from the nearby peak) with the S&P 500 approaching said terrain. Even the Dow Jones Industrial Average (DJIA), a much less volatile index, is down nearly 7%.
The question on investors' minds is whether or not this will turn from what looks to be a "correction" to a "bear" market (-20% from the nearby peak). However, the generally unrecognized news is that the "bear" market for many has already arrived!
In his January 11th blog, Lance Roberts (Real Investment Advice) said that had it not been for the outsized returns of AAPL, MSFT, NVDA, TSLA and GOOG, the index returns would have been much different (i.e., much lower), because a vast majority of 2020 and early 2021 high flyers are now down significantly from their 52-week highs. (Lance Roberts, "Passive ETFs" Are Hiding The Bear Market, January 11, 2022) To illustrate, Roberts compared the 2021 movement of the S&P 500 index to that of the ARKK Innovation Fund, a fund that invests in technology. That chart is reproduced at the top of this blog. "That is quite a performance differential but shows the disparity between the mega-cap companies and everyone else," he concludes. To be more specific, Roberts says that 38% of all Nasdaq stocks are now down 50% or more from their 52-week highs. And, given the markets' performance since he wrote that blog, we suspect that the 50% number is now much larger.
As mentioned above, the Fed will be removing liquidity as QE will soon end completely and rate hikes look to begin as early as March. The current market view, per Bloomberg, is that there will be three, possibly four, rate hikes in 2022, and many economists think they will continue into 2023. We aren't in those camps. We think the economy will display weakness, and that, along with financial market distress will be enough to stop the Fed at two 2022 hikes.
Incoming Data
Over the past few months, we have observed growing weakness in the economy. We said back in November that December Retail Sales would disappoint because the "shortage" narrative would pull demand forward. And, it did (Retail -1.9% M/M December). The same phenomenon occurred in the U.K. We now observe that the employment and workweek sub-indexes in the Regional Fed business surveys have significantly weakened. We have observed the up-spikes in the weekly unemployment claims data both for the Initial Unemployment Claims (ICs) (see chart) and Continuing Claims (CCs) series. We also track this data on a state-by-state basis and we find significant deterioration in the employment series since Thanksgiving. At that time, states had reduced CCs by 65% from May 15, 2021 levels. That retreated to 54% in the latest weekly data survey (January 8).
The most recent data show a fall in Existing Home Sales (-4.6% M/M December). These are contracts signed two or three months ago that have now closed, so the slowdown in housing didn't just begin. Note that these sales were negative in every region of the country with the south and west bearing the brunt. True, housing starts did rise +1.4% M/M in December, but all the increase was in multi-family starts. The single-family starts were off -2.3% M/M and down -10.9% Y/Y.
In past blogs we have commented on the record number of multi-family starts (highest in more than four decades) and forecast that these would impact the rent component of CPI (a 30% weight) by mid-year. It looks like it may be earlier than that. The two charts show that rent increases turned negative in December (perhaps some seasonality) while vacancies began climbing last fall.
This has occurred prior to the completion of many of those multi-family units. Think of what will now happen when that record number of those newly completed units hit the market! Perhaps Rent Deflation!
Parting Thoughts
We said in our last blog that if the economy "normalizes," inflation will prove to be temporary (yes, "transitory"). We do think that the omicron infection spike will depress January and likely some of February's economic activity, especially on the supply side as absenteeism has soared. We also opined that the omicron spike was the result of "getting together" over the holidays, and that the infection spike would run its course. That, too, seems to be happening. But the omicron spike does mean that, since supply continues to be disrupted, inflation will be elevated for a while longer. Add to that the continued depressed level of the Labor Force Participation Rate, a temporary but persistent phenomenon caused by health concerns or domestic (e.g., child care) needs. This could keep labor scarce and wage growth and inflation elevated. Eventually, however, we will either achieve herd immunity, or we will learn to live with the virus. And that is when demographics, technology, and high debt loads will reassert themselves. At that time, the U.S. and the world will return to a deflationary environment.
Meanwhile, the Fed, has become politicized and must now "act" to tame inflation. Unfortunately, the Fed's tools, powerful as they are, only impact the "demand" side. The Fed can't act to produce more oil, unclog ports, or incentivize folks to become truck drivers. But its tools can and do act (with long and variable lags) to impact demand, in this case reduce it. If the Fed acts to the degree currently foreseen by the markets, we believe those actions would reduce demand and halt inflation, but the price would be recession.
The equity markets appear to have this very view – clearly nervous with many tickers already in "correction" territory and a significant number in "bear" territory. In the fixed income markets, while slightly elevated from 2021 levels, bond yields remain significantly lower than one would expect with market players believing that there will be four Fed rate hikes (25 basis points each) in 2022 and four more in 2023. It must be that fixed income players, like ourselves, see a slowing economy, with a much lower peak Fed Funds rate.
Either the Fed recognizes the slowdown, abbreviates its rate hike cycle and produces a soft-landing, or it doesn't and produces a recession. In either case, this explains the flattening yield curve as short-term rates move up rapidly with anticipated rate hikes, but the longer end of the yield curve, influenced by a subdued future view, is more restrained.
(Joshua Barone contributed to this blog)