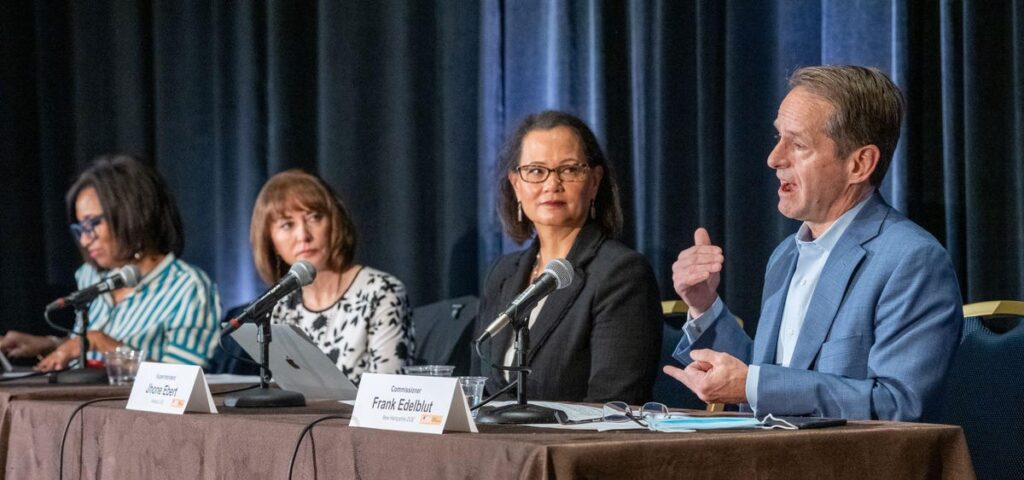 The Next Wave Of State Innovation: Reimagining Learning In Response To Covid-19
The last two years have brought a host of crises to our K-12 classrooms, both academic—such as unfinished learning—and social-emotional. Amid the crises and the chaos, it's not surprising to hear pleas for a "return to normal," particularly as some districts return to remote instruction because of the latest Covid-19 variant. Unfortunately, what was "normal" in our schools before the pandemic didn't work for many of our students—including children of color, those from under-resourced communities and those with special learning needs—and it most assuredly won't support them or our society in the future.
The good news is that some states are actively engaged in the hard work of reimagining K-12 schools—not just to help students recover from the pandemic, but to elevate their learning. At ExcelinEd's 2021 National Summit on Education, I talked with leaders of three states that pioneered work around competency-based learning before the pandemic and are leading the charge to redesign education for the future. The panel discussion I moderated, Learning from Disruptions: How States Can Reimagine Learning and Embrace Innovation, featured Superintendent Sydnee Dickson of the Utah State Board of Education; Superintendent Jhone Ebert of the Nevada Department of Education; and Commissioner Frank Edelblut of the New Hampshire Department of Education.
During our discussion, some consistent themes emerged that paint a picture of what a reimagined "education system of the future" could look like. Here are two of them:
Expanding Personalized, Competency-Based Learning
Because their work on student-centered learning pre-dated the pandemic, these leaders focused on how those efforts provided an advantage as schools transitioned to remote learning, and spoke about how they're fueling the state's vision for the future.
Superintendent Dickson focused on Utah's relative preparedness for remote learning, which was the result, in part, of a multi-year Digital Teaching and Learning Grant to train teachers to use technology. Because of that, the state was poised to move an impressive 70% of students online in March 2020. "Many of our teachers had engaged in professional learning about how to use the tools," she said. "We had software. We had the tools. We had the capacity."
The state's early work on competency-based learning served as the launch pad for the core effort that is driving the state's vision for the future of education: Utah's Portrait of a Graduate. Authorized by the legislature in 2019, the work became the state's educational "lighthouse during the pandemic," she said. Educators enthusiastically developed competencies relating to the 13 characteristics of a high-school graduate, including academic mastery, digital literacy, integrity and responsibility. "We thought that our teachers would probably just be so tired that they wouldn't want to show up and work on the Portrait. We were wrong," she said. "It was exciting to see such authentic, genuine enthusiasm to create competencies around these characteristics in our Portrait."
In Nevada and New Hampshire, the flexibility of student-centered instructional approaches proved to be the game-changer during the pandemic. As Superintendent Ebert said, "During the pandemic, it's the flexibility that we need . . . and that's exactly what competency-based learning has provided for our children, the flexibility to learn at the pace and rate at which they move." In Nevada, a commission of educators, students, policymakers and nonprofit leaders noted the critical need for flexibility during the pandemic, and recommended policies that would make it easier for districts to adjust schedules to help students complete courses. One policy was passed last session, and it will shape future policy priorities.
New Hampshire was one of the first states to embrace competency-based learning, and in the 15-plus years since has developed a strong regulatory framework that paid dividends during the pandemic and will inform post-pandemic policy and programs As Commissioner Edelblut noted, a "thing that helped us through the pandemic is we don't have a 180-day seat time requirement in New Hampshire. It creates all kinds of flexibility that you have in the system." The flexibility helped the state during the pandemic, he said, and has influenced policies and programs like matching students' interests and passions with instruction or getting rid of stagnant classes or programs that fail to engage them.
Taking Education Beyond the Four Walls of the Classroom
One of the clear lessons coming from the pandemic is that learning can take place outside the four walls of a classroom. That lesson alone isn't revelatory. What is new and exciting, however, is the trend of giving students credit for learning outside the classroom, along with states engaging with industry and community partners to support those efforts.
Take Learn Everywhere, New Hampshire's approach to expanding education through hands-on, real-world experiences. The program lets students earn high school credits for off-campus extracurricular activities, work-based programs and through the state community college system. Students, for example, can earn credits for physics and chemistry through the New Hampshire Academy of Science, and for marine biology through the Seacoast Science Center—both of which own equipment their schools could never dream of purchasing. This demonstrates the power of aligning students' interests with their instruction, and doing it in a way that involves the broader community.
In Nevada, partnerships were critical to building the technology infrastructure needed to support any-place, any-time learning. "When the pandemic hit, we knew that the four walls of a classroom would not be the place where students were learning," said Superintendent Ebert. "Every student needed to have bandwidth. Every student needed to have access to high quality content, as well as our adults in the system. So we spun up private-public partnerships really quickly."
Superintendent Dickson said New Hampshire and Nevada's work are examples of opportunities to create a platform for using partnerships to support learning beyond the classroom. During the pandemic, Utah created systems that largely relied on partners outside of school networks to support learning beyond brick-and-mortar schools. "Those partnerships should never go away," she said. "How are we looking at that and incorporating those partnerships moving forward? I just think it's such a blessing and wonderful time to take these lessons and launch from the platforms we built and to learn from each other, instead of being so hyper-focused on the barriers of why we can't."
The work taking place in Utah, Nevada and New Hampshire is groundbreaking because leaders are expanding beyond the traditional model and inventing new approaches to instruction. These states are overturning some of the defining characteristics of our education system—like seat time requirements and place-based learning—that have held back students for far too long. These leaders aren't asking, "How do we return to normal?" Instead, they are driven by a desire to reimagine their state's systems of education to better support their students and their state's needs. For this they should be applauded, and hopefully their work will serve as models to more states in the future.