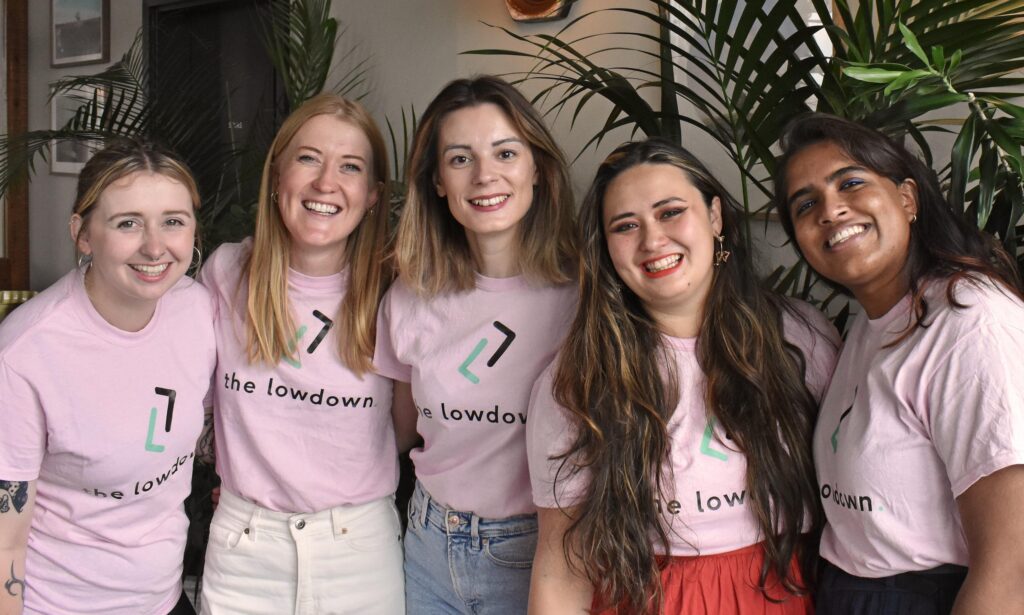 The Lowdown, U.K.'s Leading Sexual And Reproductive Health Platform, Raises $2.5 Million In Seed Investment
London-based femtech startup The Lowdown has closed a $2.5 million seed round to supercharge its community-centered female health platform. The round is led by Speedinvest who is joining existing investors Nina Capital, Calm/Storm VC, Entrepreneur First (which program first backed the company in 2020), and four Atomico Angels. They are now joined by angel investors including Catherine Lenson (Softbank), Dorothy Chou (DeepMind), and Scott Mackin (Denham Capital).
The Lowdown is the UK's leading sexual and reproductive health platform, visited by 70,000 women every month. Imagined to be a one-stop shop for women to choose, access, and use the right contraception and reproductive healthcare for them, the platform is powered by user-generated content, medical advice, and prescriptions, using their unique community-first approach to put women in control of their healthcare decisions.
The startup was founded in 2019 after founder Alice Pelton suffered debilitating side effects from her contraception throughout her twenties. The problems Pelton experienced firsthand are global. According to the UN, almost 1 billion people use contraception worldwide, for on average 30 years, but up to 80% of users suffer from side effects (such as headaches, nausea, breast tenderness or enlargement, spotting or breakthrough bleeding, weight gain, mood changes, and many more) and between 20-40% are dissatisfied with their current or most recent method, and the lack of clinical evidence and high-quality information makes it difficult to navigate.
The recent Women's Health Strategy for England report highlighted that 84% of women who are using contraception have not felt listened to by healthcare professionals and that access still continues to be an issue – even in the U.K., 1 in 3 women can't get hold of contraception from where they want to.
Contraception And Side Effects
Frustrated by the lack of clinical data and poor quality of the advice she received, Alice bootstrapped and built The Lowdown's contraception review platform to help women like her share and compare their experiences. She knew there must be a better way of comparing the experiences of other women who were using contraception because what was out there wasn't enough for women to make an informed decision and there wasn't a central knowledge base about all different types of (non)hormonal contraception on the market.
"I wanted to start a company, but I actually created a movement. Through The Lowdown, women are empowered to educate themselves and get the medical advice they really need. This has helped over one million women so far feel heard, reassured and informed – and we're using this feedback loop to develop products and solutions that help solve women's health problems,' explains Pelton.
Let's not forget that, like all medicines, birth control pills have possible side effects that you need to be aware of. Many have minor side effects, but also rare and serious ones. Ultimately, the key is to find something that fits YOU really well, so you can avoid the gruesome process of trying out many different ones which is, to say the least, annoying.
Soon upon the launch, The Lowdown went viral and built an engaged community and following that has generated over 5,000 reviews on people's lived experiences with over 85 methods and brands of contraception. Last year the company launched the U.K.'s first private contraception consultation service via their team of remote expert GPs and has since expanded the service to include sex coaching and pelvic health physiotherapies.
The team has developed a suite of digital tools that are used by thousands of women every week, including a contraception recommendation algorithm based on their review data and clinical evidence. These tools are combined with seamless next-day delivery of the widest range of contraceptives in the UK including the contraceptive pill, patch, ring, injection, and the morning-after pill.
An Honest Review
Lowdown's product and content are honest and balanced, and as a company, they refuse to patronize their users – preferring to give them the honest 'lowdown' on symptoms, side effects, and options. 65% of The Lowdown's 70,000 monthly users are 24-44-year-old females based in the U.K., and their private prescription and consultation services are only available to U.K. customers at present, as shared by Pelton.
Traditional research has its limitations, and just because no one has funded or completed gold standard clinical research on a side effect or symptom, does not mean that it doesn't exist. Women are desperate for an honest and informed conversation about the reality of things like contraception, and The Lowdown is here to do just that. By collecting anecdotal data at scale, and combining this with content and tools that interpret evidence (where it does exist) Pelton and her team can give women clarity, confidence, and most importantly, control. "We couple that with products and services that have choice and convenience at their core, to become the most trusted partner and source of information in women's health,' adds Pelton.
'There's a lot of talk about personalization in healthcare, but what I've learned over the last five years of building The Lowdown is that feeling listened to and knowing that you're not alone is the healthcare that many of us are looking for."
Pelton is serious about what she is doing, but also sarcastic when trying to emphasize the importance of designing a platform like Lowdown. And rightfully so. "There have been more versions of the iPhone developed in the last 15 years than there have been contraceptive methods in the last 61. When you compare it with how other technologies have advanced in the 21st century, sexual and reproductive health is really in the dark ages, and the amount of investment, attention, and action being taken to fund, care and engage with women and what they actually want, is pitiful.'
Plans For The Future
The newly closed seed round couldn't have come at a better time for the company. The Lowdown just launched its German language review platform for users in the DACH region, with further plans to expand across Europe. This month they will also expand their core service and launched a suite of community-recommended products to help women manage their contraceptive side effects and vaginal health symptoms, including UTIs, thrush, bacterial vaginosis, breast tenderness, and vaginal dryness.
Investors speak very highly of Pelton as the startup founder, which is one of the best things to see in the tech space – the mutual appreciation and respect between investors and their portfolio company is real.
Andrea Zitna, who leads the health team at Speedinvest is joining The Lowdown's board. Zitna, who was a Chief Revenue Office at Series C femtech company Elvie, is super positive about the future of women's health. "The time to invest in women's reproductive health is now. Alice's ability to build community, content, and tools that women love but have never had access to is second to none. Contraception is just the start of The Lowdown's bold vision in Women's health and we are thrilled to be supporting them on it!"
Marta Gaia Zanchi, founder and Managing Partner at Nina Capital (who doubled down on their 2021 pre-seed investment) is convinced that under Alice's passionate leadership, the Lowdown has given women of reproductive age a voice, guidance, the choice, and ultimately access to a method of contraception. "With this round, we build on this strong foundation. Investing in women's health is more urgent than ever, and we are proud of The Lowdown's work towards bringing their offer to a growing community—not only in the UK but also internationally, starting with Germany."
"Alice and her team have already done a phenomenal job of creating an engaged community, the world's first conception review platform, and in-house GP services offering pill prescriptions. Contraception is just the beginning of their vision for improving women's health at scale and I am excited to join as an investor in this round," Rupa Ganatra Popat, founder and Managing Partner at Araya Ventures who invested in The Lowdown in her personal capacity, shares with me in an email.
'I find anger a very motivating emotion, and want to build a company that harnesses the mood swings I experienced from taking Microgynon at the age of 16 to bring about revolutionary societal change for people with vaginas," concludes Pelton.
The future of women's health is, indeed, now.