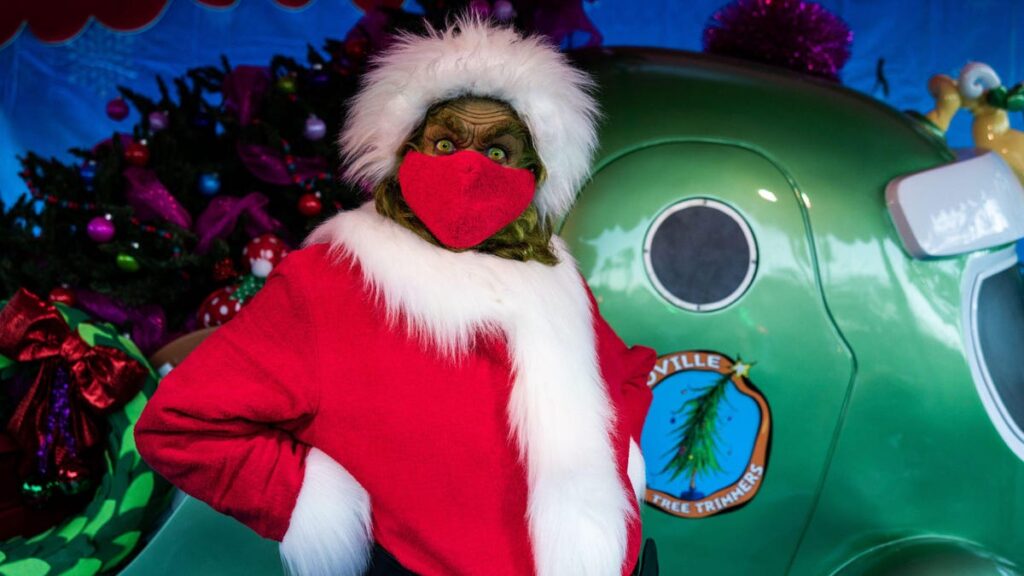 The Holidays Return To Universal Studios Hollywood Safely Bringing Crowds And Jobs
For the first time in two years, it's beginning to look a lot like Christmas again at Universal Studios Hollywood.
The wildly popular Grinchmas and Christmas in The Wizarding World of Harry Potter are festive events that generate revenue for the Los Angeles theme park and create significant employment opportunities for locals.
"It has been a really challenging year," explained Stephen Siercks, Senior Director of Entertainment Production at Universal Studios Hollywood. "Understandably, we're extremely excited to be bringing back Grinchmas and the rest of the holiday program. Grinchmas is a tradition that has been going on for over a decade here at Universal, and it is one that the guests come back for and look forward to."
"When we made the announcement, we got such great response from guests and fans that their favorites, these tried and true traditions, and all the festive decor around the park were coming back for 2021. One thing that is really important for us is the idea of tradition. We wanted to make sure that we're still delivering what our guests are expecting, and they appreciate coming back year after year, such as the Whoville tree lighting and build on that."
The events, included in the price of a ticket to the park, kicked off on Friday, November 26, 2021, and run through Sunday, January 9, 2022. Crowds are already pouring through the gates to get the fix of festivities they couldn't soak up last season due to the pandemic.
"Safety is our number one priority," pledged Siercks. "We're ensuring that we're abiding by all the policies and understanding that we're creating a safe environment for our guests that still allows them to enjoy their experience."
With giving being a vital contingent of the holiday season, Universal Studios Hollywood's gift to Los Angeles goes beyond entertaining its residents. Pre-pandemic, local businesses employed over 544,000 locals in tourism-related careers. The reopening of the park and the seasonal special events mean workers hit hard by the pandemic's impact on the tourism industry can return to work, and others can join the team.
"One of the great things about these festivities is it gives us the ability to bring back and build up our teams to create, produce and operate all of the special events at the perfect time of year for so many people," Siercks mused. "We are always looking forward to the future and being able to continue developing, creating, and producing these events for our guests. They're a lot of work."
He added, "It takes over a year to plan things like this and sometimes even longer. There is a whole team of creative developers, technicians designers to conceive and produce all of our experiences."
Work on another annual special event at Universal Studios Hollywood, Halloween Horror Nights, is already well underway. The event's Creative Director, John Murdy, recently tweeted that concept developments, treatment writing, and special effects meetings for at least four mazes in 2022's scaretacular are already well underway.
After a decade, Grinchmas is seeing its first significant generational revenue cycle.
"Guests who were young when they first experienced the holidays here at Universal and Grinchmas are coming back with their children, and it takes on a whole new appreciation for the event."
Since reopening in April, the park has enjoyed a boost from the new The Secret Life of Pets: Off the Leash attraction and guests wanting to revisit their favorite shows and attractions, including The Wizarding World and the ever-popular Waterworld stunt show. Looking ahead, the Super Nintendo World expansion, for which an opening date has yet to be announced, is highly anticipated. With Harry Potter and How The Grinch Stole Christmas proving to be IPs that repeatedly draw significant crowds during special events, park bosses have at least one eye on other potential opportunities to add a seasonal twist to the park's brands.
"We're always looking at the ability to incorporate expansions to the park and our holiday program," confirmed Siercks. "This year, we're particularly excited about debuting new holiday decor as part of our Secret Life of Pets attraction, both in and around it. We're always looking at new ways to continue enhancing the guest experience here and look forward to what's to come."
Grinchmas and Christmas in The Wizarding World of Harry Potter run through Sunday, January 9, 2022 at Universal Studios Hollywood. Both events are included in the standard ticket price.