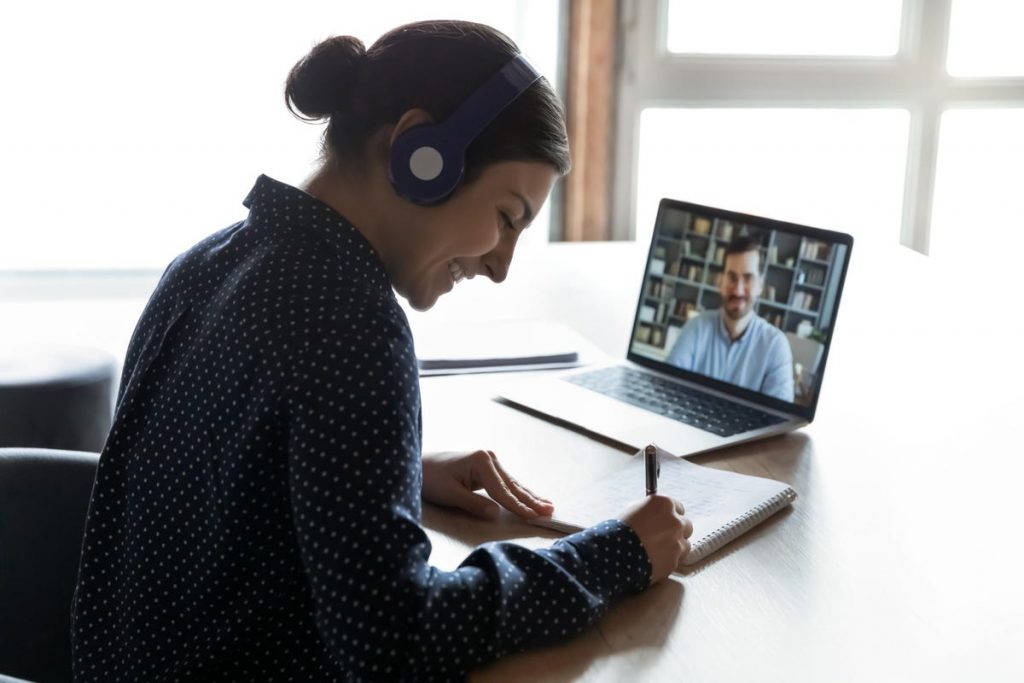 The Challenges Of Sponsorship In A Remote/Hybrid Work Environment
When Jaimee Eddington, regional leader at Heidrick & Struggles' America Region, first joined the firm, she had a strong sponsor who not only helped her learn the art of executive search, but helped to elevate her work across the organization. He was intentional about ensuring that her contributions and partnerships on projects were known to others and was deliberate about giving her credit. He mentioned her and her work where she did not have access or visibility and introduced her to leaders at the firm she otherwise would not have met, highlighting her capabilities and strengths. In short, he promoted Jaimee and opened doors for opportunities to support her advancement.
Sponsorship is the key to advancing women to leadership positions. Yet finding a sponsor who is willing to put his/her reputation on the line is challenging. That challenge is now amplified in a hybrid/remote work environment that limits in-person interaction. For an ambitious woman, the goal of creating visibility and credibility for career advancement requires more focus than ever. You can no longer rely on casually meeting someone in the hallway and asking them to coffee. Online interaction necessitates being proactive and intentional. Making it your intention to find a sponsor is a great investment in your future success.
I reached out to Jaimee Eddington for her thoughts on the challenges of sponsorship in this new work environment.
Bonnie Marcus: What challenges does a remote workplace present for finding and nurturing a sponsor relationship?
Jaimee Eddington: In remote work environments, employees looking for sponsors need to be much more intentional and consider more thoughtful ways to engage and gain visibility. While remote work environments may make it easier to get together in some new ways, it requires taking initiative and being thoughtful, and stepping out of comfort zones.
In many workplaces, the pandemic has led to greater levels of stress and anxiety; employees are fearful for their health and safety, and increasingly feeling burnt out. Sponsors must practice greater transparency and find ways to show empathy and nurture relationships to continue to help the people they are sponsoring ascend.
Marcus: What is your best advice on how to find the right sponsor(s)?
Eddington: Sponsors should be invested in their proteges' success and dedicated to helping them achieve upward progress. Some markers of a great sponsor include the willingness to activate their personal network to help elevate the protégé's profile and help them obtain high-profile assignments.
While many companies have formal mentorship programs, sponsorship relationships can develop more organically when the rising talent is willing to put themselves in situations where they can meet and have access to sponsors and prove their value in the organization.
Early in my tenure with our firm I volunteered to be a part of a special project. Of course, I was glad to support the task, but my broader goal was to expand my visibility with other senior leaders. I think one of the best ways to find a sponsor is to actively seek ways to grow and hone your skills, while also helping your sponsor be successful. The partnership can often be beneficial to both parties, in that, when sponsors can see that the talent they are working with will contribute to their success, the partnership can really be reciprocal.
Marcus: What role can sponsors play in helping to diversify the workplace?
Eddington: Minorities – especially women and people of color – may often be excluded from companies' succession pipelines, which may hinder efforts to build greater diversity and inclusion throughout the upper ranks of leadership. Sponsors can play a pivotal role in curbing this trend; those who support junior talent can help them obtain the necessary skills and opportunities to rise through leadership ranks, increasing inclusion and diverse representation at all levels.
Additionally, in light of the "Great Resignation," several workers have left their jobs to pursue different opportunities. Since many find themselves in need of support to help them reboot and acquire new skills to succeed, sponsors can make adjusting to a new career much easier.
Sometimes, junior talent can focus on finding a sponsor from the same diverse background or sharing a similar life experience. But, there's incredible value to both junior talent and senior leadership in building relationships with those from different backgrounds, fostering diversity on multiple levels.
This is where the distinction between a sponsor and a mentor is valuable to remember. A mentor with a similar experience or diverse background, can be invaluable. For example, young working moms can find great benefit from the mentoring of a seasoned working mom to offer practical advice. However, when considering a sponsor, this element of the relationship is not the primary consideration. Remembering the goals of each relationship can help lead to greater success.
Marcus: What role can companies play to encourage sponsorship?
Eddington: Companies can play a major part in helping more workers secure the sponsors they need to rise to positions of leadership. Organizations should be encouraged to establish programs or carve out time for their employees to actively pursue opportunities that can lead to sponsorship.
The best-in-class workplaces that do sponsorship well identify high-potential leaders and pair them with senior executives and then set a committed amount of time that both parties will need to engage in the relationship. When one or both people cannot meet regularly, or work collaboratively – it may be helpful for HR leaders to help facilitate new introductions.
Companies may also consider looking outside their walls to partner with other organizations to secure sponsorship opportunities for their employees, such as through professional coaching organizations or leadership networks.
Bottom line: Though it may be more challenging to identify and build a relationship with a sponsor in this new world of work, sponsorship is the most powerful relationship you can have in the workplace. The right sponsor gives you the advantage of high level support and advocacy to stand out as a potential leader.
Bonnie Marcus, M.ED, is the author of Not Done Yet! How Women Over 50 Regain Their Confidence and Claim Workplace Power and The Politics of Promotion: How High Achieving Women Get Ahead and Stay Ahead. An executive coach and speaker, Bonnie is also host of the podcast, Badass Women At Any Age.