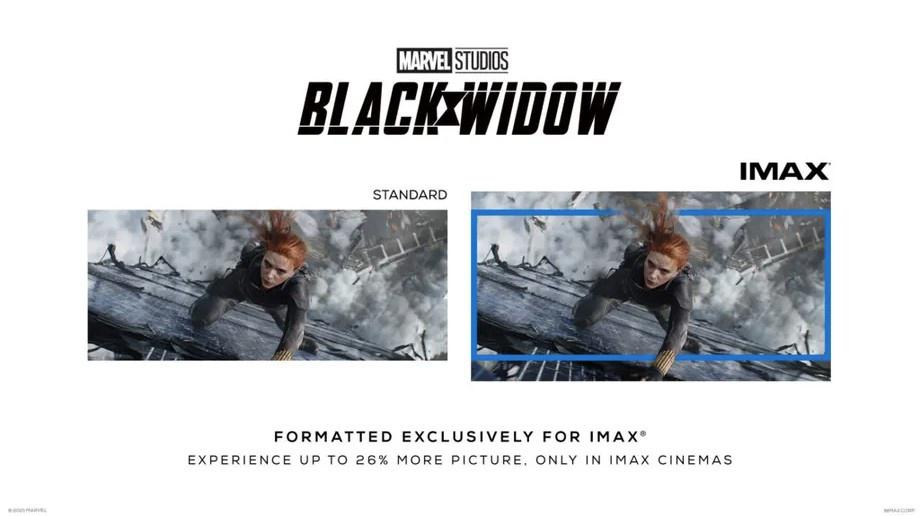 The Biggest IMAX Movies To Look Forward To In 2022
When it comes to the big screen experience, IMAX pretty much defines the genre. Its screens are, large than your average movie theatre, the picture and sound are just better, and the seats are, usually, more comfortable too. If you're going to go see a blockbuster, it's usually the best way to see it.
Next year's IMAX movie slate is looking pretty full, with more than 20 major releases scheduled to come out in 2022. Here I thought I'd run through the ones I am most looking forward to from a technical standpoint. Why these? Not every movie that is shown in IMAX is, for want of a better word, a "real" IMAX movie. So, what defines an IMAX movie? Well, it's complicated. The ultimate IMAX movies are filmed, at least in part, using IMAX 70mm film cameras. Some directors want to use these to obtain the quality and the unique look and feel of film. The 70mm also has a 1.43:1 aspect ratio, and for some, this is the only true IMAX format. However, in an almost all-digital world, these are now rarely used.
The next level are the films made using IMAX certified digital cameras and part of the "Filmed for IMAX" programme. These films will use digital cameras with large format sensors that offer quality to rival that of the IMAX 70mm cameras. This means that can also be framed for 1.43:1 but most are cropped to the IMAX 1.90:1 aspect ratio – not as tall as 1.43:1 but still taller than the regular 2.39:1 widescreen format.
Next, there are films not made using cameras in the Filmed For IMAX programme, but still have scenes that open up to IMAX 1.90:1 aspect ratio.
Finally, you will have movies that are filmed using regular cameras but are upscaled to IMAX format using its DMR process. This is why some big movies, such as The Batman and Jurassic World: Dominion, to take just two examples haven't made my top eight list. So let's go.
Uncharted
18 February 2022: Expanded Aspect Ratio
This is the film based on the popular PlayStation game series. Eschewing the fan's choice of Nathan Fillion (shame!) – the bean counters have, of course, used Tom Holland as a young Nathan Drake (reasonable), and Mark Walberg (what?) as Sully. Reaction to this casting has been not entirely positive but when it comes out it will have select sequences opened up to 1.90:1.
Doctor Strange in the Multiverse of Madness
6 May 2022: Filmed In IMAX
Sam Raimi returns to the superhero genre as Benedict Cumberbatch as Doctor Strange, along with Elizabeth Olsen as Wanda Maximoff/Scarlet Witch, deals with the fallout of his action in Spider-Man: No Way Home. This will have select sequences filmed with IMAX certified cameras.
Top Gun: Maverick
27 May 2022: Filmed entirely with IMAX-certified cameras
This is a big one. The sequel to the 1986 Tom Cruise blockbuster has been filmed entirely with IMAX-certified Sony CineAlta Venice cameras. IMAX cameras have been mounted to the front of jet fighters so this should be a visceral experience. Go see it in IMAX or go home.
Thor: Love and Thunder
8 July 2022: Filmed entirely with IMAX-certified cameras
Just a few weeks after Top Gun is another big one, with Taika Waititi returning to direct the next Thor film. Arri Alexa LF and Arri Alexa Mini LF cameras have been used so we can look forward to huge, detailed images that should befit the might of Chris Hemsworth as the God of Thunder. Natalie Portman is also returning as Jane Foster. Hopefully, with Taika at the helm, it will be better than Thor: The Dark World…
Nope
22 July 2022: Select-sequences filmed with IMAX 70mm cameras.
Jordan Peele, director of Get Out And Us, returns with his next project, again starring Daniel Kaluuya. Little is known about the plot, but the innovative horror director is looking to step it up in the visual stakes as he's working with one of Christopher Nolan's cinematographers, Hoyte van Hoytema to give us certain sequences shot with full-fat IMAX 70mm cameras. The hype is real.
Mission: Impossible 7
30 September 2022: Expanded Aspect Ratio
Mr Cruise of "never does anything that isn't completely OTT" fame, returns for the next instalment of the Mission Impossible franchise. Whatever you think of him, these films never disappoint and with certain scenes expanding to 1.90:1 it would seem a waste to see this anywhere but on an IMAX. Or your phone. Whatever.
Black Panther: Wakanda Forever
11 November 2022:
Filmed entirely with IMAX-certified cameras
The sudden passing of Chadwick Boseman will naturally cast a huge shadow on this film, but whatever form it takes, director Ryan Coogler is looking to make a visual impact as the entire film is being filmed with the IMAX-certified Arri Alexa LF camera. With most of the cast turning from the first film this is shaping up to be a powerful and emotional return to Wakanda.
Avatar 2
16 December 2022: Expanded Aspect Ratio
It seems hard to believe, but the sequel to what is still the highest-grossing film of all time, was originally slated to appear in 2014. But what's eight years between friends. The first film ushered in the 3D revival that is now almost entirely over, so it remains to be seen how central the third dimension will be to the projection experience for this version. However, director James Cameron has, unsurprisingly, shot the whole movie in 3D using Sony Venice cameras. This isn't an IMAX certified camera but considering how important IMAX showings were to the success of the first film it's no surprise that this will offer an expanded aspect ratio. Along with George Lucas, Cameron is the director most associated with pushing the technical boundaries of cinema, so from a visual perspective, the return to Pandora is one that we should all look forward to.