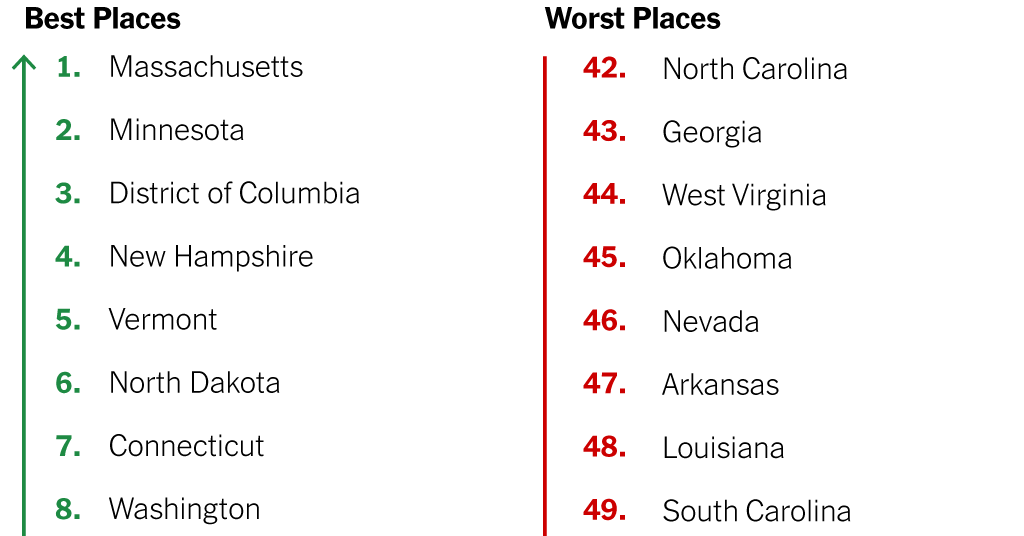 The Best and Worst States to Have a Baby
There are many factors to consider when choosing a place to live — things like job opportunities, living costs and local politics. But people who are thinking about starting a family have a whole other set of details to mull, many of which are addressed in a new study by WalletHub. The analysis weighed 31 metrics across three categories in each of the 50 states and Washington, D.C., to determine the best and worst places in the United States to have a baby.
In the first category, medical costs, early child care, health care premiums, babysitting and other expenses were compared and ranked. Next, health care was examined using data on hospitals, medical professionals, fertility clinics, rates of Covid-19 testing, infant mortality, low-weight and preterm births, childhood vaccination and more. The last category was baby- and family-friendliness, which weighed birthrates, parental-leave policies, and the number of mother's groups and child care centers per capita, among other data.
Among the results: Those worried about finding a pediatrician or family practitioner once the baby arrives might avoid Louisiana, with the fewest per capita, and consider Vermont, with the most. Vermont may also interest working parents, as might Montana, Tennessee and Colorado, all tied for the most child care centers per capita. Utah had the fewest.
Digging deeper, we find that scoring well in one metric wasn't enough to push a state toward the top of the list. Mississippi, for example, had the lowest annual infant-care costs, while Washington, D.C., Massachusetts, Connecticut and California were tied with the highest. Even so, Washington, D.C., Massachusetts and Connecticut, landed in the top 10 best places overall, while Mississippi finished last.