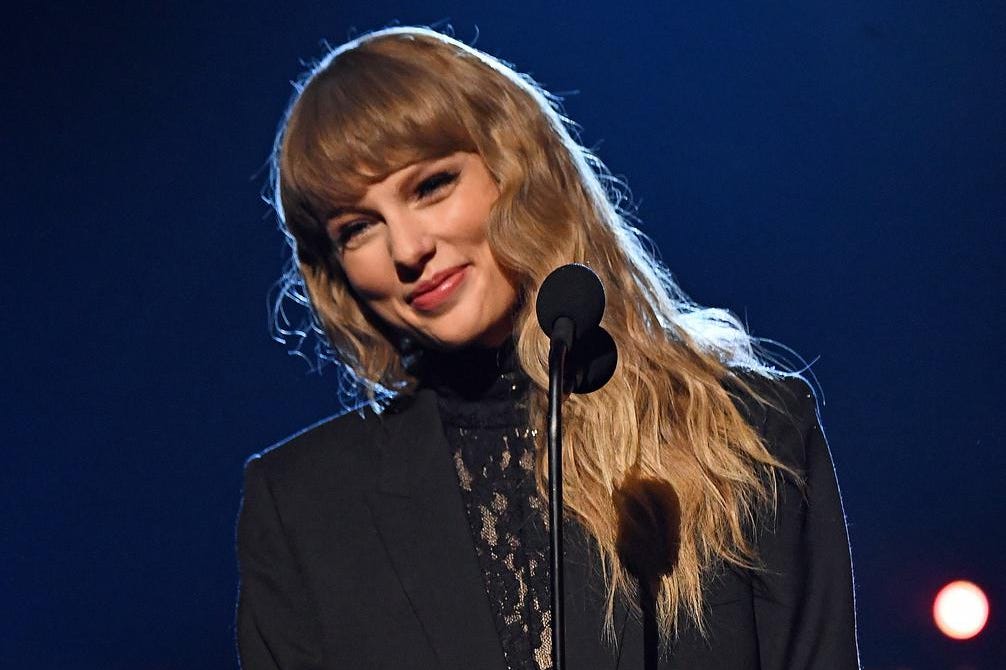 Taylor Swift Earns Her Milestone Tenth No. 1 Album With 'Red (Taylor's Version)'
Taylor Swift is back in first place on the Billboard 200, a spot she's only becoming more and more comfortable occupying as the years pass. The country/pop/alternative superstar launches her just-released album Red (Taylor's Version) at No. 1 on the ranking of the most-consumed full-lengths in the U.S. with one of the largest debuts of 2021.
Red (Taylor's Version) begins its time on the Billboard 200 at No. 1 with 605,000 equivalent units shifted. That figure is made up of 369,000 pure purchases, 227,000 streaming equivalents and 9,000 track sale equivalents, which are cobbled together by fans buying just a few tracks, but not the entire collection. The 30 songs featured on the set racked up an incredible 303 million streams on platforms like Spotify and Apple Music in the first full week they were available to play.
With 605,000 equivalent units shifted, Red (Taylor's Version) scores the second-largest debut on the Billboard 200 in 2021. Swift's latest comes in behind only Drake's Certified Lover Boy, which launched with 613,000 equivalent units.
Red (Taylor's Version) is Swift's milestone tenth No. 1 on the Billboard 200. The Grammy winner is now just the second woman in history to rack up double-digit leaders on the most competitive ranking of albums in the U.S., joining Barbra Streisand in the feat. With 10 champions now included in her discography, Swift matches Drake, Elvis Presley, Eminem and oft-rival Kanye West for the fifth-most rulers of all time.
MORE FROM FORBESNearly A Decade After It Was First Released, Taylor Swift's 'All Too Well' Could Hit No. 1By Hugh McIntyre
Swift first reached the summit on the Billboard 200 in 2008 with her sophomore full-length Fearless. Since then, she hasn't missed the peak position with a single proper album, returning to the throne with all of the following efforts: Speak Now, Red (the original), 1989, Reputation, Lover, Folklore, Evermore and most recently, Fearless (Taylor's Version).
The Grammy champion has now reached the top 10 on the Billboard 200 with 12 projects. In addition to her 10 No. 1s, her debut full-length Taylor Swift peaked at No. 5, while her sole EP to reach the highest tier, Beautiful Eyes, lifted to No. 9.
Red (Taylor's Version) is Swift's second re-recorded album to conquer the Billboard 200, following Fearless (Taylor's Version), which debuted at No. 1 back in April. The powerful musician is going back into the studio to re-record her first six full-lengths and then gifting them to fans, with other material and previously-unreleased songs included on the tracklists. This is all in an effort to give her fans an option to stream music she owns, as opposed to her older songs and albums, the rights to which have been sold more than once, and always against her wishes.
Swift didn't release any singles in advance of Red (Taylor's Version) arriving in full, but chances are many of the tunes featured on the lengthy set will find their way to various Billboard charts in a day or so when the company refreshes its lists. Two tunes, "Message in a Bottle" and "I Bet You Think About Me" with Chris Stapleton, were serviced to radio stations once the album was out, and due to immediate adoption across the country, they currently appear on two different radio-only rankings. Early plays helped those cuts debut before the album had hit any roster
While "I Bet You Think About Me" has been selected as the first single (at least to the country community), the Red (Taylor's Version) campaign is focused squarely on "All Too Well." The song has long been a fan and critical favorite, and Swift is pulling out all the stops to make it a proper smash this time around. She released a short film using the tune, she shared several versions fans can buy and she performed it on Saturday Night Live, deciding to play the new 10-minute version. When the Hot 100 is updated again, "All Too Well" could hit No. 1, though it's a tough race at the moment.
MORE FROM FORBESTaylor Swift's 'Red (Taylor's Version)' Could Move Half A Million Copies In Its First WeekBy Hugh McIntyre