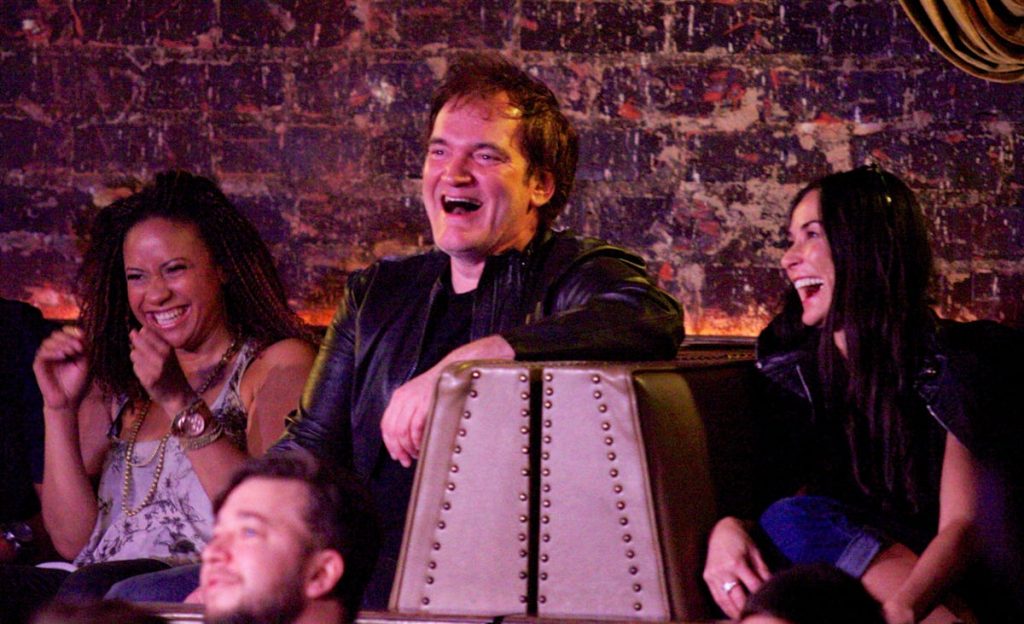 'Tarantino Live' Is An Immersive Theatrical Experience That Will Blow You Away
Tarantino Live: Fox Force Five & The Tyranny of Evil Men perhaps shouldn't work, but it does. It really, really does.
The musical production, the latest live experience from For The Record, is a gamble that pays off. The show staged at The Bourbon Room on Hollywood Boulevard in Los Angeles, California, takes the lion's share of the films directed by Quentin Tarantino, and puts them in a narrative blender. The audience gets to drink up a potent cocktail of iconic scenes and dialogue, live performances of classic soundtrack excerpts, and characters resequenced to create a new narrative and a multipart dissertation on the filmmaker's catalog.
Constantly switching between Kill Bill, Reservoir Dogs, Pulp Fiction, Inglourious Basterds, Jackie Brown, The Hateful Eight, and Jackie Brown by way of Death Proof, Once Upon a Time… In Hollywood, and Django Unchained, this could have been a creative car crash, but the cast and creatives pull it off with aplomb. In fact, they succeed with such apparent ease that you wonder why someone didn't do this sooner.
Rather than a classic linear narrative, Tarantino Live takes Fox Force Five, a collective of kick-ass female characters from his films, and has the audience follow them in a new story constructed from parts of his movies. Patched together like Frankenstein's monster, it creates a new story where they fight the Tyranny of Evil Men who inhabit Tarantino's cinematic universe. There are also a few creative flourishes that pepper the production, including one involving Charles Manson.
Tarantino Live: Fox Force Five & The Tyranny of Evil Men is staged in the 200-seat performance space formerly occupied by Rock of Ages. The action takes place both on the formal stage as well as around and amongst the audience, who are kept fed and watered by a team of servers. This is R-rated elevated dinner theatre with attitude as seasoned performers, including Death Proof's Traci Thoms, belt out banging Tarantunes, and they utilize every inch of space available to them. The show's pace is relentless and, as the action is taking place all over the room, there are times when you feel like your head is spinning trying to take it all in. It is, at times, bewildering, but that is part of its power. The staging is an impressively innovative feast with a mix of highly effective lighting and sound design, solid physical theatre, and some applause-inducing video design. The atmosphere, right from the get-go, makes you feel like you're being strapped in and taken on an exhilarating roller coaster ride through the mind of a master. The interval is a chance for a bathroom break but, more importantly, for the audience, who are asked to remain masked when not eating or drinking, to catch their breath and discuss what the hell they just experienced.
Acting like the pillars of this temple to Tarantino, the show is punctuated with narration (courtesy of Wilkie Ferguson as Clarence the bandleader), explaining things, bridging narrative gaps, or sometimes just placing pieces in context in this reimagining of the filmmaker's artistic vision.
Having been an evolving project for the last decade, Tarantino Live is not an entirely new show, although this production is its most complete form and has been reworked to incorporate Once Upon a Time… In Hollywood and to play most effectively in its current home. This is also not the first time For The Record has sipped from the pop culture fountain and gargled with its contents. In the last few years, the team has previously used this postmodern cabaret experience to tackle everything from 80s teen movies with the superb The Brat Pack to the films of Martin Scorsese in Scorsese: American Crime Requiem. Their Love Actually Live show was a box office-record-breaking hit and returns to The Wallis in Beverly Hills later this year.
Suppose you know his movies and those Tarantino's classic moments that have entered the cinematic vocabulary, but nothing more. In that case, this is a great way to drink up his work and have a thoroughly entertaining night out. If you love musical theatre, but you're not all that familiar with Tarantino's work, you'll appreciate the performances and the staging. If you are a Tarantino purist, you will never have seen his work presented in this way, but you should. He's even seen it and given it his seal of approval.
Tarantino Live: Fox Force Five & The Tyranny of Evil Men runs every Thursday through Sunday until the end of September 2021. Tickets start at $49, with food and drink not included, but honestly, it is worth every cent.