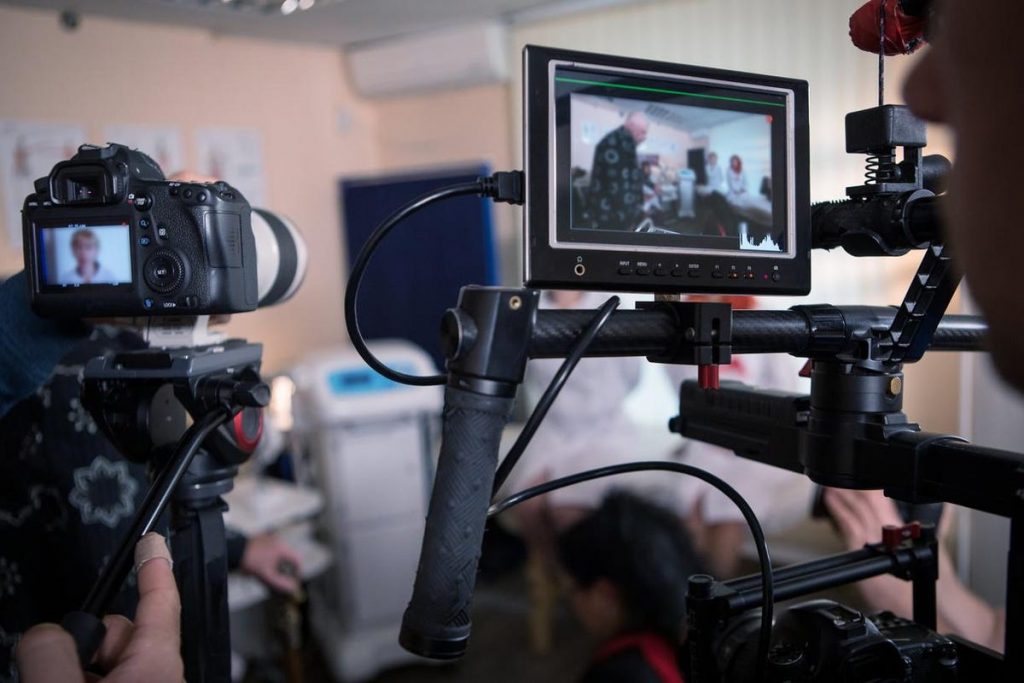 Taking Hollywood To Infinity And Beyond With The Infinity Festival
As tech conferences edge back into #IRL experiences where people actually see each other in person, many have remained stubbornly traditional: endless panels, swapping business cards, a bunch of not-very-interesting sponsor booths, a lot of milling around.
Not the Infinity Festival, which runs today and tomorrow in the heart of Hollywood. That's "Hollywood," the physical neighborhood in Los Angeles, though the conference has always been about freeing Hollywood, the state of mind and the entertainment industry, from the limits of any one place, space or time.
In part, that's because of the show's heavy emphasis over the years on demonstrations of the cutting/bleeding edges of technology, with a host of immersive experiences, virtual production tools, companies mining the Metaverse, and much else. There's also a focus on "Art + Tech," with a number of exhibitions and demonstrations.
The conference is spotlighting a remarkable transition in the ways entertainment companies are making features and episodic series, aka, the entertainment products we now call video programming in an era when "TV" is far more than just what used to screen at a movie theater or run on a broadcast station's linear feed.
But it's also mixing in the tools and techniques of the video game world, virtual/augmented/mixed reality, blockchain tools, and more. The digital hurricane engulfing Hollywood was already underway two years ago but, forced by the pandemic's limitations on traditional productions, only accelerated since. The Infinity Festival aims to reflect all that.
"It's really creative and tech together," said Lori H. Schwartz, the festival's chief curator, and on the TV Academy's board of governors representing interactive media. "And so you have these people that are both right and left brain. It's a place that literally brings the creative community together with the technology community that creates in Hollywood. It's storytelling enabled by technology, or Hollywood plus Silicon Valley."
That confluence will gather at Hollywood's Dream Hotel and nearby Goya Studios, both tucked onto side streets between Hollywood Boulevard and Sunset Boulevard, mere blocks from Netflix's NFLX ever-expanding Los Angeles footprint, the Paramount Pictures lot, and much else.
The conference has attracted heavy-hitter sponsors too, such as HP's Z computers, Nvidia NVDA , Unity, Microsoft, Coresite and Qualcomm QCOM . Another sponsor will show off their immersive Van Gogh exhibition in a nearby former Amoeba Records store.
"We're not a tech conference, and we're not a creative conference," Schwartz said. "But we're those two worlds together. When you look at what's happening behind the camera, with all the virtual production and remote production and gaming engines, that's an exact example of this, because you have technologists who are driving the future of filmmaking and television production. But it's a creative endeavor."
The new technologies are shifting the way shows are getting made, moving more work to the pre-production phase – with visualization, volumetric capture, virtual production sets (as famously used in producing Disney Plus hit The Mandalorian) and more – and away from post-production creation of visual effects.
Many of those tools come out of gaming and VR, which are being embraced by Hollywood in many ways.
"We have a track focused on gaming and Hollywood, because not only is it the backend, but it's also the (intellectual property)," Schwartz said. "And it's also the (dominant source of pop) culture, right? So you have your culture of gaming, you have the tools and the engine of gaming. And then you have Hollywood IP meeting the gaming engine."
The other, perhaps less sexy but incredibly vital part of the show, Schwartz said, is the power of the data center. It's a long way from Louis B. Mayer green-lighting a movie based on his gut feeling about which project will work, but data of all kinds is increasingly ruling Hollywood, from what gets made, to how it gets made, to how it gets marketed and distributed and assessed,
"We have two data centers as partners" in the show, Schwartz said. "And that's because they're playing an integral role in this. Because in order to power what you're talking about, we have to figure out both the cloud and the edge. We have both worlds happening because you need both worlds to do the data crunching."
Through it all, one key will be finally getting together in person, (proof of COVID vaccination will be required for all attendees), Schwartz said, crucial for the tight-knit sector of Hollywood that's pushing technology boundaries.
"One of the really exciting things about our community is that they want to be around each other," Schwartz said. "There's this real hunger for them to share what they're doing, and to just socially be around each other, because they've all known each other for a long time, and they've all watched each other's careers grow. They've all worked at different parts of the industry. And so it's really important to get them together because that's how business happens."