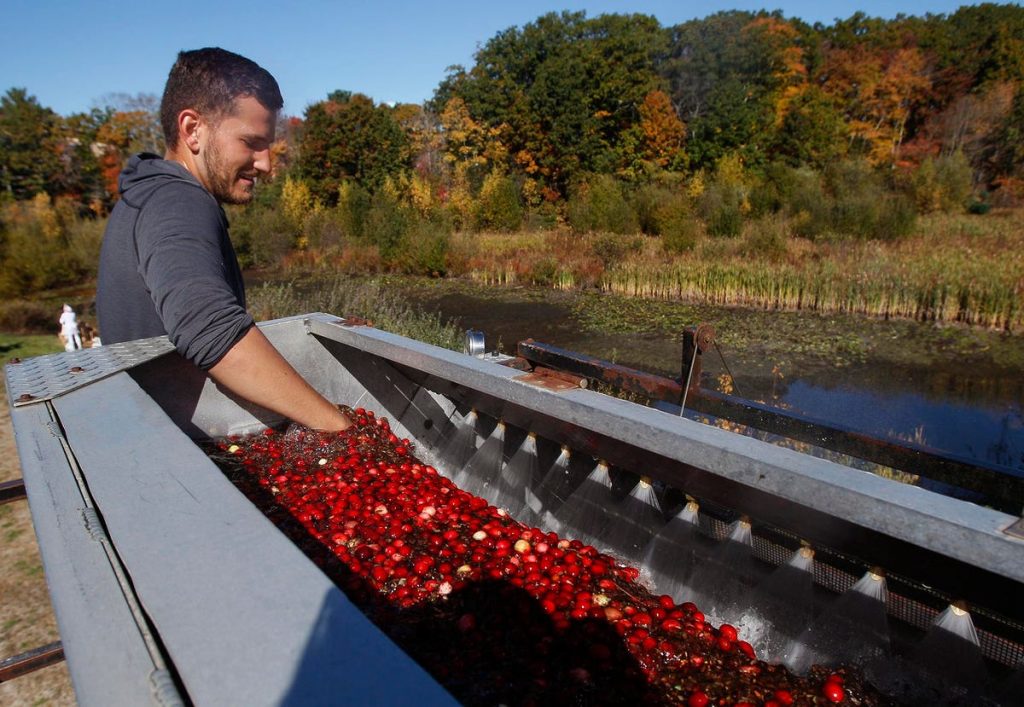 Support Family Farms This Thanksgiving With Ocean Spray
Every Thanksgiving, the cranberry industry suddenly roars to prominence.
Along with autumnal flavors like pumpkin spice, cranberries crop up in everything from cakes and pies to Starbucks drinks. And a surprising number of those tart little berries are produced by one company.
Or, rather cooperative.
Founded by cranberry farmers Marcus L. Urann, Elizabeth F. Lee and John C. Makepeace in 1930 in Hanson, Massachusetts, today Ocean Spray's agricultural arm consists of a network of 700 independent family-owned cranberry farms. All of them are partial owners of the business.
Alison Gilmore Carr is a sixth-generation cranberry farmer, and her "extended family has been farming since the 1800s." For Carr, who is distantly related to one of the founders of the cooperative, "growing up, cranberry farming was an integral part of my childhood." She worked in several other industries early in her career, but eventually the farm came calling.
"It's just that love of caring for and nurturing the land. I love knowing I can also [be part of] providing a sustainable planet and sustainable food source… Our crop is a perennial crop, so year after year, we're caring for and nurturing the vines. It's sometimes very profound to me to stand out at the bog that my mom and dad have. They've gone from two acres to now one hundred, and that same land has been cared for by generations and generations."
Since Carr is related to the founders, Ocean Spray has always loomed large in her imagination. She describes the other farmers as a sort of extended family and: "To be the catalyst that brings so many people together during the holidays is so humbling… As a kid it was really fun to know that we were growing these cranberries and they were ending up on Thanksgiving tables across the country."
It can be easy these days to feel disconnected from our food, to lose sight of where all the different things we eat are traveling from and how much work goes into making even a single onion. But for Carr, who excitedly explained to me the cranberry growing season (September through November), the intermittent nature of harvest time ("sometimes we're waiting, we're harvesting, we're waiting, we're harvesting"), and the reason why they flood the cranberry fields at harvest time (they float!), food is a way of life.
Every year, Carr's family has a cranberry cook-off for Thanksgiving. Cranberries end up on most people's Thanksgiving tables in one way or another, but in the Carr family, they're the main event.
"It was started by my grandmother, my Nina… She would call each of us, my sister, myself, when my cousins would attend. And she says, 'Bring your best cranberry relish or sauce to the Thanksgiving meal.' We would informally judge, and the way she would evaluate the winner was whichever sauce or relish was eaten most during the Thanksgiving meal." Every year, Ocean Spray's jellied cranberry sauce would win.
They've kept this tradition alive, and now her children are getting involved, providing their own berry dishes to the table.
Thanksgiving is a complicated holiday rife with upsetting history and misinformation. But we keep celebrating it for the same reason everyone celebrates the harvest. It keeps us connected to each other and to a sense of tradition, no matter how flawed. For Carr, whose family already has a text chain devoted to the new cranberry dishes they're bringing for the big meal, it's also a moment of great family pride.