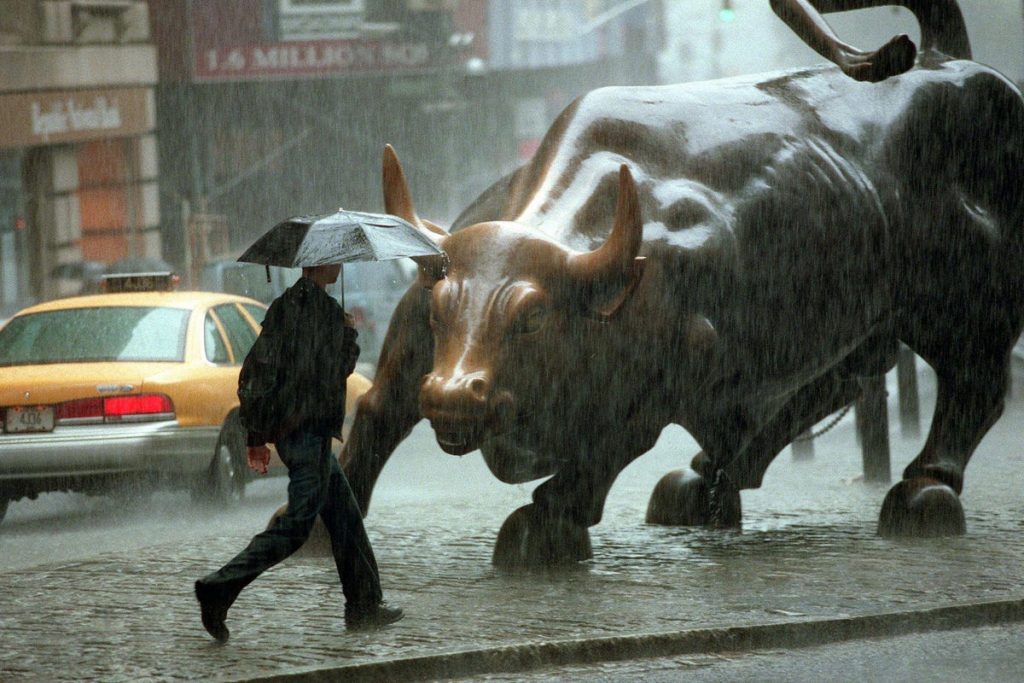 Topline
The stock market ended its best winning streak in over two years on Tuesday, retreating from record highs as corporate earnings season winded down and investors took a breather before an upcoming report on inflation.
Key Facts
The Dow Jones Industrial Average fell 0.31%, over 100 points, while the S&P 500 declined 0.35% and the tech heavy Nasdaq Composite lost 0.6%.
Before Tuesday's declines, the S&P 500 had notched eight consecutive days of gains—its best streak in over two years—and closed above 4,700 for the first time.
While strong corporate earnings helped boost stocks to new highs and increase optimism around the economy reopening, that effect has tapered off somewhat as few companies are yet to report results.
Investors took some profits after the stock market's latest run up and are now looking ahead to crucial inflation data that will be released on Wednesday, with the October consumer price index expected to rise 0.6% compared to the previous month.
Shares of Tesla, meanwhile, fell 12% on Tuesday—with shares continuing to plunge since CEO Elon Musk over the weekend sparked concerns that he would sell 10% of his stake in the electric vehicle maker.
Shares of digital payments company PayPal sank more than 10% after lackluster earnings, while industrial giant GE saw shares rise 2.6% after announcing that it would split into three public companies focused on aviation, healthcare and energy.
Crucial Quote:
"With Q3 earnings season winding down, economic data and the progress in economic re-openings will gain in importance in investors' focus from here to the end of the year," said John Stoltzfus, chief investment strategist at Oppenheimer Asset Management, in a recent note.
Key Background:
Despite investor fears about rising inflation, labor shortages and supply chain issues, stocks have continued to hit record highs, with the S&P 500 rising over 5% in October for its best month so far this year. Third-quarter corporate earnings have proved solid despite ongoing concerns, helping boost optimism about the U.S. economic recovery. Of the 445 companies in the S&P 500 that have reported earnings results so far, 81% have beaten expectations, according to Refinitiv.
Further Reading:
Here's What Investors Are Most Worried About—Including Meme Stocks And China Real Estate—According To Fed Report (Forbes)
These Stocks Are Surging After House Passes $1 Trillion Infrastructure Bill (Forbes)
Tesla Stock Wipes $140 Billion In One Day After Elon Musk Teases Massive Sale (Forbes)
General Electric Shares Jump As Firm Plans To Split Into Three Public Companies (Forbes)