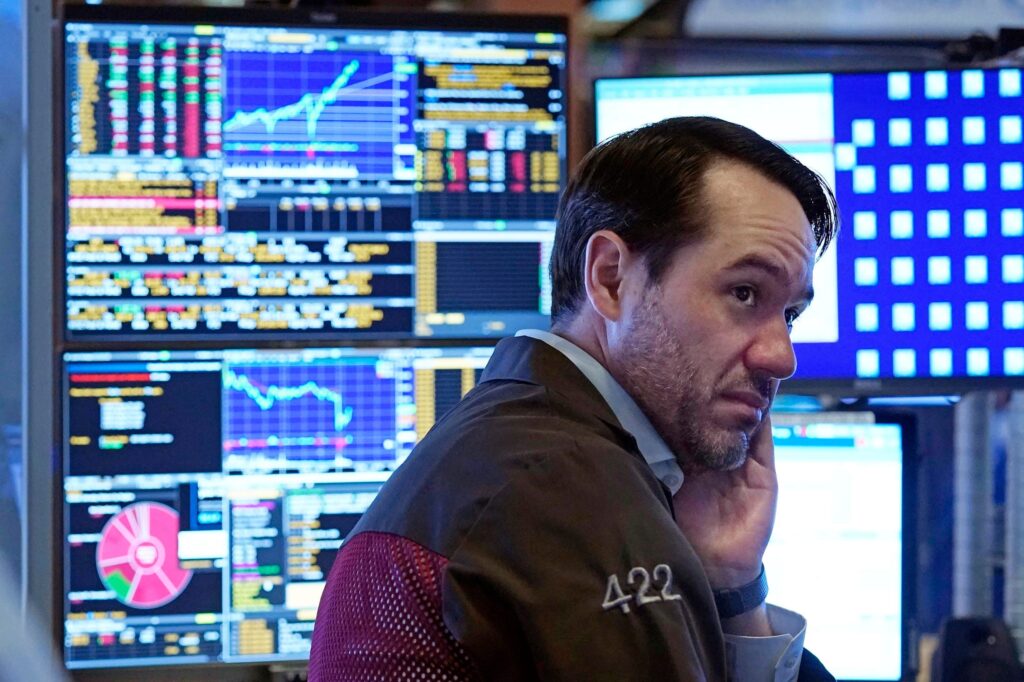 Topline
The stock market plunged earlier today—with the S&P 500 briefly falling into correction territory—before rebounding in volatile trading as investors worry about rising interest rates and await a key policy meeting from the Federal Reserve later this week.
Key Facts
The Dow Jones Industrial Average rose 0.3%, nearly 100 points, while the S&P 500 gained 0.3% and the tech-heavy Nasdaq Composite 0.6%.
The benchmark S&P 500 index, which is on track for its worst January performance ever, at one point hit correction territory, down more than 10% from its record high at the start of 2022.
Stocks staged a dramatic rebound late in the day, with all three major indexes turning positive: Earlier on Monday, the Dow fell as much as 1,000 points, while the S&P 500 was down nearly 4% and the Nasdaq around 5%.
Investors continue to remain concerned about surging interest rates and are now looking ahead to the Federal Reserve's upcoming policy meeting, which wraps up on Wednesday.
Most experts don't expect the Fed to take any significant actions at this meeting, but the central bank will likely set up the first of multiple interest rate hikes beginning in March while also concluding its monthly bond purchase program.
What's more, the fourth-quarter earnings season has so far been mixed: Although more than 74% of S&P 500 companies that have reported results topped Wall Street estimates, some big names including Netflix and Goldman Sachs saw lackluster earnings.
What To Watch For:
Shares of big tech companies, which have remained under pressure in recent weeks, were mixed on Monday. Shares of Netflix were down another 2.6%, after plunging more than 20% last Friday on the back of disappointing quarterly earnings. Other big names including Tesla and Apple, which both report earnings this week, each fell around 1.5% on Monday.
Surprising Fact:
The CBOE Volatility Index (VIX), which measures market volatility, hit its highest level in nearly 12 months, surging over 37 on Monday morning. Both the Dow and S&P 500 are on pace for their worst month since March 2020, when the U.S. economy fell into a recession during coronavirus pandemic shutdowns. The Nasdaq, meanwhile, is down over 10% in January, which could be its worst month since the financial crisis in October 2008.
Crucial Quote:
Stocks were getting "slaughtered, and panic is setting in," says Vital Knowledge founder Adam Crisafulli in a recent note. "What had initially been a stimulus withdrawal-driven decline morphed last week to include earnings jitters."
Key Background:
Monday's losses follow what has already been a brutal selloff on Wall Street this month. With tech stocks under huge selling pressure, the Nasdaq was the first index to hit correction territory last week, now down around 15% from its record highs last November.
Further Reading:
Netflix Stock Crashes As Nasdaq Has Worst Week Since October 2020 (Forbes)
'Catastrophic' Stock Market Crash Isn't Over—Here's How Much Worse It Could Get (Forbes)
Pandemic Darling No More: Peloton's Dramatic Crash In 4 Charts (Forbes)
Robinhood's Struggles Continue: Its Cofounders Are No Longer Billionaires, Shares Down 60% Since IPO (Forbes)