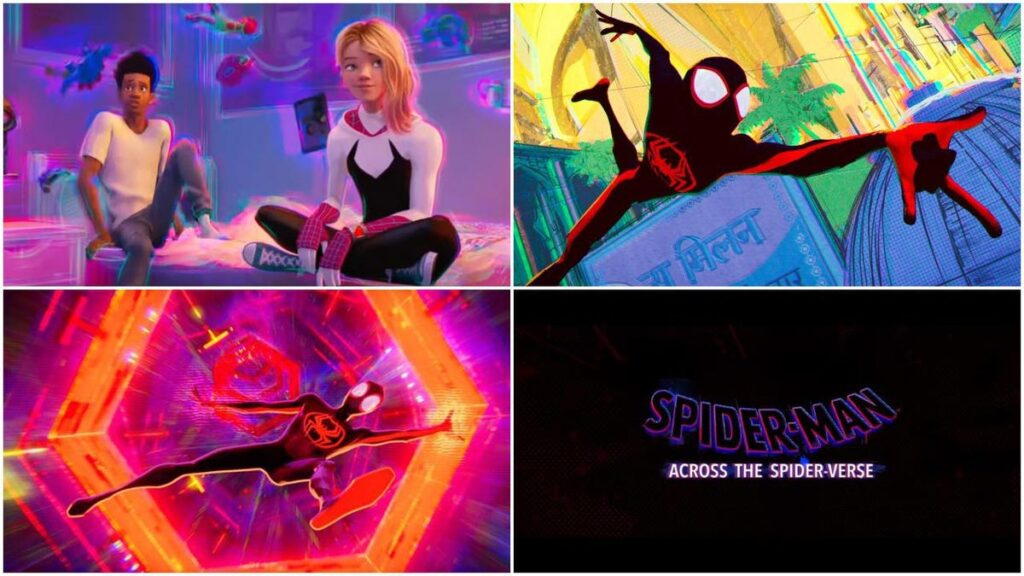 'Spider-Man: Across The Spider-Verse' Is Next Year's Most Likely Breakout Sequel
In a debut that makes sense as this weekend is Brazil's Comic-Con, even as next weekend marks the three-year anniversary of its predecessor, Sony just dropped an announcement teaser for surefire breakout sequel Spider-Man: Across the Spider-Verse part One. Apparent "two-part sequel" thoughts aside (hey, if they like 1 of 2, they'll show up for 2 of 2), I am amused by the simplicity of the sequel title as well as the apparent Beatles in-joke.
To my relief, the 150-second teaser is almost entirely about the established human relationship (and budding romance) between Miles Morales and Gwen Stacy. Beyond just the film not opening until October of next year, so the film isn't anywhere close to finished, this is a sign that Sony and friends understood why Into the Spider-Verse was so damn beloved in late 2018.
The critically-acclaimed animated adventure, which went on to win Best Animated Feature over the $1.24 billion-grossing Incredibles 2 (also pretty great, natch), was both a multi-verse fantasy and a terrific character-specific coming-of-age story. I am amused by indications Marvel and Sony's Spider-Man: No Way Home seems to be piggybacking on the relative success ("mere" $376.7 million global gross on a $90 million budget notwithstanding) of the disconnected animated offshoot, selling the Far from Home sequel as its own kind of "Spider-Man characters from different worlds unite" action sequel.
One big reason it became the leggiest comic book superhero movie ($191.4 million from a $35.5 million debut) since Batman ($251 million/$43 million) in summer 1989 was because audiences gravitated to its top-billed hero. It was, first and foremost, a Miles Morales origin story. Across the Spider-Verse (part One) is next year's most likely breakout sequel.
Into the Spider-Verse had rave reviews, a strong but not-quite-best-possible domestic and worldwide total, white-hot word-of-mouth, incredible legs and years of post-theatrical discovery. And unlike a lot of recent animated franchise sequels, this one A) is focused on a true marquee character and B) isn't going to deal with folks just being curious the first time (since everyone who casually checked it out loved it) or the film just playing to kids the next time out (again, everyone loved it).
When you have a much-loved "part one" that was clearly successful without breaking records (think Austin Powers, Scream, The Bourne Identity, John Wick and Pitch Perfect), the second chapter is the one which cashes in on the goodwill of that sleeper hit.
Granted, I presume the Joaquim Dos Santos/Kemp Powers/Justin K. Thompson-directed flick, with a screenplay courtesy of Phil Lord, Chris Miller and David Callaham, will be budgeted at a level which doesn't require a blow-out performance. We could see something akin to Scream 2, which opened 5.5 times larger than its predecessor ($33 million versus $6 million) but then ended up with a near identical $101 million domestic gross.
It'll open October 7, 2022, in the key "first biggie of October" slot home to Gravity, The Martian, Venom and Joker. It'll have a month before The Flash in early November, with (thus far) only Halloween Ends ("Correction… evil dies tomorrow!") qualifying as tentpole competition. This is just an announcement teaser, and it'll probably be the last trailer we see until mid-summer, but this is exactly the kind of genuinely anticipated sequel that deserves a long-lead teaser.
With Shameik Moore and Hailee Steinfeld reprising, and Oscar Isaac joining up as Spider-Man 2099, this could easily see this one pulling an upswing on par with Planet of the Apes (from $481 million for Rise of the Planet of the Apes to $710 million for Dawn of the Planet of the Apes) or even Captain America (from $376 million for The First Avenger to $714 million for The Winter Soldier).
That's obviously not the bar for success, but you're going to have plenty of folks young and old who saw Into the Spider-Verse well after opening weekend (and/or after theaters) and fell in love with it. They will almost surely show up with bells on coming opening weekend for Across the Spider-Verse part One.