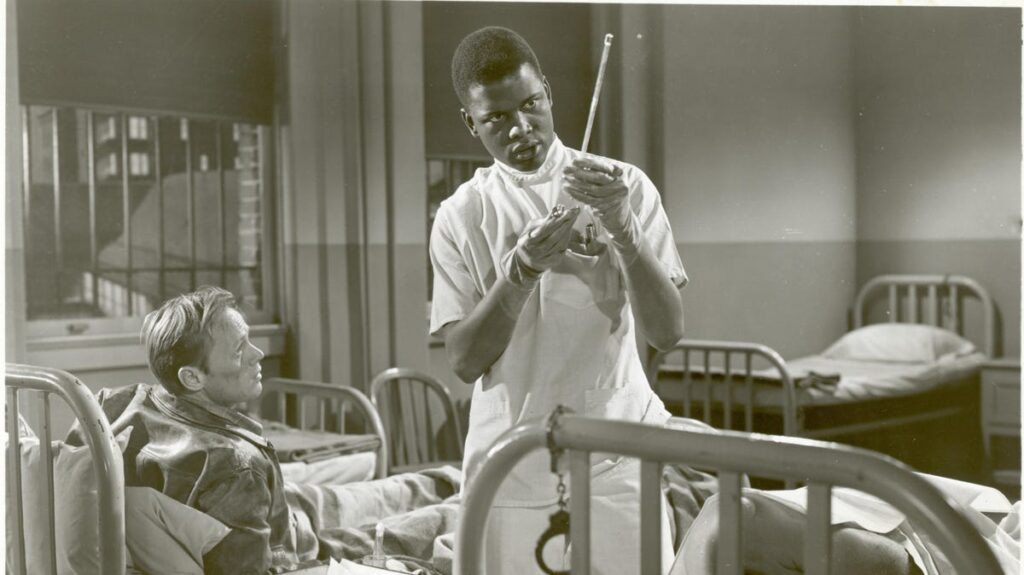 Sidney Poitier's Explosive Debut Was 70 Years Ahead Of Its Time
Sidney Poitier, the trailblazing, Academy Award-winning actor who died on January 6 at the age of 94, made a career portraying characters who maintained their dignity in the face of racism, both overt and subtle. In his most acclaimed performances, from his Oscar turn in 1963's Lilies of the Field to his iconic "call me Mister Tibbs" moment in 1967's In the Heat of the Night, Poitier embodied the 'take the high road" approach to confronting racial prejudice, shaming haters by expressing the basic humanity that they tried to deny him. At a moment when white America was attempting to dismantle the formal apparatus of segregation through the Civil Rights era of the 1960s, these portrayals were both powerful and necessary.
What's less known is that Poitier began his career in a film that confronted the issues of race more directly than most Hollywood films today, much less at the time it was made. That movie was No Way Out, a film noir directed by Joseph Mankiewicz and written by Mankiewicz and Lesser Samuels, released in 1950 – half a decade before the Montgomery bus boycott and the earliest stirrings of mass protests.
No Way Out would have been remarkable simply for the casting of the very young Poitier in a role other than the Pullman porters, domestics, and cringeworthy "comic relief" characters that Hollywood had consigned Black actors to in the 30s and 40s. Here he plays the first Black doctor hired by a major municipal hospital, full of pride at his accomplishment but also riddled with self-doubt and painfully aware that he is being held to different standards, even by nominally open-minded white colleagues, due to his race and circumstance. The script not only allows Poitier a complex and well-rounded character whose paragon status is sometimes shaded by his own rage and frustration, it also provides the context of his family and community, with a number of speaking parts for other actors of color, including unbilled roles for Ossie Davis and Ruby Dee as his younger siblings.
Poitier is on duty when police bring in two brothers, petty criminals injured in a shootout during a failed robbery attempt. Despite being shot in the leg, one of them is presenting more serious symptoms, and dies as Poitier is attempting to administer a spinal tap to confirm his diagnosis of an untreated brain tumor. The surviving hood, a vile racist played to the hilt by Richard Widmark, believes Poitier deliberately killed his brother but refuses to agree to an autopsy to validate the diagnosis. (Warning: Widmark's character frequently uses the coarsest imaginable racial language throughout the movie). He then convinces his brother's widow (Linda Darnall) to carry the word back to their neighborhood to rile up the locals to launch a violent attack against the city's Black community.
The unflinching depiction of the psychological, social and political machinery of white racism is where No Way Out feels not just ahead of its time, but almost contemporary to the concerns of 2020s America. Widmark and his brothers are products of a lower class white culture (notably in a Northern, not Southern, urban environment) that salvages its only shred of dignity through belief in white supremacy, and expresses the only social power it can muster through communal violence against Blacks. At first, Widmark's character tries to justify his murderous rage by blaming Poitier for his brother's death, but rather than accept the truth once he has been proven wrong by the medical examiner, he only gets angrier and more frustrated, convinced that white scientists and political elites are colluding to elevate people of color over the members of his own disparaged and disrespected white underclass. It's very easy to see echoes of this psychology in the faces of the young men chanting "You will not replace us" at the racist rallies of today.
It would be unusual for a Hollywood movie to directly frame white supremacy and white racist populism this way even in 2022. In 1950, when the simple act of depicting Blacks on screen as well-rounded characters was rare and controversial, this must have landed like a truckload of dynamite. And while there are aspects of "white savior" tropes in the characterization that might not pass muster today, the story ends by clearly centering Poitier's arc and agency. And, at age 23, in his screen debut as Hollywood's first Black leading man in a dramatic role, Poitier carried it off magnificently.
For many actors, such a moment would have been a highlight. For Sidney Poitier, who lived to receive a Presidential Medal of Freedom from America's first Black president, it was merely a footnote in a career that would ascend many more creative peaks. Rest in power, Mister Poitier.