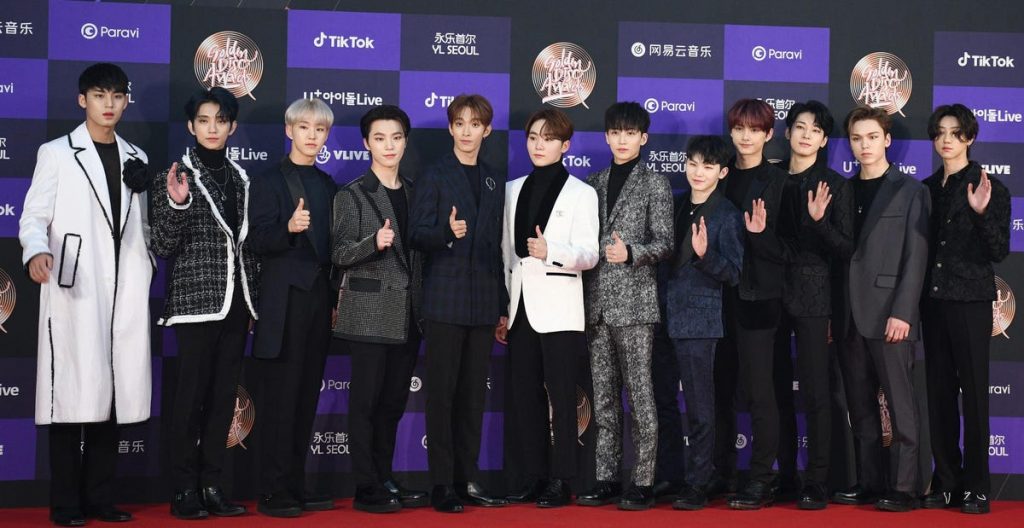 Seventeen Is Now The Fifth Korean Act To Score Several No. 1 Bestselling Albums In America
For the second time in 2021, Seventeen almost landed a top 10 album in the U.S., missing out on doing so by just a few spaces. Their latest EP Attacca opens at No. 13 on the Billboard 200, Billboard's weekly tally of the most-consumed full-lengths and short projects in America. The set might not have broken into the loftiest tier on the most competitive albums chart in the market, but it does arrive as the bestselling title in America, and that fact helps the band behind the package make history.
Attacca debuts at No. 1 on this week's Top Album Sales chart, which only incorporates pure purchases, while the Billboard 200 also takes into account streams from various platforms. Seventeen's latest release launches atop the important ranking with a little more than 24,500 copies sold in the U.S. in its first full week of availability. It outpaces the No. 2 starter, Lana Del Rey's Blue Banisters, by nearly 6,000 copies sold.
With Attacca debuting at No. 1, Seventeen now claims two leaders on the Top Album Sales chart, which is an impressive sum when looking solely at boy bands hailing from South Korea. In fact, by instantly doubling their total number of champions on the ranking, the many-membered act ties with two other beloved vocal troupes from the Asian nation for the third-most rulers among male singing groups from the K-pop capital.
MORE FROM FORBESSeventeen, Aespa, Enhypen, CNBLUE And BTS (Times Four): The Bestselling Albums In KoreaBy Hugh McIntyre
While they have now been releasing music for more than half a decade, Seventeen only managed to collect their first No. 1 on the Top Album Sales chart a few months ago. Their EP Your Choice went right to the top back in June. Despite the fact that they've been dominating their homegrown charts in South Korea for years, Seventeen has only started making a major commercial impact in the United States recently.
With their second No. 1 on the Top Album Sales chart, Seventeen ties with both SuperM and Tomorrow X Together, as the two South Korean boy groups have also risen to the summit twice.
Looking at all the male vocal acts that have emerged from South Korea and broken into the American mainstream in the past several years, BTS lead the way when looking at the Top Album Sales chart. The septet has now pushed five titles to the peak position. Between that globe-dominating band and the three that have already snagged two winners is NCT 127, who have now appeared at No. 1 on the purchase-only roster with a trio of titles.
MORE FROM FORBESSeventeen Charts Their Lucky Thirteenth No. 1 Album In Korea With 'Attacca'By Hugh McIntyre