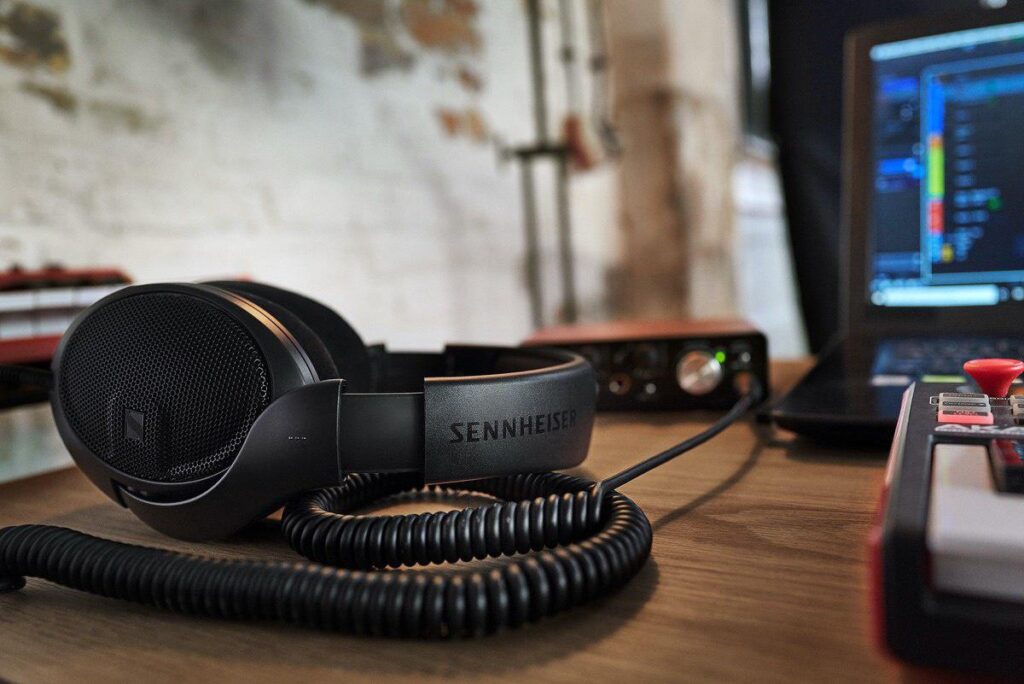 Sennheiser's HD 400 PRO Are Great Headphones For Mixing It Up In The Recording Studio
There's an adage in the recording world that says it's better to mix a track through studio monitors instead of headphones. Now, I'm no recording engineer but I'd say that this rule depends very much on which studio monitors you own. There are plenty of people who ignore this stricture and successfully mix using headphones. And to do that, you do need a good pair of circumaural or open-back headphones with a neutral tone that will enable adjustments to be made without introducing any coloration into the mix.
Mixing and control room use are exactly what new Sennheiser's new HD400 PRO headphones are designed for. They are relatively affordable and come with a three-meter coiled cable that's just perfect for using with a long mixing desk, plus they also promise to create a neutral tone that won't color the music and tempt you to mix to the headphones' characteristics.
The new HD400 PRO are typical Sennheiser and made from high-quality plastic, with a firm headband and super comfy velour ear pads that don't make your ears sweat. They feel comfortable even after a long listening session. The transducers of the HD 400 PRO are tilted at a slight angle, recreating the optimum triangular listening position when sitting midway between a pair of monitor loudspeakers in a recording studio. In addition, the open-back design of the HD 400 PRO propagates the soundwaves naturally, unlike closed-back designs that have acoustic structures that can impede sound.
The feel of the headphones is lightweight and yet they are sturdy enough for daily studio use in a professional setting. Weighing just 240 g without the cable, the HD400 PRO feel closer to 200 g and this is largely due to the ingenious design which spreads the weight evenly over the wearer's head with a padded headband. They are very comfortable and, more importantly, they didn't make my ears hot as many closed or semi-closed headphones can.
Unlike a lot of open-back headphones, the HD400 PRO aren't over-analytical or too forward in the midrange. Neither are they harsh in the treble frequencies. These headphones have an incredible frequency range that goes all the way from an impressive 6 Hz to 38 kHz. That's quite a range and yet the HD400 PRO manage this without making a song and dance about it. Your ears are never assaulted with a ridiculously over-the-top subsonic bass and neither are they fatigued by a very harsh treble. The detail reproduced by the HD400 PRO is beautifully poised and balanced. The soundstage doesn't feel too wide, which is an issue for me as some headphones slightly exaggerate the soundstage width and can feel a bit artificial. I'd rather keep it real.
So, how does Sennheiser manage to reproduce such a tonally neutral sound with a great midrange but never at the expense of the bass or treble? The answer is in the design of the HD 400 PRO dynamic transducers that include a diaphragm made from a special blend of polymers. When coupled with some powerful driver magnets, these headphones yield a deeper sound that is still totally clear and well-defined. The distortion levels are impressive at less than 0.05% (measured at 1 kHz, 90 dB SPL). That's good going at this price point and it shows in how the music is presented. Never mind using these headphones for mixing or mastering, I'd be very happy listening to them while streaming some great tracks from TIDAL or one of the other Hi-Res services.
The Sennheiser HD400 PRO come packaged in a basic cardboard box. There's no carrying case included but I guess Sennheiser must keep the costs down. The box also contains a coiled 3m cable and a shorter 1.8m cable for use with a digital music player. Both cables connect to the left earcup using a 2.5mm stereo connector that fastens with a twist-lock mechanism. The cables terminate with a 3.5mm stereo jack plug and there's a 6.35 mm / ¼-inch screw-on converter provided for use with a mixing desk or hi-fi.
With an impedance of 120Ω, the HD400 Pro probably aren't going to be ideal for use with a smartphone, but who listens to music through open-back headphones in the street. Remember, open-back headphones not only allow unwanted sounds from the street to reach your ears, but they also leak sound and that will probably annoy the person sitting next to you on the train. These are headphones reserved for mixing and mastering when you're alone in the studio or they're great for relaxing with music playing on a grown-up audio system.
The HD 400 PRO also support dearVR MIX. The immersive Dear Reality can turn the HD 400 PRO into a virtual world-class stereo mixing room with carefully designed acoustics, all through advanced spatial audio technology. By inserting the AAX/VST3/AU plugin into a DAW and monitoring the session in reference studio acoustics, the producer can experiment with different mixes.
For example, it's possible to hear how a mix will sound in common listening environments, such as a car. With Dear Reality's unique Spatial Headphone Compensation (SHC) technology, the sound characteristics of the HD 400 PRO remain unrestricted in the virtual studio environment. The headphones have already been integrated into the Spatial Headphone Compensation feature in dearVR MIX; dearVR MONITOR integration will be released by the end of this year.
Verdict: Sennheiser's HD 400 PRO headphones are the first open-back pair in the brand's PRO Series. They are designed primarily for creating first-class mixes, mainly thanks to the incredibly neutral tone and the definition produced by those 120Ω drivers. If you've only ever tried mixing on studio monitors or with closed-back headphones, you're in for a real treat. The HD 400 PRO are ideal for mixing accurately and without coloration. However, despite all Sennheiser's promotion of the HD 400 PRO as a professional tool for the recording studio, I also think they make great listening headphones for relaxing to high-quality audio tracks. This is largely thanks to the incredible 6 Hz to 38 kHz frequency range and low distortion levels. Take a listen to the HD 400 PRO and I think you will be impressed.
Pricing & Availability: The Sennheiser HD 400 PRO headphones are available now and retail at $249 / £219 / €249.
More info: www.sennheiser.com
Tech Specs:
Impedance: 120 Ω
Frequency response: 6 Hz to 38 kHz (-10 dB)
Sound pressure level (SPL): 110 dB (1 kHz / 1 V RMS)
THD, total harmonic distortion: < 0.05 % (1 kHz / 90 dB SPL)
Ear coupling: circumaural
Jack plug: 3.5 mm jack plug with 6.3 mm adapter
Weight: 240 g
Acoustic principle: dynamic drivers and open-back design
Earpad material: Velour