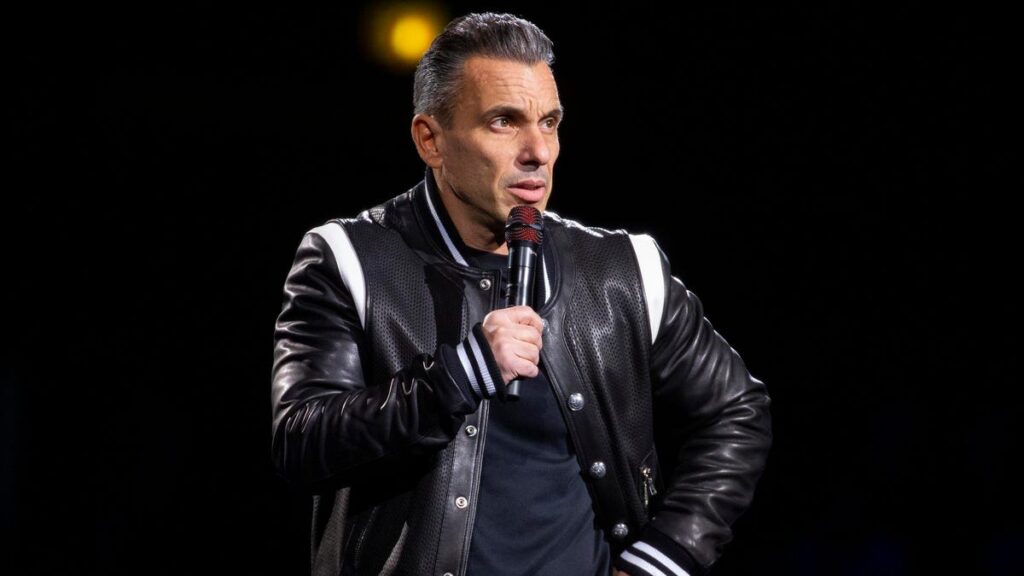 Sebastian Maniscalco On Record Breaking 'Nobody Does This' Tour And Maintaining Success
Amidst the isolation of shelter-in-place during the quarantine of early 2020, Americans consumed content in record breaking numbers, turning to music, movies and more in an effort to avoid reality and remain entertained.
It's a series of events that left stand-up comedy particularly well-positioned, an art form based upon observation that's able to address turbulent times – or ignore them entirely.
As placement of stand-up specials on streaming services put more and more eyeballs on the craft, comedy began moving to larger and larger venues, with comedians performing not just at small clubs but at theatres throughout the country multiple times per night.
Dave Chappelle headlined the inaugural outing of the Oddball Comedy Fest in 2013, a package tour showcasing a variety of stand-up forms during appearances at massive amphitheatres, large outdoor venues typically reserved for live concert performances by music acts. Two years later, Sebastian Maniscalco would join the tour, performing alongside comedians like Amy Schumer and Aziz Ansari.
Maniscalco left Chicago in 1998, seeking to hone his skills as a comedian in Los Angeles. Growing up in Arlington Heights, Illinois, he learned the value of a strong work ethic from his parents. His father immigrated to America from Italy when he was just 15, a hair stylist who would open salons in Chicago's northwest suburbs.
By 2019, Maniscalco made his own jump to stadiums, headlining performances at arenas more often associated with professional hockey and basketball, a rare accomplishment in the stand-up world. Acting work in Oscar-nominated films like Green Book and The Irishman came along and Robert De Niro plays the comedian's father in the forthcoming film About My Father, one co-written by Maniscalco about his dad.
His "You Bother Me" tour set records in 2019, one which featured a whopping four performances at New York's Madison Square Garden. In the midst of his current "Nobody Does This" run (one scheduled to resume after Christmas on December 26th with a sold out show at the Prudential Center in Newark, New Jersey before stopping again at Madison Square Garden on Decmeber 28th), Maniscalco is now breaking his own box office records.
A November stop at TD Garden topped his previous Boston mark for highest gross for a single performance comedy show, raking in nearly $2 million. A pair of performances this month at Chicago's United Center did even better, setting venue records for highest grossing single day comedy show, highest grossing two day comedy show and highest attendance for a two day comedy performance, making Maniscalco the top selling and top grossing comedian in the venue's three decade history.
Unlike during most concerts, on night two in Chicago, the United Center concourse was eerily quiet, almost wholly empty throughout a 90 minute performance as an enraptured crowd sat fascinated and attentive throughout. Perturbed observations defined an act which took place in front of a crowd that spanned generations, Maniscalco performing in the round armed only with a microphone, deftly maneuvering on stage during a set that resonated as strongly in the last row as it did on the arena floor.
"If you would've told me in 1997 that I'd have two sold out shows at United Center…" mused Maniscalco, bringing his parents on stage to share in the moment as he wrapped up the Chicago homecoming. "When this pandemic started, and I was not able to do this, I was not in a good place," said the comedian of being forced off the road for nearly 18 months. "So I wanted to thank you here in my hometown for making me feel good."
I spoke with Sebastian Maniscalco backstage at United Center about the role of comedy during uncertain times, the impact of Chicago on his comedic perspective, his new culinary-themed discovery+/Food Network television show Well Done, the surreal experience of watching his father bond with De Niro and the level of difficulty involved in maintaining all that he's achieved. A transcript of our conversation, lightly edited for length and clarity, follows below.
Before we even get into Chicago, what's it like having finally been able to get back on stage this year after the last year and a half?
SEBASTIAN MANISCALCO: I never really took this for granted – but I think I have a whole new appreciation for humor and comedy and how it's affecting people's lives. I even mention this in the show at the end – we were doing social media posts throughout the pandemic, my wife and I. And people were commenting, "Hey man, thanks for posting the videos. It makes me forget that I've got my mother dying or I lost my job." Or what have you.
So, reentering this whole thing, I think I discovered a newfound joy in providing comedy to people for whom it's an escape.
I do a lot of music coverage. And most music acts are struggling to sell out arenas. But you're doing two nights in one in Chicago. Your entire tour is in arenas. John Mulaney just booked two nights here at United Center as well. How does that sort of speak to the way people seem to have turned to comedy during quarantine and during pandemic?
Maniscalco: You know, laughter is the best medicine. And I think you're seeing that in these attendance records.
It's funny. I grew up here in Chicago and was keeping a loose eye on the 80s boom in comedy where there was like a comedy club on every corner. The new comedy club seems to be the theatres. You've got people doing theatres now like they're comedy clubs.
The arena stuff was reserved for Steve Martin, Dice, Dane Cook – and now you see a lot of comedians doing arenas. When you look at it, it's really unheard of.
Well, it's certainly not your first time at United Center. How did last night go and what's it like coming back home to perform here?
Maniscalco: It's like bittersweet when I come home. Because you're doing the show… But then you've got family and friends. You've got people coming out of the woodwork for tickets and what have you. (Laughing) It's all good. But it is a little added stress. I don't know. Some people like coming home and performing in front of the hometown fans – which I do like. It's just that I know so many people in the audience that it's a little… You turn to your right and see your mom. It's like, "Alright…" I love that she's here. I love that my family is here. But it's just that sense of knowing that there's a lot of people in the crowd that kind of know you intimately.
But I love Chicago. I love coming back here. Chicago is a great comedy town. You've got a lot of people coming out of here with great comedy chops. And I really enjoy it.
I mean, I started at Zanies on Wells Street doing a Wednesday night in front of 31 people, you know? And now you've got close to 40,000 people coming through here this weekend.
It was never a goal of mine to do this – it was strictly, "I want to do stand-up for a living." But I didn't write down United Center. I didn't think it was possible.
Having grown up in the Chicagoland area, are there any fond memories that stand out for you in this building as a fan whether it's a concert, sporting event or anything else?
Maniscalco: I saw Michael Jordan play here. I want to say that was in 1994 or 1995 – when they played the Cleveland Cavaliers. With my father.
It's funny. Because, over the course of the six championship Bulls run, my father and I really bonded over that. So we would go to bars. Because we didn't have cable. So sometimes when it was on TNT, we would have to go to a bar to watch the game. So we really bonded over the Bulls. And now, coming back here, we went to go see the Bulls locker room. And the Blackhawks. When you come to see an event here and then to perform here, it really kind of gives you perspective on what this place means. So, yeah.
I saw Bon Jovi here too I think. And, again, while I was going to these events here at United Center, it really never crossed my mind that I would perform here.
Whether it's the midwest or Chicago, how did the mindset here influence your sense of humor or the perspective that you apply to what you do?
Maniscalco: I think Chicago is bleeding right through me on stage when it comes to humor. And you know from living here that Chicagoans just have a certain kind of attitude. And perspective on life. It's kind of no bulls—t.
There's something about Chicagoans – they really carry around a sense of humor about themselves. And they can not only make fun of themselves but of other people – but in a way that's not malicious. It's just fun.
All of my friends are coming tonight. I'm going to see them. And they're going to rip me to shreds. Then I'm going to rip them to shreds. And nobody is hurt! It's all kind of just part of the ecosystem here in Chicago. And I think it's definitely informed my humor over the years.
Just growing up in Chicago and observing what I observed through the 24 years that I lived here has definitely influenced my comedy.
In 2019, you made that jump to where you're performing primarily in arenas. You're physical in the presentation of your comedy anyway. But when you're in arena and need to ensure the act is resonating in the last row the same way it does on the floor, do you have to tweak anything? Do you make adjustments to how you present what you do?
Maniscalco: I actually analyzed what I was doing last night. When I was in bed, I was sitting there thinking. I think I'm speeding up a lot of the material when I do arenas. And I don't know if that's just the energy in the room and I'm feeling it, therefore my speech is a little bit quicker. Because I like to pride myself on like those golden silence moments. But when you do that in a 20,000 seat arena, there's always, at least for me, the fear of somebody talking or interrupting that silence. So I tend to go a little bit faster. Thank god for the video screens – so that people can see in the last row. Especially with what I do facial expression wise, physically, I think that definitely helps them.
But it's a pacing thing for me in the arena more than anything else. And adjusting. Because it's in the round, I'm performing to this side. And I've got to be conscious of, "OK, have I been too long on this side? Should I start moving around?" So that's always playing in the back of my head.
But, yeah, it's definitely a different environment than a theatre or a comedy club. Man, when you walk on stage and 18,000 people just scream, it literally runs right through your body. So there's a lot of energy in the room.
Whether it's stand up, the acting, a best selling book or a foray into the culinary world, you maintain a really diverse brand. How important is it to you to do that and maybe work outside the world of stand-up comedy a bit in the process?
Maniscalco: My goal is just stand-up comedy. All of these other opportunities are really kind of gravy on top of the entree.
I like to do things that I'm passionate about. I like to do things that are high quality in my eyes. I don't like to just take anything just to take something. So, if I'm going to do a TV show – for example Well Done – it was stuff that I really wanted to learn about in the culinary world. I'm not a cook or a chef by any means but I really enjoy the culinary arts and I wanted to learn about how you make sushi, how you bar tend. So we went out and did 13 episodes.
MORE FROM FORBESPat McGann And Sebastian Maniscalco On New Stand-Up Special 'When's Mom Gonna Be Home?'By Jim Ryan
With the movies… The Irishman I had heard about five years prior to it actually happening. I told my agent, "If there's ever a moment or an opportunity to audition, I would love to audition." Green Book I read the script and loved it. Then I wrote a movie that we just filmed with Robert De Niro playing my father. I co-wrote it. So everything I'm doing, I'm really trying to put out… It's tough, because I want it to be the same level as my stand-up. I don't want it to dip.
To your point, the brand – I want the brand to be everything that I do is at a high level. So you've got to pick the right projects. Because I've been doing stand-up for 23 years. I haven't been acting for 23 years. So when I do an acting role, it's a lot more difficult for me to slide into those projects. Just because it's not a muscle I'm used to working.
In the trailer for the Well Done series you poke a little well-deserved fun at the idea of the foodie. How important with that show was it for you to make something like that a little more accessible to the average person?
Maniscalco: The intention was to be humor first and food second. I wanted to inform the crowd and make the crowd laugh at the same time.
I just wanted to tackle these episodes and have fun with them and have them be very relatable to the everyday Joe who's out there just wanting to learn, "Hey, how do you go fishing? How do you fish?" Well, I ended up on the floor of the boat. But I thought that was funny. I thought that me getting seasick is very relatable to a lot of people so why don't we just leave it in? We could've very easily taken that out. But I was like, "This is funny. I'm on the floor. I'm coming out of the bathroom with two guys hanging onto me." It was funny stuff.
I wouldn't mind doing that again if that opportunity comes around.
You mentioned the acting. In Spinning Gold, you're portraying music composer/producer Giorgio Moroder. You're taking on a real person with whom some people have a certain sense of familiarity. How do you go about preparing for a role like that as opposed to when you're playing a fictional character?
Maniscalco: It's funny. Green Book, The Irishman and Spinning Gold are all real people. But I had to go and do some research on Giorgio Moroder, who I didn't really know. So I watched videos. I worked with a dialect coach. Giorgio is German and Italian – so he has a unique accent. When I took that role, I went, "I can't do this sh-t. I've never done an accent before!" But then I was like, "You know what, let me challenge myself and let me see if I can really do this." And I worked with this coach.
Here's something that happened on the set… So I'm doing the accent. This is like one of the first days. They yell "cut!" and this other actor is going, "What kind of accent is that?" And I'm like, "Holy sh-t, if he can't like put this together then this sucks…" Because I never really did the accent for anybody other than the dialect coach! When I got to set, I started doing it in front of an audience. And I was like… Well, the dialect coach told me it's great… But who knows? She's really good… but I don't know!
For me, as a stand-up comedian, the laughter validates that what I'm doing on stage is funny. You do a movie and they yell "cut!" Well, I'm looking around going, "Nothing? No applause?" (Laughing)
So, it's hard to get used to.
You mentioned De Niro portraying your dad in the film About My Father. That's finished shooting now?
Maniscalco: It's finished, yeah. We did that in Alabama for two months.
You told a story on Jimmy Kimmel Live! about kind of watching your father and De Niro interact – and bond a bit. How surreal was it watching that process play out?
Maniscalco: It was crazy. We grew up watching De Niro in all of these films. And then he's playing my dad.
And he wanted to get all of the nuances of my father. He's Zooming with him, calling him. My father went to Oklahoma to spend the weekend with him at his house that he rented there while he was shooting the movie. Then he came to the set. So to witness this…
You know, sometimes you don't even realize what's going on. Because you're so in it. You need to like pump the brakes and smell the roses a little bit. And I did that during the filming. I just kind of was sitting there watching my dad teaching De Niro how to do [hair] highlights going, "Wow…"
I come from Arlington Heights, Illinois. Middle class upbringing. Father works his ass off, mother works her ass off. Totally supportive of me going to California in 1998 to pursue this. And then 23 years later, my dad is on a movie set with Robert De Niro.
I can't even wrap my head around it.
I couldn't help but wonder as you were working on that script, as you're writing it, did you show that to your father along the way?
Maniscalco: I've known throughout the years not to show my dad anything that's in pre-production. I've learned to not show him how I'm making the food – just serve the entree. So once the script was done, that's when I gave it to him.
My dad ran a business – a hair salon. And he's always kind of my motivation. He's always in my ear telling me, "You can't rest on success. Now that you're here, you've got to work double to keep it." So he's been a big influence on me throughout my career. Both of my parents – but more so my father. In the sense that, you could get complacent when you start selling out two arenas back-to-back. You could start resting… But you can't. You can. I mean, you could fall into that. But then the next time you come back…
I know I'm not always going to be doing arenas. You hit an apex and then you kind of taper off. So I'm really trying to enjoy this.
I also thought of Barry Sanders, you know? When he was playing football, this guy left I think when he was 32 at the top of his game. My biggest fear – and that's my motivation is fear – is that ten years will go by and you're talking to your buddy going, "I interviewed that guy when he was doing United Center. Now look at him! He's doing Maggiano's!"
You've just got to maintain. But it's hard to maintain, you know?