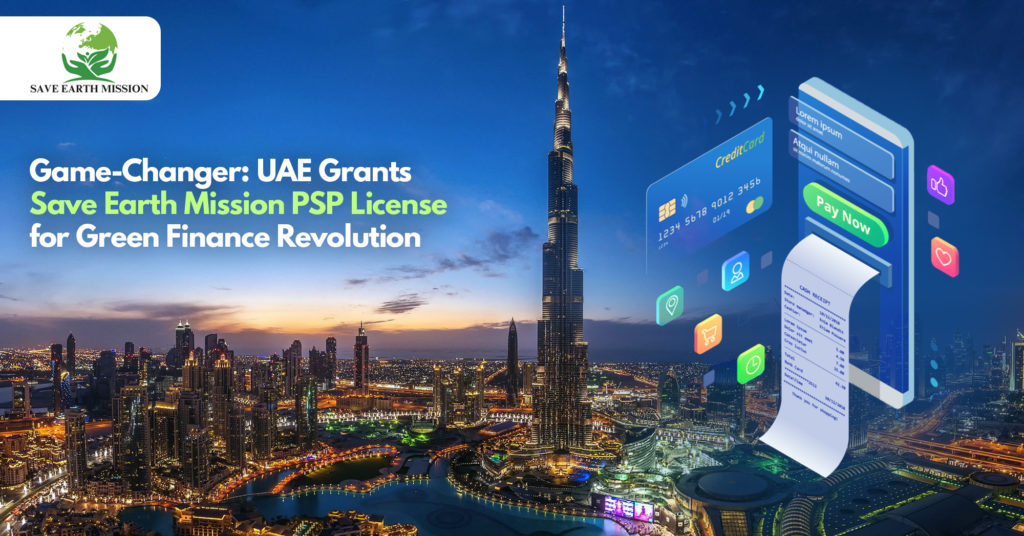 Dubai, UAE – Save Earth Mission, a global leader in the mission to create a carbon-neutral world by 2040, is proud to announce a groundbreaking achievement: the acquisition of a PSP (Payment Service Provider) license in the United Arab Emirates (UAE). This significant milestone will enable Save Earth Mission to introduce a cutting-edge payment solution in Dubai, featuring minimal transaction fees, advanced technology, and an intuitive user interface, while simultaneously propelling the Green Finance Revolution in the heart of the city.
The PSP license, granted by the UAE authorities, underscores Save Earth Mission's unwavering commitment to eco-conscious financial practices, advancing its mission to reduce carbon emissions, promote sustainability, and make a positive impact on the environment. This achievement showcases the organization's dedication to building a greener and more sustainable future.
Save Earth Mission's Global Founder, Mr. Sandeep Choudhary, expressed his excitement about this pivotal milestone: "Receiving the PSP license in the UAE is a testament to our dedication to integrating green finance with innovative payment solutions. Our goal is to empower individuals and businesses with eco-friendly financial tools while contributing to the fight against climate change. We firmly believe that environmentally responsible payments are a crucial step towards a more sustainable future."
Key highlights of Save Earth Mission's PSP license and its positive impact:
Cutting-Edge Payment Solution: Save Earth Mission's forthcoming payment solution will offer a seamless and secure transaction experience with state-of-the-art technology. The platform's user-friendly interface is designed to make e-payments more accessible and convenient for individuals and businesses in Dubai.
Minimal Transaction Fees: The organization is committed to providing cost-effective payment services, with a focus on minimal transaction fees. This approach is aligned with Save Earth Mission's vision to support green finance while reducing financial burdens on users.
Green Finance Pioneers: Save Earth Mission is at the forefront of a Green Finance Revolution in Dubai, emphasizing the importance of integrating environmentally responsible financial practices with economic growth. The organization aims to stimulate sustainable investments and eco-friendly choices.
Environmental Impact: By promoting sustainable payment options, Save Earth Mission contributes to a reduction in the carbon footprint associated with financial transactions. The organization's efforts are in line with its mission to achieve a carbon-neutral world by 2040.
Financial Inclusion: The payment solution will cater to a wide range of users, from individuals to businesses, enhancing financial inclusion and accessibility to eco-conscious payment methods.
Economic Growth: Save Earth Mission's eco-friendly payment services will support economic growth while nurturing environmental sustainability. By making sustainable choices more accessible, the organization helps to create a balance between financial well-being and eco-responsibility.
The UAE, particularly Dubai, is recognized for its forward-thinking initiatives and innovations. The introduction of a green-focused payment solution by Save Earth Mission is a testament to Dubai's commitment to sustainable growth and economic development.
The attainment of the PSP license signifies that organizations like Save Earth Mission are leading the way in leveraging the power of finance to drive environmental change. As the global community grapples with the consequences of climate change, environmentally responsible financial services have become a necessity.
Save Earth Mission's pursuit of a carbon-neutral world by 2040 is not just an aspiration; it's a mandate to ensure a brighter and more sustainable future for our planet. The launch of this payment solution in Dubai is a powerful step toward this objective.
About Save Earth Mission:
Save Earth Mission is a global initiative founded by Mr. Sandeep Choudhary with a mission to achieve a carbon-neutral world by 2040. The organization is dedicated to addressing climate change and advancing sustainability through collective efforts from governments, industries, and individuals. Save Earth Mission focuses on transitioning to cleaner and renewable energy sources, implementing innovative technologies, and adopting sustainable practices to mitigate the effects of global warming and protect the well-being of all living beings on our planet. For more information, please visit saveearthmission.com