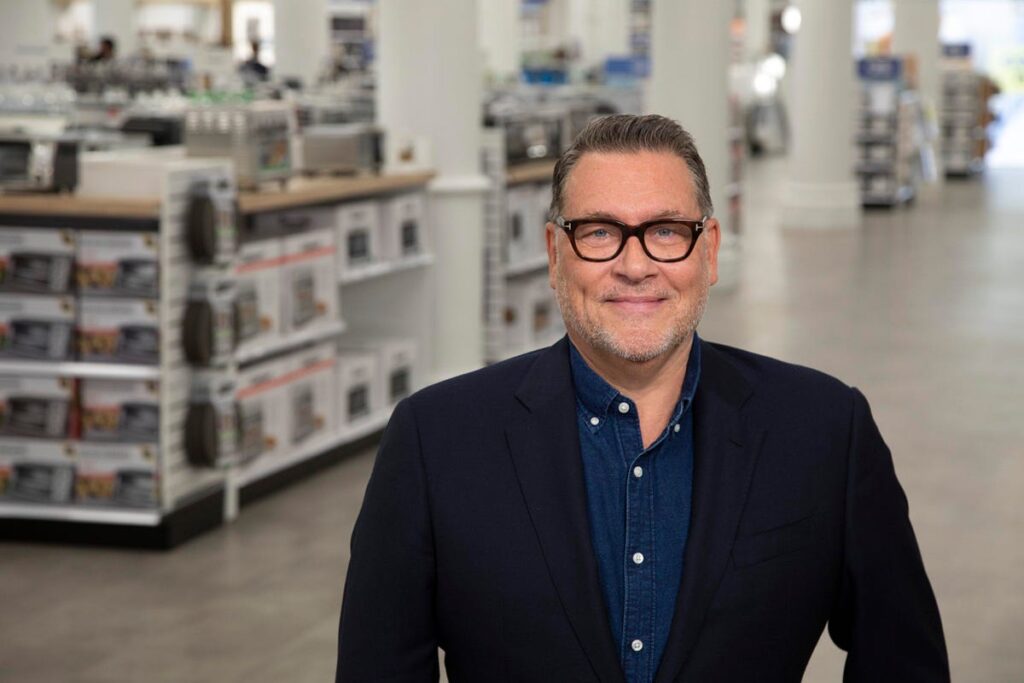 'Same Issues, Different Gradient': Supply Chain Trips Up Bed Bath & Beyond Quarter Again
"Same issues, different gradient," was how Bed Bath & Beyond CEO Mark Tritton described the big retailer's third quarter numbers, which continued to show disappointing results on both the top and bottom lines.
And once again the company pointed to the dreaded supply chain meltdown as the source of its problems for the quarter, which showed a comparable sales decrease of 7% (-5% in stores, -7 % online) compared to the prior year period and a 4% drop compared to the fiscal 2019 third quarter.
"Supply chains issues," he said, once again "were more than we expected. "The good news was that we had great demand, the bad was that we couldn't meet it. We left at least $100 million in revenue on the table in the third quarter" because of late deliveries.
Tritton said the retailer's major merchandising push into private label "owned brands" – eight launched in the past calendar year – contributed to half of the company's supply chain woes but that much of the missed deliveries remain highly saleable merchandise which can be layered onto store inventories when they finally do arrive. Poor deliveries of holiday offerings continued to plague BBB BBBY in December which started the company's fourth quarter, but Tritton said that inventory would be held until the Christmas selling season at the end of 2022.
While the revenue and earnings news was not what the company had hoped for – "our sales momentum was not where we wanted it to be," especially after similar problems in the company's second quarter, — Tritton said there was good news in the retailer's margins. "Our decisive actions led to an adjusted gross margin rate significantly exceeding plan and above 2020 and 2019 – a key financial barometer of our three-year transformation strategy."
Tritton pointed to this in response to some criticism from outside that Bed Bath had gotten too promotional during this quarter as a reaction to its poor performance in its second quarter that ended in September, 2021. "The perception that we have gotten more promotional is just that: perception. Our percentage of regular price goods sold actually grew in the quarter and we did not increase our promotional activity during this period."
He said the new merchandising strategy centered on the private label rollouts was working and that these new programs were more profitable than the ones they replaced. As proof of the success of this plan, the company's BuyBuyBaby unit will also move into its own private brands starting in the second half of this year.
BBB's store remodeling program, which will see about 130 locations finished by the end of its fourth quarter in February – representing a third of the goal to do 400 stores (half its fleet) in total within three years – is also paying off. These stores have higher profit margins and the company's defacto flagship on Sixth Avenue in the Chelsea neighborhood of Manhattan has seen a 30% increase in revenues even as its footprint and the number of SKUs it carries were reduced 15% when it reopened in last summer. "It's working," he added, even though foot traffic in the neighborhood remains off due to Covid.
Tritton said the retailer still had work to do on the "traffic generation" front and that it was making progress on that, as well as using third party distribution services and its own vendor base to try to smooth out at least some of the logistical problems. He said he expects to see improvements in the entire global supply chain as 2022 progresses.
Still firmly committed to the turnaround plan he has led since joining the company two years ago, Tritton said, "Having concluded just the third quarter of our multi-year plan, we will continue to execute our strategic transformation. We look forward to operating in a normalized environment with a base of business upon which to grow."