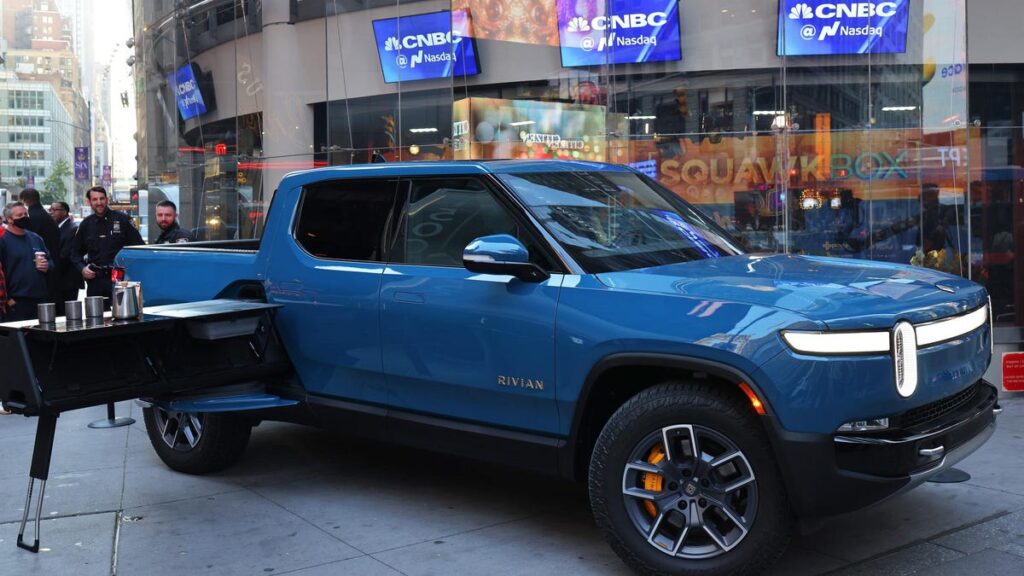 Topline
Shares of Rivian tumbled nearly 11% on Friday—hitting a new record low since the company's blockbuster IPO last month—after the electric truck maker warned that it would miss its 2021 production target due to ongoing supply chain issues.
Key Facts
Rivian's stock fell as much as 15%—a new low point of less than $100 per share—before paring back losses and finishing the day down over 10%.
Rivian released its first quarterly earnings as a public company on Thursday: While results were largely in line with earlier estimates, the company warned of ongoing challenges as it tries to ramp up production and take on electric vehicle giant Tesla.
Despite a surge in customer orders, with reservations for Rivian's electric pickup trucks and SUVs up 28% from last month, the company said that it will be "a few hundred vehicles short" of its 2021 production target of 1,200 vehicles.
Rivian attributed the miss to ongoing supply chain issues, as well as problems with ramping up battery production to power the electric vehicles—though CEO RJ Scaringe said that didn't "present any long-term challenges."
The company said in its earnings release that as of December 15, it had so far produced 652 R1T pickups and R1S SUVs, with 386 of those delivered so far.
Rivian's stock has struggled in recent weeks and is down slightly—by nearly 2%—since the company went public at a $90 billion valuation on November 10 in what was one of the biggest IPOs of the year.
Crucial Quote:
"Ramping up a production system like this, as I said before, is a really complex orchestra," Scaringe told investors on Thursday. The Rivian founder, who started the company in 2009, has a net worth of $1.7 billion, according to Forbes' estimates.
Surprising Fact:
Despite the stock's recent struggles, Rivian has a market capitalization of nearly $85 billion—still more than that of legacy auto industry giants General Motors and Ford, which are both valued at around $80 billion.
What To Watch For:
Rivian also confirmed plans for its second electric vehicle factory, a new $5 billion plant east of Atlanta, Georgia. Construction is expected to begin in 2022, with the facility expected to be capable of producing up to 400,000 vehicles per year—more than double the capacity of Rivian's existing plant in Illinois.
Further Reading:
Here's Why Rivian Can Successfully 'Challenge' Tesla, According To These Major Firms (Forbes)
Rivian Shares Fall For First Time Since Blockbuster IPO (Forbes)
Shares Of Rivian Continue To Move Higher After Elon Musk Throws Shade (Forbes)
Electric Vehicle Startup Rivian Hits $90 Billion Valuation In Biggest IPO Since Facebook (Forbes)