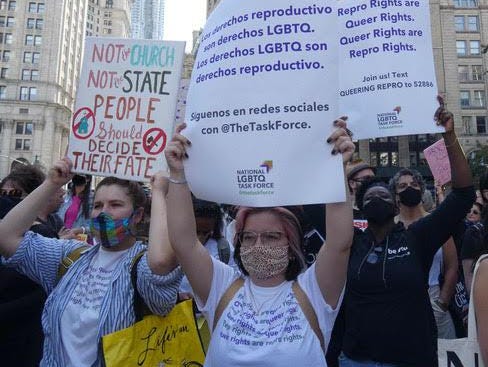 'Reproductive Rights Are Queer Rights:' How To Motivate A Youth Movement
When the U.S. Supreme Court heard arguments in the case of Dobbs v. Jackson Women's Health Organization on the constitutionality of a 15-week abortion ban in Mississippi—directly challenging the landmark reproductive rights decision, Roe v. Wade—protesters on both sides of this controversial issue showed up outside the court, flanked by reporters and photographers from every major news outlet.
Washington, D.C. Metro Police say officers arrested nearly three dozen demonstrators for blocking traffic. But the mainstream media covering the Dec. 1st protests overlooked a contingent of LGBTQ women, men and nonbinary individuals, raising their voices in support of every American's constitutional right to bodily autonomy.
Among those holding signs declaring, "Repro Rights Are Queer Rights" in English and Spanish, was Mayra Hidalgo Salazar, a queer lesbian and deputy executive director of the National LGBTQ Task Force.
"Abortion doesn't just impact cisgender heterosexual women," Hidalgo Salazar said in a Zoom interview this week about the demonstration and how her organization aims to be a part of the national conversation. "Access to abortion impacts trans men. It impacts cisgender, lesbian and bisexual women. We can all get pregnant. And because of that, we deserve to have access to the full breadth of reproductive health services. And it was uplifting to see our contingent in front of the court making that clear and making that connection between queer rights and reproductive rights. Clear, because we do have so many trans folks in our ranks and also women with families in our ranks."
Supreme Court Issues Texas Ruling
Hidalgo Salazar's boss came out swinging Friday, hours after a new ruling by the high court: The justices delivered a narrow win to abortion providers Friday by ruling 8-1 to allow a challenge to Texas' restrictive abortion law, as Forbes.com's Allison Durkee reported. Kierra Johnson, executive director of the National LGBTQ Task Force, noted that although the Supreme Court's ruling will now let that litigation move forward in lower courts against some defendants, the conservative-majority court chose to not block the controversial state law. The justices also ruled against a separate challenge brought by Biden's Justice Department.
"Today, the Supreme Court upheld the restrictive and discriminatory abortion ban in Texas to continue, which will harm women and pregnant people, especially in communities of color," Johnson said in a statement. "People in Texas and states considering similar bans across the country will continue living in fear and a state of ongoing legal battles to access constitutionally protected medical care. The high court's allowing abortion providers to file federal lawsuits against laws like Texas' may seem like a step forward, but we know the truth: it can take years for cases to make their way through the courts. This decision creates a long road of more litigation, challenges and worst of all, obstacles for individuals seeing access to abortion and related reproductive healthcare."
The Impact on LGBTQ Rights
Hidalgo Salazar also made that argument in our interview, along with a dire prediction about the future of LGBTQ rights if, as expected, the court decides to uphold the Mississippi law.
"Overturning Roe vs. Wade on the basis of a state's rights issue will inevitably lead to challenges of other nationwide decisions that opponents of of abortion also want to challenge," she said. "So that's going to include Obergefell vs. Hodges, Bostock vs. Clayton County, which fights anti-LGBTQ discrimination in employment."
But how will the Task Force and other activist groups motivate young people who are less inclined to stand up for reproductive rights? Prof. Dana R. Fisher teaches sociology at the University of Maryland and studies demonstrations and social movements. She told the Washington Post last week that those who have marched in the thousands during the pandemic have primarily focused their efforts on demonstrations for racial justice, voting rights and climate protections, not abortion. "The young people who are marching now and are out in the streets, they are not considering reproductive rights to be a big voting issue for them," Fisher told the Post. "That's thanks to all the women whose shoulders they're standing on that made sure they had choices and options."
One option Hidalgo Salazar has never had is the right to vote. Working as a community organizer since she was 17, she is the daughter of immigrants and a permanent resident whose long wait to apply for U.S. citizenship finally ends this month.
"It's huge. I'm going to be able to vote in the midterms," she said, fighting back tears. "My vote will count. There's so many ways to engage and in civic society, and for me, it will mean I have what I should always have had. I will have a right I should have had a long time ago. If we think about the long-term impact of not allowing undocumented people to engage on a path towards legalization, that's its own form of voter suppression. We are over 11 million people that are engaged actively in our communities, contributing to the economy."
Hidalgo Salazar, 29, lives in New York City, where the city council on Thursday voted to give noncitizens like her the right to vote, as Forbes.com's Lisa Kim reported. She spoke about how she and her organization plan to motivate young voters given the likelihood the high court will undo 48 years of precedent.
"There needs to be an intentional strategy around engaging them," she said. And part of our Queer the Vote campaign that's going to be launched at Creating Change [an annual Task Force conference, to be held in New Orleans next month] is definitely going to be taking into account the outcome of this ruling, as well as the other issues that are impacting our communities across different forms of discrimination, including the anti-trans bills that are popping up around the country and in the House. Issue-based, year-round organizing is really what makes civic engagement the most effective. We've seen studies on this, and I think the abortion rights issue is definitely going to be elevated around this ruling. I think it's going to be the work of us as organizers to really realize and elevate this issue and make those connections with our community so they understand what the stakes are and the implications of the ruling as well."
Those implications will directly impact lesbians, gays, bisexuals, transgender and nonbinary individuals, Hidalgo-Salazar said.
"There's a larger context about what precedent this is going to set for other LGBTQ issues, as well as how this is going to set a precedent for how religious refusals will continue to be weaponized against the LGBTQ community. And we don't need hypotheticals to see that happen. It's happening in real time with the ways that trans kids are not being allowed to play sports, and this is we're seeing the same argument play out. So I think it's a big mistake to see abortion rights and LGBTQ rights as separate things, because we understand they are not. And we also understand as an LGBTQ organization that works at the intersections, our folks are impacted by access to reproductive health care, number one, and number two, even those that are not necessarily impacted by access to abortion will surely be impacted by the precedent that this ruling will set for us."