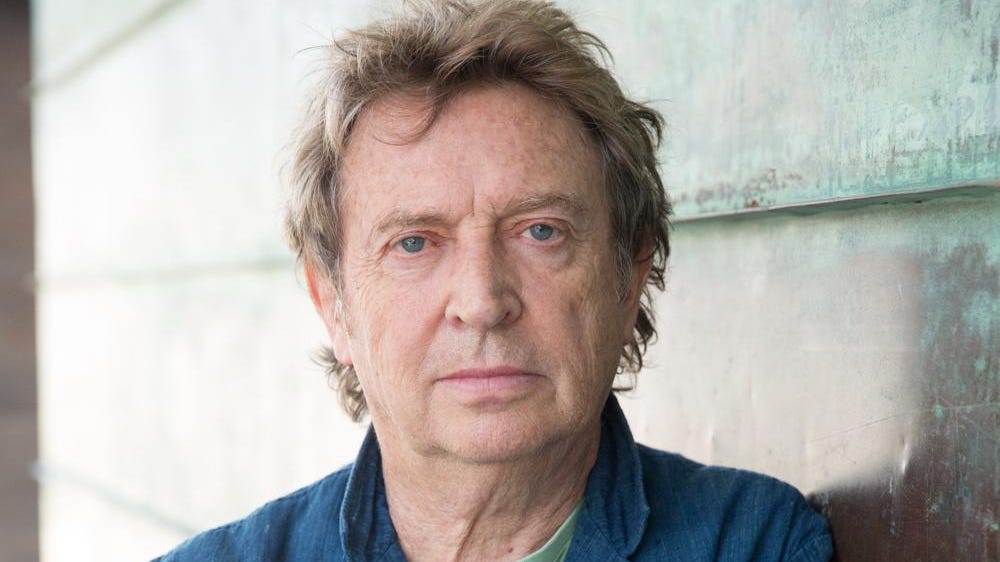 Renaissance Man: Andy Summers On His New Instrumental Album And Collection Of Short Stories
To a global audience, guitar legend Andy Summers is synonymous with his former band the Police. But the British musician, who has also forged a successful and adventurous solo career, is also a longtime accomplished photographer. His works have been displayed in museums and galleries, including at the Pavillon Populaire in Montpellier, France in 2019. When he visited the museum at the time prior to the opening of his exhibition, Summers conceived the idea of creating a sound installation for it.
"It's a beautiful building," the guitarist, 78, said of the Pavillon Populaire, whose architecture dates back to the 19th century. "I was walking around in it and I thought, 'This place is great. This time I've got to do music to go with [it], like a soundtrack to the exhibition.' Coincidentally, I just received a new pedal from TC Electronic in Denmark with this beautiful intervallic signal on it. I started playing on it immediately. [The track] "A Certain Strangeness" ran on a loop for the whole time the exhibit was up. So there was a constant soundtrack to the exhibition. I was very pleased about that"
That experience of creating the sound installation laid the groundwork for his album Harmonics of the Night, which was released almost a month ago. The new record completes a trilogy of instrumental records from Summers that began with 2015's Metal Dog and continued in 2017 with Triboluminescence.
"These three albums have all been pretty made much composed in the studio," he explains about the trilogy. "The starting point would often be a sound that I think it's fresh, which might be a combination of pedals or something like that. It doesn't always work. I've got plenty of tracks that didn't succeed. So I'm looking for a fresh sound or fresh voice that will propel me into some composition frame. It is actually an improvisation, but they still come from a composing point of view. If you're a good improviser, you're also a composer because there's no difference, really."
Compared to Metal Dog, the tone on Harmonics of the Night is perhaps more reflective and quieter as it delves into such genres as jazz and progressive rock. "I basically like sad music, I think," he says. "But I don't think of it as subdued. I think it's just controlled and more a different kind of emotion than being really outward, like some of the tracks on Metal Dog. 'Introspective' might be the right word to use."
The haunting "A Certain Strangeness" reflects that sense of introspection as its music bookends the record. "It was a 20-minute improvisation," he says. "It's just a one take. When I came to put the tracking on the album together, I thought it may be asking a bit much of people to listen to this 20-minute track at the beginning of a record. So I cut it in half and put the second half as the 12th track called "Strange Return," the second half of the improvisation."
According to the guitarist, the tracks developed from a seed of an idea. "I'll come up with a sound and then start playing it against wherever I'm feeling the tempo and seeing if it produces something. We're living in a world where there's so much music, but finding a way to be distinctive and to cut through has become difficult. The first criteria for me is what's different sounding, where's a weird or a fresh exciting sound, and that's going to be the starting point."
Summers has released videos for tracks off the new album, including the pensive and jazzy "City of Crocodiles" and the hypnotic "Chronosthesia," both of which draw from Summers' still photography. ""Chronosthesia" was shot in downtown Los Angeles," he says. "I did it about eight times. I got really addicted to going downtown at 8 o'clock in the morning, which is kind of weird for me. And the light was beautiful and there was absolutely no one in the streets."
Summers' photography also graces the cover of Harmonics of the Night. His striking black-and-white photo was shot in Beijing where the guitarist had a photographic exhibition at the time. "It was an Argentinian troupe called Fuerza Bruta and it was [in] this auditorium, which was like a big tent almost. It was quite an incredible show [of] young Argentinian people—and they've been in China for three years doing this show all over the place. Anyway, I shot a lot of pictures there and it was just one of the shots."
Not just in music, but Summers' creative pursuits have also extended to literature. Having published his 2006 memoir One Train Later, which became the basis of the 2012 documentary Can't Stand Losing You: Surviving the Police, he recently released a collection of short stories called Fretted and Moaning. The 45 stories in the anthology feature quirky characters—among them musicians—in unusual, often hilarious, situations—with the common thread being a guitar is referenced in about each of them.
"The idea of the book was that these are funny stories," he says. "That was the idea [with] a sense of humor, a sense of irony, because basically if you live the life of a musician, there are sure a lot of f***-ups along the way. What gets you through it is that you develop your sense of irony. You can laugh about it. That's the musician's life to some extent because it's a difficult life."
He adds: "The stories are not really about guitar, they're about people and their relationships around the guitar. They're really about people as much as the guitar. I don't think it's very much about the guitar itself at all. They're just featured in every story as a kind of energy point for these people to interact. I've got the Sullivan character in [a couple of the stories], he's sort of the archetypal rock star."
Continuing in the writing vein, Summers has also penned a screenplay that he might convert into a book. "It just seems to go with who I am as a person," he says. "I'm always writing. I'm pretty engaged with writing. This Fretted and Moaning book has been quite successful, so I'm encouraged. I'm thinking maybe along the lines of three novellas in one book."
Meanwhile, the legacy of the Police still looms large as next year will mark the 45th anniversary of the band's formation. "The thing is we're all still here," Summers says of his former group. "We're still going, which is kind of amazing, because most people who've been as famous as we have usually have given up by now. I feel like we're still trying to prove something."
Summers also hinted at some Police-related archival projects for imminent release, including a reissue of the 1979 album Regatta de Blanc and "a great video we did in 1981 called Police Around the World. This has taken them five years to put together, but that's being re-released. I think they might premiere it on YouTube, but it'll be as a deluxe DVD box set with all these extra tracks and all cleaned up to the highest digital level. So that's coming out, and that's kind of exciting. It's quite active, actually—a lot of new releases."
As for his own solo work, Summers is looking towards resuming touring amid the pandemic; in recent times, he has done multimedia shows that paired his live solo guitar performances with his photography onscreen. Additionally, he's already contemplating what his next album will be.
"I'm sort of going backward and forwards in my head because I am starting to think about it: 'Okay, I've got to do something really different next.' I'm sort of toying with the idea of doing a much faster record—not overlayered—but really live playing with a great bass player and drummer. That's one way I can go. Another way is: I was playing a strange acoustic guitar this morning and basing everything around one acoustic guitar sound. I can just write 12 tracks and just go in [with] a bass player and drummer."
After 60 years in a career that has encompassed music, writing, photography and film, Summers doesn't appear to be slowing down anytime soon. "I've been doing this for a while," he explains. "I feel very inspired to keep making things like this. I enjoy playing the guitar every day. It has never gone away for me. I am a guitarist. But along the way, I've gotten into other things that have engaged me intellectually especially photography, and now we're turning it into videos and little films. To me, it's all fun."