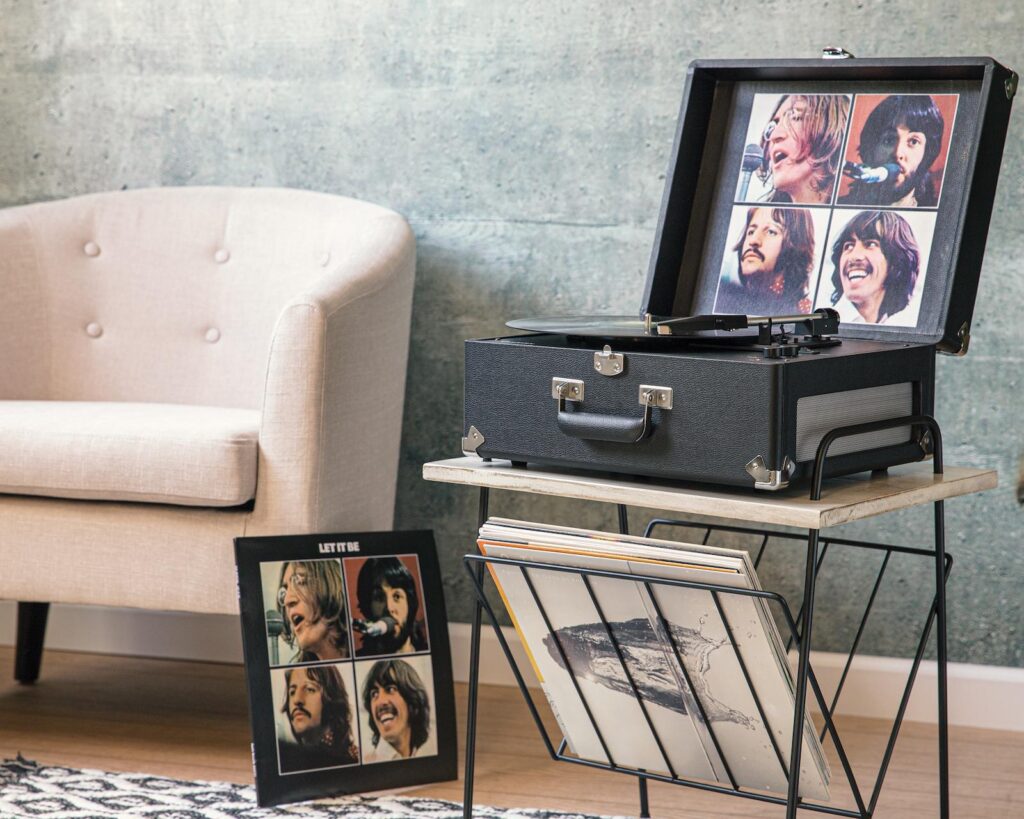 Record Roundup Volume 12: Record Store Day 2022, A New Beatles Record Player, And More
This is the 12th edition of Record Roundup. Over the past two years, this feature has covered all things related to turntables, record players, vinyl, and related accessories. The first post of 2022 includes a new Beatles record player from Crosley, upscale record storage, a new stereo + turntable system from Como Audio, and Record Store Day 2022.
Missed the last edition of Record Roundup? You can check it out here, with news about new turntable releases from Fluance and Crosley.
Record Store Day 2022
After several years of pandemic chaos that saw Record Store Day postponed, then split into multiple dates (to support social distancing), 2022 is expected to see a return to normal. This year will be the 15th anniversary of the event that celebrates local brick-and-mortar record stores with unique vinyl releases, and after the events of the past two years it will be even more special. The big day is April 23, 2022. Mark it on your calendar!
Crosley Beatles "Let It Be" Anthology Record Player
You can always count on Crosley to put out cool new products to support those local record stores. For example, you may remember the tiny, Crosley RSD3 turntable for 3-inch records from RSD 2019.
The company is now (as of February 8) selling a new Beatles "Let It Be" edition of its Anthology all-in one record player. Celebrating the release of the "The Beatles: Get Back – The Rooftop Concert" documentary currently streaming, this special edition of the Anthology features an inset that mirrors the "Let It Be" album cover, and includes a collectible Beatles print. This is a three-speed, belt-drive record player with built-in dynamic stereo speakers, and Bluetooth broadcast/receive capability.
The Crosley Let It Be all-in-one record player is priced at $199.95, limited to 1,500 units, and available at independent record stores across America.
Toneoptic rpm Record Storage and Display
One of the challenges to being a record collector is in storing and displaying your vinyl. Old milk crates don't always cut it. I've gone so far as to make my own out of oak, with big swivelling caster wheels. It's functional — but no-one would accuse it of being stylish. Shelving is useful, but storing your records like books means you can't flip through the covers.
If you're looking for a way to wall-mount your record collection to get it up off the ground, but want to do so with ultra-modern flair, you may want to check out the rpm record storage systems from Toneoptic. These handcrafted cabinets each store 60-75 records spine-out, so you can see them all at a glance. However, slide out the shelf within the cabinet, and the records automatically rotate so the covers are on full display.
In other words, the rpm offers the best of the shelf and record crate approaches.
The cabinets are made of high-end materials (available in solid walnut or white lacquer painted Finland plywood) and handcrafted in Los Angeles. They are originally offered in a 50-edition numbered and signed "Founder's Batch" before being available for general sale. If you're used to paying $50 for a record crate, you may want to sit down for the pricing on these, though: $3,750 to $4,250 for each unit.
Como Audio Blu Streaming Stereo System + Turntable Analog
Boston's Como Audio has been building a reputation for its retro-inspired, compact, premium audio systems. The company has a growing line of bookshelf-ready stereos, including the Musica which I reviewed in 2019. Como Audio also offers several turntable options.
The company's latest release is the Como Blu. This is a true stereo system consisting of a pair of powered bookshelf speakers. Each is equipped with a custom woofer, a fabric dome tweeter, and a rear bass port. They are driven by a Class D digital amplifier delivering 30 watts per channel. The speaker enclosures are MDF with real furniture-grade walnut veneer. Control knobs and speaker grills are made of anodized aluminum and there is an LED display that shows the time. They offer Bluetooth streaming and are equipped with a 3.5mm input. There's even the option to add a battery (sold separately) for portable audio.
Como Audio is selling the Como Blu together with its Turntable Analog as a package. The Turntable Analog is a two-speed, belt-drive turntable with an aluminum tonearm, steel platter, built-in phono pre-amp, and an Ortofon cartridge. The pair goes for $799 and offers a pretty compelling option for vinyl fans who want high quality, stereo sound that will fit in a small space.
Look for a review soon!