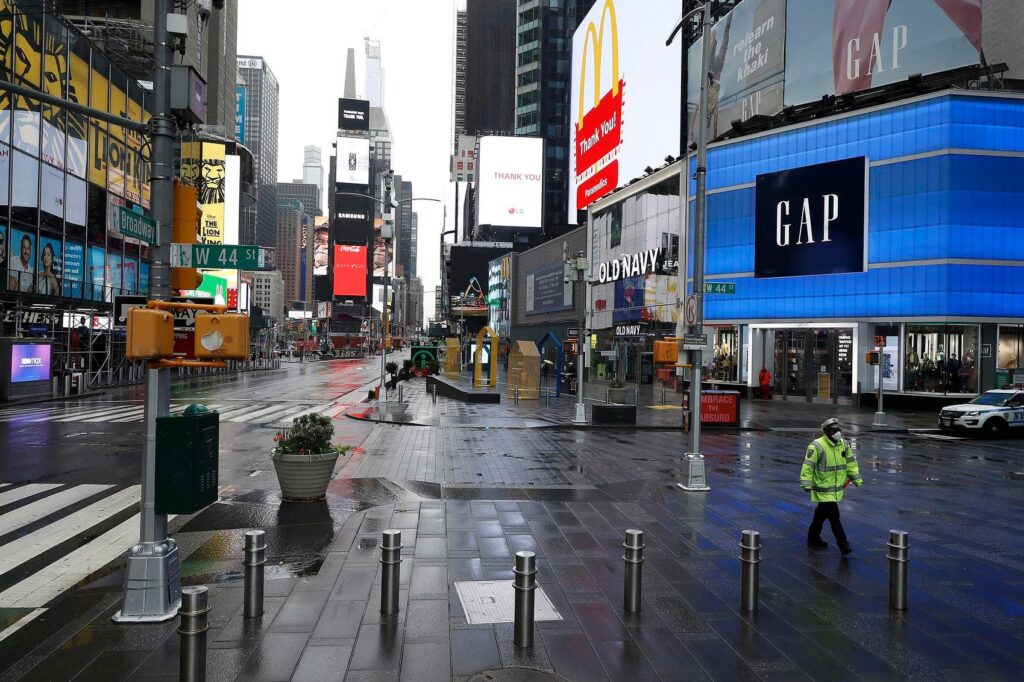 Rampant Crime, Violence And Omicron Will Stop Worker From Returning To New York City
New York City—one of the world's largest centers of finance, culture and commerce— faces a daunting challenge.The Big Apple is confronting a wave of violence and crime along with a surge of Omicron.
The New York Police Department's data showed a rapid increase in murder, rape, robbery, felony assault, burglary, and grand larceny auto. Felony assaults surpassed 22,000 incidents and murders neared 500 last year. In addition to crime, commuters into the City need to deal with dirtier streets, open drug use rage and aggressive homeless people. "I've lived in Manhattan for all of my 62 years, and have never been as afraid of crime as I am now. Whenever I leave my apartment building, my "street-smarts" are always at the highest level now," midtown resident Michael Tuller said.
Companies have been desperately trying to get workers back to the office. Wall Street investment banks have been pushing the hardest compared to other sectors for the return of bankers, brokers, traders, compliance and other personnel. The Delta variant, then the spread of Omicron forced the financial institutions to keep delaying the dates of when people will return to their respective offices.
While the securities industry is calling for bankers and brokers to return, a significant and growing number of businesses are offering their employees remote or hybrid work options. This presents a conundrum for New York City-based corporations. Why should a person, who has been working remotely for two years, had autonomy over their workday, was able to spend time with family and cultivate new hobbies, want to commute three hours round trip to a potentially physically dangerous situation and also risk catching the disease?
We are in a blazing hot, tight job market. Companies can't find enough people to fill their open headcount. Remote jobs are plentiful, according to LinkedIn's Global Talent Trends Report. Check any job board and you'll see work-from-home or from anywhere you'd like opportunities dominating the listings. Many organizations are paying employees the same compensation whether they continue to reside in New York or decide to leave for a better life in a state with lower taxes, affordable homes, sunny skies and quality public schools that aren't forced to close down.
In light of these facts, it's not a surprise why many people don't want to return to their offices in the City. Residents in neighboring commuting areas, including Long Island, Westchester, New Jersey and Connecticut, are pushing back on returning, citing both physical and health safety concerns. This is in addition to the desire for most people to remain working remotely, as it offers a significantly better quality of life.
There is a big incentive for politicians, landlords, corporate executives and business owners to get commuters to return. Consider what would happen if workers don't return to the Big Apple. It could cause a cascade of business closures. Without the throngs of workers commuting into New York, restaurants, bars, gyms, shops and stores may be forced to close down due to the lack of customers. The deserted landscape could create a vacuum in which crime, violence and open drug usage worsens. This would discourage people who were considering going to the office or tourists coming into town to enjoy a Broadway show and dinner.
The tax revenue will fall, which means that city officials will be forced to cut both services and municipal workers. With fewer garbage collectors, firefighters, police officers, teachers and hospital personnel, the quality of life would suffer. The decisions made by Goldman Sachs, JPMorgan and Morgan Stanley telling their employees to return to the office may have also been prompted by a need to save the city from demise.
According to the New York Post, due to the alarming increase in crime and violence in the City, Wall Street executives told younger bankers to return to the office, but they should be vigilant and careful. Bank of America suggested that bankers, brokers, traders and other personnel should keep a low profile. By avoiding dressing too fancy, wearing expensive jewelry and watches or prominently displaying the bank's logo, they may go undetected and not catch the eye of a possible assailant.
As it gets dark in New York by around 4:00 pm, there is heightened concern for workers walking the streets and going into the train and bus stations to commute home. There have been horrendous acts of senseless violence perpetrated in the train stations, as well as the streets of the Big Apple.
New York City has a history of highs and lows. In 1975 the City was heading towards bankruptcy. When asked for financial assistance, President Gerald Ford declared that he would veto any bill calling for "a federal bail-out of New York City" and instead proposed legislation that would make it easier for the city to go into bankruptcy. Famously, The New York Daily News ran a headline "Ford to City: Drop Dead in 1975"
An excursion into Manhattan from one of the boroughs during the 1970s and early 1980s was referred to in an ominous, dark and menacing way—as going into "the City." The streets were dirty and grimy, crime ran rampant and morale was at an all-time low. It was common to see burned-out shells of cars sitting on the shoulders of the Belt Parkway in Brooklyn. Nearby Bedford-Stuyvesant, Brownsville, Williamsburg and Crown Heights were at varying degrees of danger and nowhere near the cool, hip, expensive places they later became.
An additional cause of concern is the appointment of Alvin Bragg as the new Manhattan District Attorney. In a memo Bragg said he was going to be soft on a host of offenses such as train fare evasion, trespass, traffic infractions, resisting arrest, prostitution and will be downgrading other serious violations. This stoked fear that the New District Attorney won't take appropriate actions to stem the rising lawlessness, making New Yorkers fearful of the future. .
New York City subway crime is up more than 65% in the first two weeks of 2022, according to police department statistics. The New York Times reported that, "Michelle Alyssa Go, a 40-year-old woman who worked at the consulting firm Deloitte, was pushed to her death in front of a train at a Times Square station on Saturday — a horrific killing that captured many New Yorkers' deepest fears." The killing of an Asian woman, especially during an anti-Asian crime wave, sent chills throughout the five boroughs.
The new Mayor, Eric Adams said about the matter, "We're going to make sure New Yorkers feel safe in our subway system. And they don't feel that way now," and "I don't feel that way when I take the train every day, or when I'm moving throughout our transportation system."
If Adams doesn't act quickly to address the crime problem, Omicron keeps spreading, and companies continue to offer remote work options, and the job market remains hot, workers won't want to return. They'll look for other jobs or quit the ones they hold. Their physical and health safety is more important than a job which can be replaced, while a life can't.