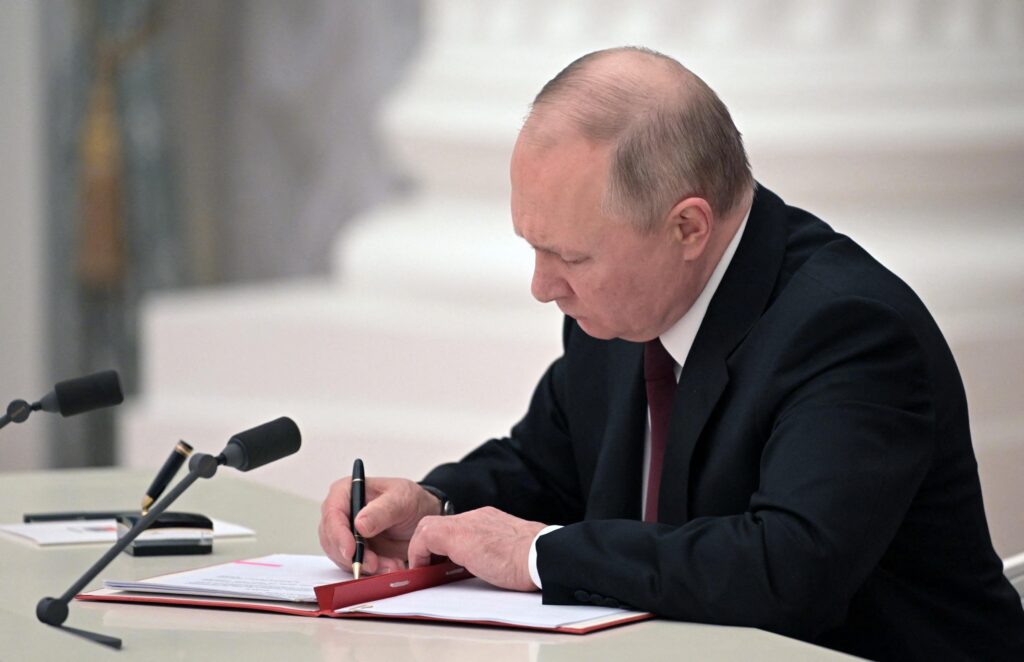 Putin Orders Troops Into Two Separatist Eastern Ukraine States Amid Warning Of 'Bloodbath'
Topline
Russian President Vladimir Putin formally recognized two pro-Russia rebel states in Eastern Ukraine Monday, ordering Russian troops into the region and warning of a "bloodbath" if Ukraine resists the move.
Key Facts
Putin ordered Russian troops to go into Eastern Ukrainian separatist states of Donetsk and Luhansk in order to "maintain peace," according to several translations of Russian documents signed by Putin during a televised address Monday.
During an hour-long speech translated by state-controlled Russia Today Monday, Putin said he will recognize the "independence and sovereignty" of the two rebel states.Donetsk and Luhansk, which are both led by Russian-aligned separatists, both declared independence from Ukraine in 2014, each calling themselves a "People's Republic."
Putin warned of a "possible continuation of the bloodbath" should Ukraine contest Putin's recognition of the states, an alarming message as Russia's new agreements paved the way for Putin to send Russian troops into Ukraine under the guise of aid.
The move represents a dramatic shift for Russia and a violation of the Minsk agreement from 2015, which called for the states to be part of Ukraine.
Putin questioned Ukraine's right to exist throughout the speech, claiming Ukraine "never had a tradition of genuine statehood" and bemoaning the breakup of the Soviet Union.
Tangent
The U.S., which had warned Putin against the move, responded quickly Monday afternoon with plans to bar Americans from doing business in Donetsk and Luhansk and a warning it may impose sanctions on anybody operating in the states, according to a statement from White House Press Secretary Jen Psaki. U.S. President Joe Biden, French President Emmanuel Macron and German Chancellor all "strongly condemned" Putin's recognition of the rebel states during a Monday afternoon call, according to a White House readout of the call.
Key Background
Since 2014, Russian-backed forces and political leaders have occupied the Donbass region. The Minsk agreements laid the groundwork for an international solution to the crisis and the re-integration of these states into Ukraine, though the pro-Russian forces remain in Eastern Ukraine. U.S. Secretary of State Antony Blinken said last week Putin's recognition of these states would "constitute a gross violation of international law," and the U.S. has warned this could be the pretext for Putin to order Russian troops into Ukraine. Donetsk and Luhansk are where Russia claims there is significant Ukrainian military aggression, something the West has warned could be Putin's justification for an attack. The U.S. says Putin has already decided to order an invasion, and multiple outlets reported Sunday Russian military commanders have already received the orders to attack.
Chief Critic
NATO Secretary-General Jens Stoltenberg denounced Putin's move in a statement released Monday: "I condemn Russia's decision to extend recognition to the self-proclaimed 'Donetsk People's Republic' and 'Luhansk People's Republic.' This further undermines Ukraine's sovereignty and territorial integrity, erodes efforts towards a resolution of the conflict, and violates the Minsk Agreements, to which Russia is a party.
What To Watch For
If a meeting between Biden and Putin happens soon. Biden agreed to a meeting "in principle" with Putin brokered by Macron after previously saying he had no plans to talk to Putin, the White House said Sunday, though the Kremlin said Monday it's "premature" to discuss a summit between Biden and Putin.
Further Reading
Biden Agrees 'In Principle' To Meet With Putin Over Ukraine Crisis (Forbes)
What Are the Minsk Accords, and Could They Defuse the Ukraine Crisis? (New York Times)
If War Flames in Ukraine, These 2 Little Enclaves May Be the Spark (New York Times)