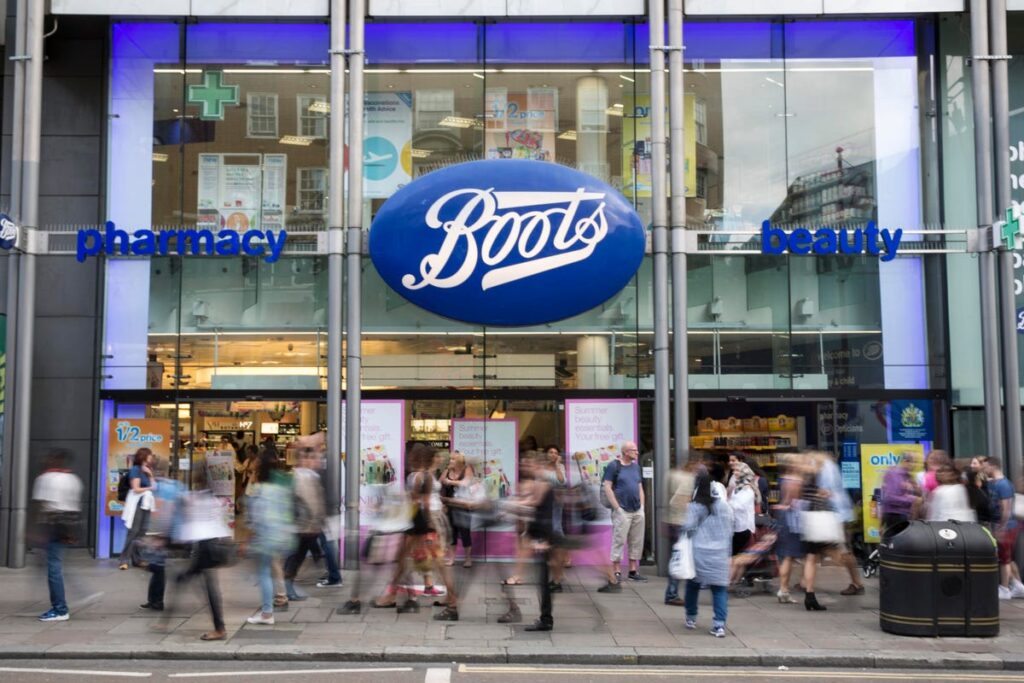 Private Equity Ready To Swoop As Walgreens Mulls Sale Of Boots
Two of the world's biggest buyout firms, Bain Capital BCSF and CVC Capital Partners, are understood to be lining up a multi-billion-dollar takeover of Boots, the U.K.'s largest drugstore chain.
Currently part of the U.S./U.K. mega-group Walgreens Boots Alliance (WBA), an auction of Boots appears increasingly likely this spring, which would represent one of the biggest U.K. retail deals for years.
The American owner of Boots received a takeover approach from Bain Capital more than two months ago, prompting consideration of a sale of the U.K. high street chain, according to The Times.
It is understood that Bain has been positioning itself as frontrunner in any forthcoming auction for Boots after completing months of due diligence on the health and beauty giant and today broadcast channel Sky News reported that Bain Capital and CVC Capital Partners are preparing to launch a joint bid for the retail giant.
Boots operates from more than 2,000 stores and employs over 50,000 people.
Neither was available for comment on the Sky News story and a number of other private equity firms have been alerted to the possible sell-off of the chain as part of a process managed by Goldman Sachs GS . There is likely to be strong interest after WBA announced robust trading figures at Boots last week, although at the trading announcement the company made no comment on any decision to explore a sale.
While Bain and CVC are understood to be working on a plan to acquire Boots, involving substantial investment in its digital, beauty and healthcare services, it also remains possible that the business will remain part of WBA, while spinning the chain off into a separately listed company is another option.
However, a disposal is viewed as increasingly likely because Walgreens has a renewed focus on its domestic U.S. market and reshaping the business post-pandemic.
Private Equity Targets Boots
A successful bid from Bain and CVC is also interesting because of the central role that will potentially be played by Dominic Murphy, one of CVC's team of managing partners and an architect of the original $15 billion takeover of Alliance Boots by private equity firm KKR KKR , for whom he previously worked in 2007.
Murphy remains a director of WBA and as such he is expected to excuse himself from any boardroom debates about a potential deal because of any possible conflict of interests in the process. However, Murphy's wide-ranging understanding of the Boots business and Bain's lengthy planning appear to leave their joint offer in poll position.
Boots is headed by Sebastian James, the well-regarded and ebullient former Dixons Carphone chief executive, who has consolidated Boots' unwieldy store estate and revamped many of its stores, while boosting its online business and rolling out a dedicated Beauty offer.
In its results as part of WBA's update last week, Boots revealed comparable retail sales had jumped 16.3%, recovering from the hit last year when its high street and travel locations were impacted by lockdowns, while many shoppers reverted to supermarkets for their health and beauty purchases.
While the group conceded that footfall across its stores remains below pre-Covid levels, its online sales have nearly doubled pre-pandemic levels.
After closing hundreds of under-performing stores, Boots has been investing heavily to make its remaining sites more attractive and to combat a raft of online rivals in the health and beauty sector, not least Amazon. Boots also opened 27 new Beauty halls around the U.K. during the period.
Same-store pharmacy sales at Boots increased 8.8%, supported by demand for its healthcare services which have expanded significantly both in-store and online. The business also delivered two million flu vaccinations in the period, up 150% on last year.
Boots stated that its performance over Christmas was "good" thanks in part to an increase in sales of perfume and beauty products.
From Boots To WBA
Boots has spent around 15 years within alliances, first thanks to the merger of Boots and drug wholesaler Alliance Unichem in 2006, followed a year later by buyout firm KKR acquiring the combined group in a $15 billion deal.
In 2012, U.S. drugstore giant Walgreens acquired a 45% stake in the Alliance Boots conglomerate, completing its buyout of the business two years later and in doing so creating global behemoth WBA.
Boots is one of the U.K.'s best known retailers and the chain's legacy dates back to founder John Boot, who opened a herbal remedies store in East Midlands city Nottingham, U.K. in 1849.
With a network of around 2,200 stores, the sale of Boots would be among the most significant deals involving a British main street operator for many years. However, it would likely attract close government scrutiny given the retailer's nationwide position delivering public healthcare services.