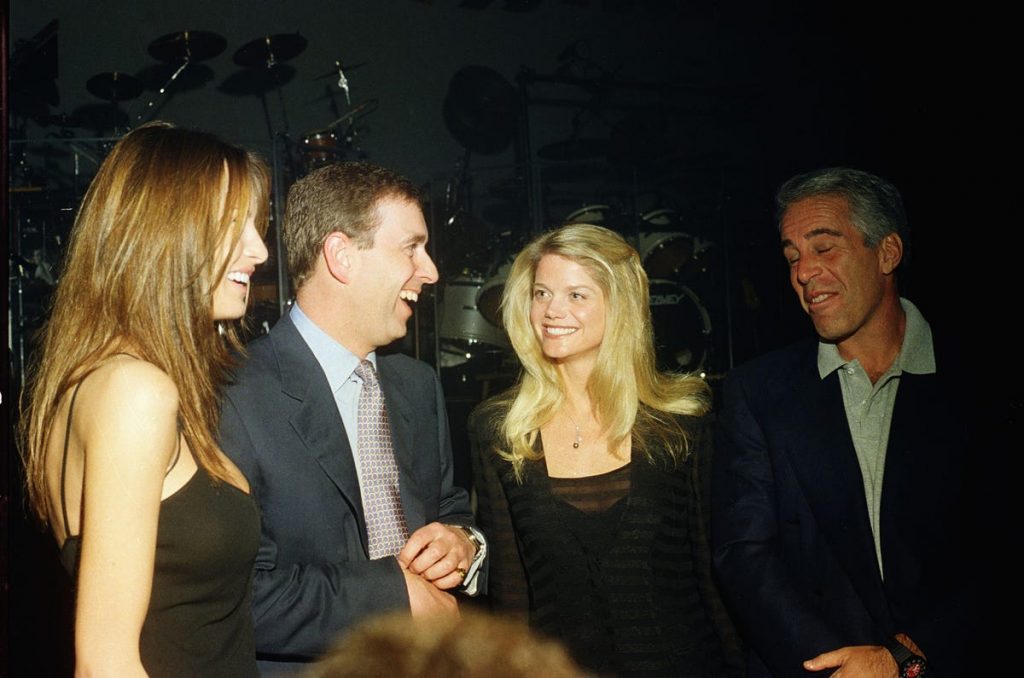 Prince Andrew Requests Dismissal Of Virginia Roberts Giuffre's Lawsuit Because Of Her 2009 Settlement With Jeffrey Epstein
By filing his motion to dismiss Virginia Roberts Giuffre's civil suit against him in New York on October 29, Prince Andrew has finally broken cover and mustered a defense of himself, of sorts, other than his trademark "wall of silence" that he's largely maintained since his disastrous BBC interview about the charges in 2019. As we know, that interview, his formal, rather stiffly uninvolved lack of remorse and his resolute silence thereafter were the basic contributing factors to his forced withdrawal from public life as a working, core British royal.
The legal work around this filing, especially the 36-page "Memorandum Of Law In Support of Defendant's Motion To Dismiss" composed by Andrew's Los-Angeles-based attorneys of record, Andrew Brettler and Melissa Lerner, is radically different from that original posture. In many respects, and most remarkably, the memorandum is quite weaponly and thus yields strong indications of Andrew's and his lawyers' eventual strategies should the matter eventually come to court.
Filed on October 29, the memorandum is essentially two-pronged: First, it remains true to its stated legal mission of positing reams of case law that could buttress a decision to dismiss the suit from the Southern District of New York's Judge Lewis Kaplan. Second, more tellingly, in the process of doing that, the memorandum makes a series of bold, highly documented strokes in a direct attempt to undermine the credibility of Virginia Roberts Giuffre as a plaintiff and, should it come to that, as a witness at trial. In a word, the memorandum just filed serves as a kind of working template for an extended credibility battle in a courtroom.
The primary legal joust for dismissal of the claims against Andrew rests largely on this summer's precedent, namely, in the ongoing battle between Roberts Giuffre and Harvard Law's own Alan Dershowitz, who has advised Jeffrey Epstein in a legal capacity and who reportedly helped negotiate Epstein's so-called 2008 "sweetheart deal" after his Florida conviction. In the flurry of suit and countersuit for defamation between Roberts Giuffre and Professor Dershowitz, Roberts Giuffre also sued Dershowitz for battery, which the professor vehemently denied.
Andrew is barely, through Ms. Giuffre, tangential to all that. But: In 2009, Roberts Giuffre and Jeffrey Epstein reached a "release" agreement that remains sealed — presumably for a financial settlement — but which extends the release from future claims by Roberts Giuffre directed at certain third parties close to Epstein. In essence, this is a concession that Epstein and/or his attorneys of that day thought it prudent to pursue. As a former Epstein attorney and a frequent visitor to Epstein's mansion, Dershowitz invoked this section of the 2009 release agreement, and, this August, Victoria Roberts Giuffre's suit of Professor Dershowitz was dismissed, as Andrew's lawyer Brettler dryly notes in the memorandum, "with prejudice."
Lawyer Brettler and his royal client make no bones about the value of the 2009 release agreement to their strategy. The "ARGUMENT" or Section IV of the memorandum, beginning on page 12, is entitled in full (upper case as in the document as filed in New York): "GIUFFRE'S COMPLAINT SHOULD BE DISMISSED BECAUSE HER CLAIMS ARE BARRED BY THE TERMS OF THE RELEASE AGREEMENT." The memorandum goes on to argue that Prince Andrew is a "third-party beneficiary" of the agreement and as such is entitled to its protection, exactly as Professor Dershowitz was.
The few paragraphs from the sealed 2009 release agreement that are quoted in the current memorandum are redacted, of course, and it remains to be seen what effect any of this will have on Judge Kaplan, who, thus far, has shown himself to be a stickler for getting to the "meat of the matter," as he was quoted last summer in urging Andrew's British team to accept that the prince had been properly served with the Giuffre lawsuit. The October 29 memorandum does not getting to the meat of the matter in the sense of weighing, or arguing, Ms. Roberts Giuffre's actual claims — other than to issue a categorical denial that Andrew did act as alleged by her, rather, it's a tremendous effort to try to avoid having to weigh that claim, and to get Ms. Giuffre to be more specific about the charges.
However that works out, or doesn't, for the defendant prince, the memorandum stands in stark contrast to his wan, semi-frantic, fox-on-the-run tactics of the last year. It means that he is engaged in fighting allegations. Somewhere behind his occasional resolute denials, it seems Andrew has finally acknowledged that the charges have dealt a life-changing blow to him, and he's trying to reverse their effect.